LOVE Sanuki's report
The 50th fast digging
One of the major projects of Yoshimoto, "A project to live in your town", to make Japan feel good from the area. Entertainer "Kaji Tsuyoshi" who lives in Kagawa reports on local products.
reporter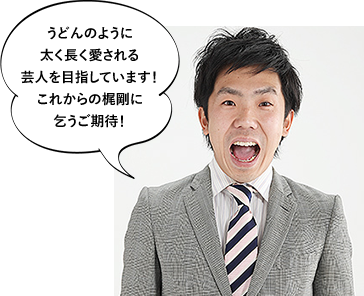 KAJI Tsuyoshi
NSC Osaka school 22nd grade
2005 Formed "Katsuyama Kaji" with Moody Katsuyama
2008 ABC Comedy Newcomer Grand Prix Newcomer Award
2010 Active as a pin entertainer
Birthplace: Mitoyo City, Kagawa Prefecture Born March 1981, 3
Check your activities!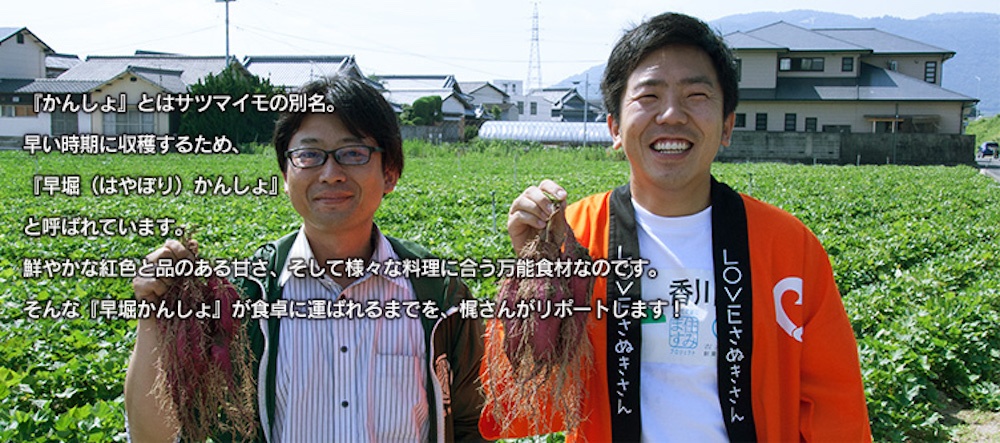 "Kansho" is another name for sweet potato.
It is called "Hayabori Kansho" because it is harvested early. Bright red color and elegant sweetness,
And it is a versatile ingredient that suits a variety of dishes.
Mr. Kaji will report on how such "Hayagori" is brought to the table!
To protect taste and beauty

The main production area of ​​"Hayabori Kansho" is Sakaide-shi, where the cultivation of sweet potatoes and kintokin ginseng using the sandy land of the salt field is thriving. This time, we talked to Mr. Inokuma of Inokuma Farm, where the lush fields spread. "Hayabori Kansho" is not in autumn, but in July around Obon. Features a beautiful red color with a thin skin. However, delicate temperature and moisture adjustment are essential for vivid colors. According to Inokuma, "Because the planting will be done in the early spring, we will first make a small vinyl tunnel and grow it while keeping the temperature." Kaji-san was surprised, "Well, do you attach a tunnel to all these ridges?"

Sea sand makes vegetables delicious

The climatic conditions in Kagawa Prefecture, which is warm and has little precipitation, are ideal for sweet potato production. When you are worried about drying out, "sprinkle water while running around the field with manpower." The secret of deliciousness was also found in the soil. Because it uses sea sand, it drains well and is rich in minerals. "The potatoes suck the sea minerals and make them delicious," says Inokuma. "That's a pleasure," said Kaji. It seems that the flavor is fresh when harvested and the sweetness increases when stored. "If you just cook the freshly harvested toaster for 15 minutes, it's excellent! You can eat the whole skin because it's so thin," says Inokuma, laughing involuntarily.

Moderate sweetness, for a taste with elegance

Next, Mr. Kaji went to Sanuki Dining certified store "OGUNI". Chef Okuni prepared "Hayabori Kansho Terrine, Foie Grasote". Mr. Kaji is very excited about the combination of "Fast Grass Fountain" and "Fast Grass" before he eats. When I got it right away, "Oh, good!" The refreshing and elegant sweetness of "Hayabori Kansho" can be added to other ingredients to create a new flavor.

It has a beauty effect and is very useful at the dining table!

Asking the chef Kokuni about the goodness of "Hayabori Kansho", he said, "It is nutritious, rich in vitamin C and vitamin E, and good for beauty." Moreover, because it is thin skin, there is also a nice point where you can eat the whole nutrients packed in the skin. At home, instead of potatoes, "It can be used for various dishes," said Oguni. In particular, croquettes and potato salads are moderately sweet and can be sweetened without onions, and they are recommended because they have more moisture than ordinary sweet potatoes and do not have a feeling of dryness. "It feels like it has more potential!" Kaji-san, his eyes are sparkling. It was a report that danced to the bright future of "Hayabori Kansho".
Past reports