LOVE Sanuki's report
The 51st sunken yellowtail
One of the major projects of Yoshimoto, "A project to live in your town", to make Japan feel good from the area. Entertainer "Kaji Tsuyoshi" who lives in Kagawa reports on local products.
reporter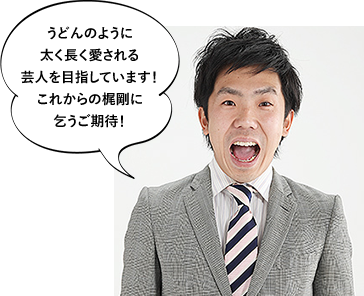 KAJI Tsuyoshi
NSC Osaka school 22nd grade
2005 Formed "Katsuyama Kaji" with Moody Katsuyama
2008 ABC Comedy Newcomer Grand Prix Newcomer Award
2010 Active as a pin entertainer
Birthplace: Mitoyo City, Kagawa Prefecture Born March 1981, 3
Check your activities!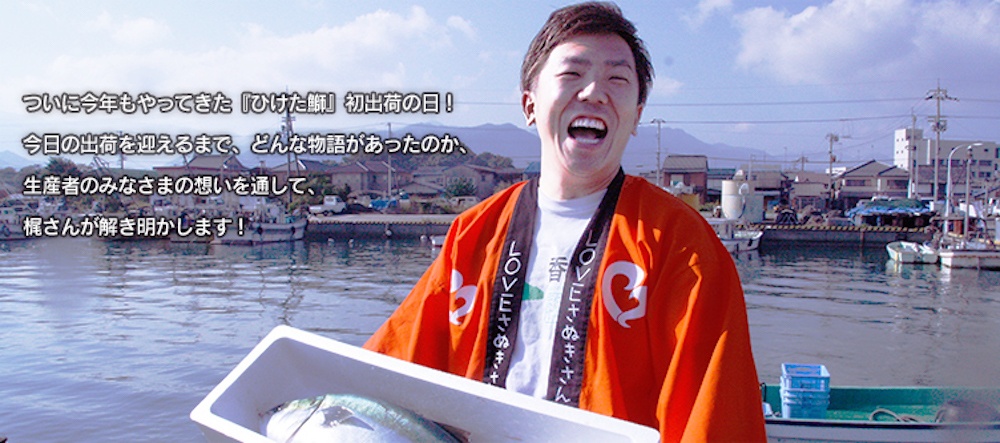 The day of the first shipment of "Hiketa yellowtail" that finally arrived this year!
Until this year's shipment, what kind of story was there,
Mr. Kaji will explain through the thoughts of the producers!
The secret of a tight body is a fish cage

Under the clear autumn sky, Kaji came to Hikita Fishing Port where the calm Seto Inland Sea spreads out in front of me. This time, "Hiketa Yellowtail" is explained by Kiyofune, a professional fishery breeder from Akachimi, a fish farming company. "The fish farm is 6 km offshore from this port. Each fish cage is 1m square and about 25m deep." Kaji-san is surprised at the size larger than expected. This size is a rare level nationwide. It was in this huge fish cage that it was possible to exercise plenty without stress, as the body of "Hiketa A yellowtail" tightened tightly.

What we have cultivated over the years is safe and secure

In fact, Hikida in Kagawa Prefecture is the birthplace of hamachi farming. Mr. Kiyofune said, "It's 3 years ago because it's Showa 90". Hachida's hamachi cultivation has been a long-held motto of safety and security. The spirit is also illuminated by the feed. We feed specially made EP (extruder pellets) that focus on the health, growth and taste of fish. EP is sterile and safe because it is molded at high temperature and pressure. In addition, the size is easy to eat, so that the sea does not become dirty due to spills of yellowtail, making it an environmentally friendly bait. "While cultivating delicious yellowtail, the sea is also carefully protected!" Mr. Kaji is also impressed with the care of nature for the nurturers.

The first shipment of a smile!

The season for "Hiketa Amber" is from November to December. The day when Mr. Kaji visited was the first shipment of this season, and a ceremony was held. From today, "Hiketa yellowtail" will be delivered not only in the prefecture, but also throughout the country. Kiyune responds with a smile to Kaji, who says, "What is your feeling this year?" Kaji-san smiles when she sees her joy biting, "Is it so much?" I'm looking forward to the day it arrives to everyone in Japan.

An amazing nutrition treasure trove

The female members of Hikita Fisheries Cooperative prepared dishes using freshly caught yellow-fried yellowtail. First of all, sashimi that looks brilliant. "It's so greasy! It's rich! In addition, "Hitaketa yellowtail" contains a large amount of EPA (eicosapentaenoic acid), which works to reduce bad cholesterol and fat that interfere with blood flow, and DHA (docosahexaenoic acid), which is said to activate the brain. , Contains various nutrients. "It's delicious, it's good for your body, you can't help it." Mr. Kaji was thrilled to see the efforts and thoughts of many people who were involved in "Hiketa A yellowtail" and was able to witness the first shipment.
Past reports