LOVE Sanuki's report
55th Biwa
One of the major projects of Yoshimoto, "A project to live in your town", to make Japan feel good from the area. Entertainer "Kaji Tsuyoshi" who lives in Kagawa reports on local products.
reporter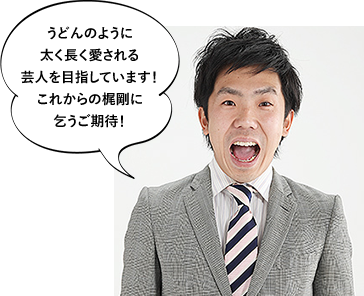 KAJI Tsuyoshi
NSC Osaka school 22nd grade
2005 Formed "Katsuyama Kaji" with Moody Katsuyama
2008 ABC Comedy Newcomer Grand Prix Newcomer Award
2010 Active as a pin entertainer
Birthplace: Mitoyo City, Kagawa Prefecture Born March 1981, 3
Check your activities!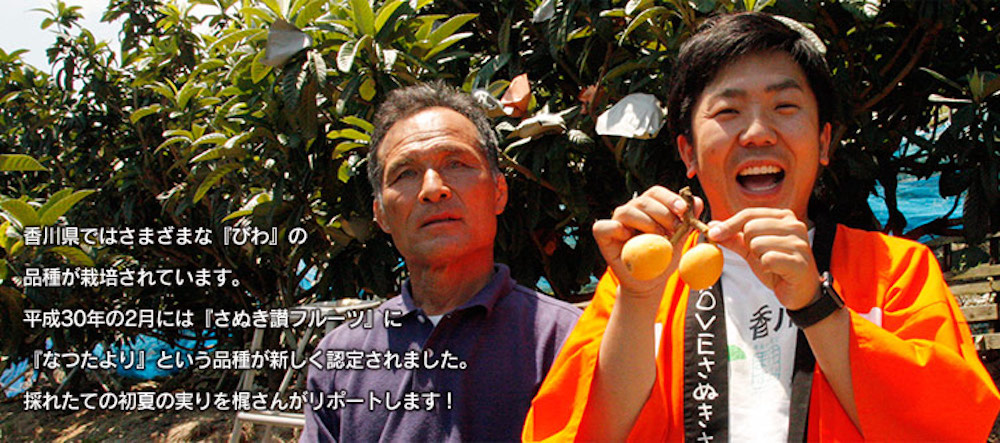 A variety of loquat varieties are grown in Kagawa Prefecture.
In February 30, a variety called "Natsutayo" was newly certified as "Sanuki Sansui Fruit".
Mr. Kaji reports on the harvest of freshly harvested early summer!
Production volume is top level!

Kaji-san came to Biwa's orchard under the blue sky that made me feel summer. Vivid orange fruit appears from among the lush leaves. We will talk to producer Yutani immediately. The "Natsutayo" varieties that were registered as "Sanuki Sansui Fruits" from this year were introduced as "Now it's just the season!" The season is from late May to early June. In addition, it seems that various varieties such as "Mogi", "Tanaka", "Yadama" are made. Kiwa Prefecture boasts a top-class production volume of Biwa, which ranks third in Japan and fourth in cultivation area.

From supporting role to leading role

The cultivation started from a supporting role as a windbreak to protect the oranges from the west wind. However, it was gradually shipped to the Kanto and Kansai regions, and has become one of the nation's leading production centers. In addition, Yutani is busy every day to harvest the loquat, so that every minute and second of the harvest cannot be wasted. "We are blessed with the weather and the taste is very popular this year."

Perfect for summer! Refreshing sweetness

The fresh scent of the "biwa" to be shipped in the future is tempted by the Kagawa Prefectural Agricultural Cooperative, Takamatsu-shi Seibu Kanto Kyosenjo. "Wow! Big!" Mr. Doi provided "Natsuta Newsletter". Immediately, freshly picked fresh fruit this morning, capp. Juice overflows from the thick pulp. "Sweet! The refreshing sweetness of the aftertaste is refreshing." Mr. Kaji is very satisfied with the soft, juicy, elegant sweetness of "Natsutayori".

Everyone cooperates to maintain stable quality!

Kagawa's "biwa" is of high quality because the producers and the members of the Kagawa Agricultural Cooperative cooperate in quality control. For example, in order to maintain uniform quality, we regularly hold workshops for producers and carefully inspect each and every "Biwa" shipped. Among them, "Natsutayori", which is collected as "Sanuki Sansan Fruit", is a selected fruit that meets the strict criteria of an average sugar content of 12.0 ° C or more and malic acid of 0.3% or less. "I'll do my best so that everyone can level up!" Mr. Kaji was excited to hear the thought of Mr. Doi, who supports the producers.
Past reports