LOVE Sanuki's report
The 56th Kagawa Hontaka(chili pepper)
One of the major projects of Yoshimoto, "A project to live in your town", to make Japan feel good from the area. Entertainer "Kaji Tsuyoshi" who lives in Kagawa reports on local products.
reporter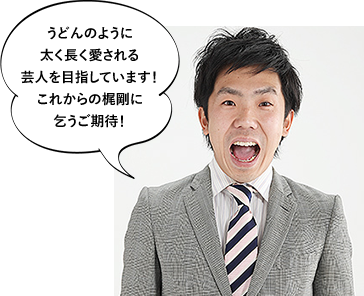 KAJI Tsuyoshi
NSC Osaka school 22nd grade
2005 Formed "Katsuyama Kaji" with Moody Katsuyama
2008 ABC Comedy Newcomer Grand Prix Newcomer Award
2010 Active as a pin entertainer
Birthplace: Mitoyo City, Kagawa Prefecture Born March 1981, 3
Check your activities!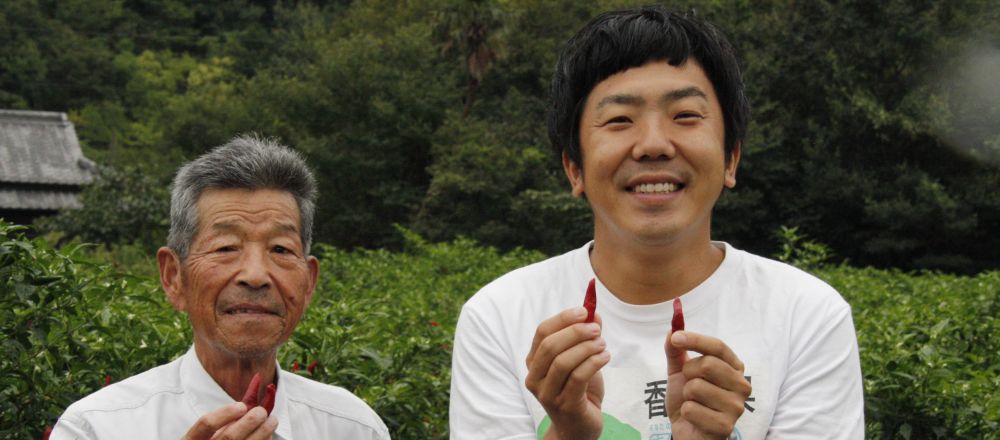 Rare pepper "Kagawa Hontaka" produced only in Kagawa.
It was introduced to the Shiatsu Islands about XNUMX years ago and is said to be one of the oldest specialty products in the area.
This time, production was interrupted for a time, and it was said that it was a phantom pepper
We approach secret of "Kagawa Hontaka"!
About the history of Kagawa Hontaka cultivation

80 minutes by boat from Marugame Port. On Teshima floating in the Seto Inland Sea, there was a person waiting for Mr. Kaji. Mr. Takada of Takada Farm is the only producer on the island that grows Kagawa Hontaka. It is said that Kagawa Hontaka was brought to Sanuki by Toyotomi Hideyoshi's dispatch to Korea, and it was said that it was cultivated actively around the Shonai Peninsula until the middle of Showa, but the production gradually decreased, finally Has been discontinued. In 8, Kagawa Prefecture and Marugame City, together with Takada and their producers, began working to revive Kagawa Hontaka, which was said to be an illusion.

About cultivation process of Kagawa Hontaka

Mr. Kaji received Mr. Takada's welcome at the port, and will soon visit the field. He told me that the fruit could be formed where the branch was split into two branches. Kaji-san, I'm surprised at its size. "The feature of Kagawa Hontaka is the size of this fruit. It is XNUMX to XNUMX cm," says Takada. He says the taste is "hot but calm and mellow". In fact, it is said that Kagawa Hontaka is said to be the best varieties of Japanese pepper due to the strength of spicy and aroma.

Characteristics and harvest time of Kagawa Hontaka

The secret is capsaicinoid, a spicy ingredient. It is said that Kagawa Hontaka is higher in this content and characterized by a strong pungent taste. Seeds are sown in late March and harvested from early August. Takada says, "It's harder not to drink too much water." "What kind of spiciness is it?" Kaji-san's expectations are growing. Mr. Takada prepares "boiled eggplant", "chicken wing grilled" and "fried green pepper sesame oil", which are often made at home, and finally experiences the illusionary spicyness.

Recommended ways to eat

First, from "Eggplant stew". "A spicy accent. The taste gets tighter at the end." Next is "chicken chicken wings", seasoned with soy sauce and mirin, and sprinkled with powdered Kagawa Hontaka. Kaji-san praised, "It's spicy but it smells good! A taste that goes well with alcohol." The last is "fried green pepper with sesame oil". It's so exciting and screaming ... "This is hot!" "Is this really the case of Kagawa Hontaka?", I realize that the taste of cooking changes depending on how it is used, and the ability of spiciness. At the moment, he knew that various processed products made with Kagawa Hontaka were also on sale, and Mr. Kaji renewed his emotions, saying, "I'm well revived."
Past reports