LOVE Sanuki's report
The 57th lemon
One of the major projects of Yoshimoto, "A project to live in your town", to make Japan feel good from the area. Entertainer "Kaji Tsuyoshi" who lives in Kagawa reports on local products.
reporter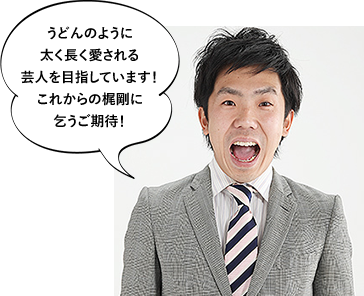 KAJI Tsuyoshi
NSC Osaka school 22nd grade
2005 Formed "Katsuyama Kaji" with Moody Katsuyama
2008 ABC Comedy Newcomer Grand Prix Newcomer Award
2010 Active as a pin entertainer
Birthplace: Mitoyo City, Kagawa Prefecture Born March 1981, 3
Check your activities!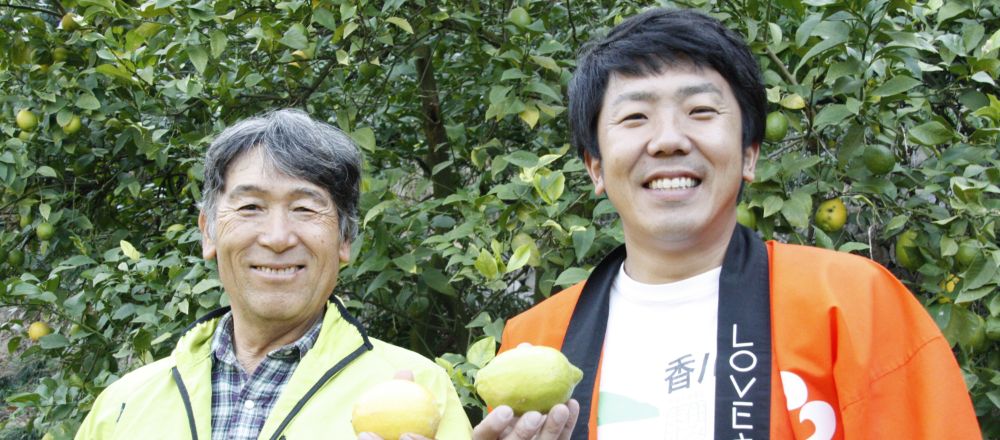 Yellow and mellow ripe lemon. Green lemon with a refreshing acidity.
Kagawa is one of the few places in Japan that is warm and has little rain, and is the perfect place for growing lemons.
Kagawa Lemon, which is rising rapidly now, with a sense of domestic security and fresh taste.
Let's talk about the producers of lemons with Kaji.
About lemon cultivation in Kagawa

A lemon field on the slope of the mountain overlooking Ninomachi, Mitoyo City, Hiuchi Nada Mr. Kaji cheers on a lemon tree that bears fruit. Actually, Kagawa Prefecture is a famous lemon producing area. "Lemon is not good at rain and cold. Kagawa is one of the few places in Japan where lemons can be grown outdoors because it is warm and has little rain in winter," says producer Yoshida. In the Nio area, where the sea air rises up the slopes and is blocked by the mountains, the Nio area is a great place where the warm air stays for a long time. "The mountain protects the lemon!" Kaji-san is even more surprised.

About the history of Kagawa lemon

Lemon cultivation began about 40 years ago in Kagawa Prefecture. Production began in response to consumers' desire to eat safe and secure lemons without preservatives. Mr. Kaji nodded to Yoshida, who says that it is important how much fresh lemons domestically can deliver, "If you can deliver fresh, preservatives are not necessary." Recently, more and more people use lemon peels, and the popularity of safe and secure domestic lemons is increasing. Kaji-san unintentionally asked, "Can I try a bit?"

I ate lemon with skin

Yoshida picking lemons on the spot. Yellow is the flower that bloomed last fall and green this spring, and the taste is different. Kaji, first of all, yellow lemon! "Supple! It has a good scent. It spreads the moment you chew." Then green? "Hmm! This one is more sour! The taste is completely different!" According to Yoshida, you can only enjoy green lemons until winter. After that, it turns into yellow lemon, which is said to be a mature and easy-to-eat taste.

Recommended ways to eat

Kaji and Yoshida taught me how to enjoy. It is a fermented lemon drink "Shuwashiwa lemon". Put sliced ​​lemon and sugar in a 2: 1 ratio and mix with bare hands every day to make fermented juice with foam in a week. Please split with carbonated water. "Let's mess up! There are lots of delicious lemons!" "I feel like I'm revived when I drink after work. It's rich in citric acid," says Yoshida. "It's the only way to eat because you can use both skin and juice with confidence," said Kaji, who was fascinated by Kagawa's lemons.
Past reports