LOVE Sanuki's report
The 58th parsley
One of the major projects of Yoshimoto, "A project to live in your town", to make Japan feel good from the area. Entertainer "Kaji Tsuyoshi" who lives in Kagawa reports on local products.
reporter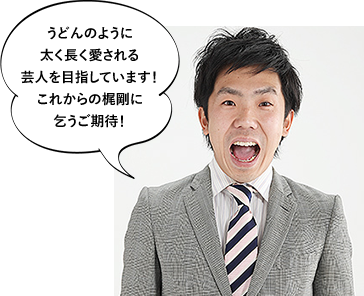 KAJI Tsuyoshi
NSC Osaka school 22nd grade
2005 Formed "Katsuyama Kaji" with Moody Katsuyama
2008 ABC Comedy Newcomer Grand Prix Newcomer Award
2010 Active as a pin entertainer
Birthplace: Mitoyo City, Kagawa Prefecture Born March 1981, 3
Check your activities!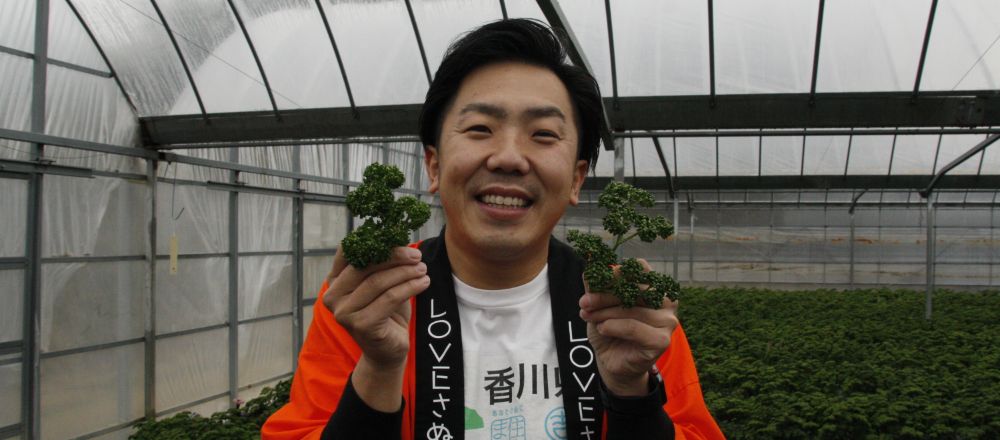 Everyone, don't you think parsley just adds color to your dishes?
Kagawa's parsley is just a waste of supporting roles! Look, taste and nutrition
It is all the leading role deliciousness. The charm of a new parsley that Kaji encountered in Higashikagawa City.
Why do not you taste it?
History of Kagawa parsley cultivation

A solid green color that spreads inside the mouse! Mr. Kaji's cheers, smiled at the producer, Matsui-san said, "The parsley cultivation in Higashi-Kagawa began around 41. At that time, it was cultivated to take seeds, but fine leaves were shipped for food. After doing so, it became a reputation. " The green leaves are thick and the leaves are very popular. Now it is popular in Keihanshin and the Tokyo metropolitan area as the Ouchi Parsley brand. When Kaji says, "Parsley is rich in nutrients," Matsui says, "It's good for beauty."

Direct biography! The taste of parsley and how to preserve it

Matsui usually freezes parsley leaves in plastic bags. "Frozen as it is without cutting, and when used, gently rub from the top of the bag to chopped parsley. It can be used for pasta and fried rice." Kaji is worried about the back of the house. What a parsley shabu-shabu! Ouchi parsley is the recommended way to eat when cooked, making it easier to eat. Mr. Kaji, how about the taste? "The taste and bitterness are mellow. I didn't have the image of eating parsley, but it was delicious!"

Parsley as the leading role in the dining table!

Mr. Matsui introduced "A lot of parsley dishes" to local restaurant "Presso Furukawa". Kaji-san was excited to say, "The green of the curry and parsley in the curry and rice!" In the proud parsley dish "The Curry of the Seto Sun and the Earth". Eat a bite and say, "Good! The fresh taste of parsley comes later. Is this green sauce also parsley?" Kaji also applies the sauce to smoked salmon like dressing. "The image of parsley changes."

Recommended ways to eat

Mr. Kagamihara of Presso Furukawa told me, "Tempura is soaked in the local parsley, soaked in salted kelp or sesame oil." For Kaji-san, I prepared a new parsley dish, "Fried Sanuki Fried Parsley Paste". Kaji-san is surprised at the new way of eating parsley. "The only way to eat in various ways is because of the thick parsley from Kagawa." "The parsley harvested from Kagawa is no longer a decoration!"
Past reports