LOVE Sanuki's report
The 59th leaf burdock
One of the major projects of Yoshimoto, "A project to live in your town", to make Japan feel good from the area. Entertainer "Kaji Tsuyoshi" who lives in Kagawa reports on local products.
reporter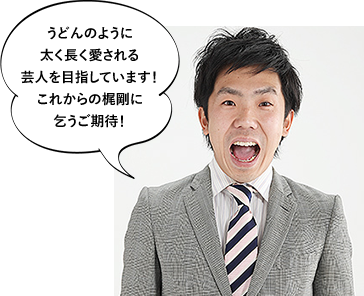 KAJI Tsuyoshi
NSC Osaka school 22nd grade
2005 Formed "Katsuyama Kaji" with Moody Katsuyama
2008 ABC Comedy Newcomer Grand Prix Newcomer Award
2010 Active as a pin entertainer
Birthplace: Mitoyo City, Kagawa Prefecture Born March 1981, 3
Check your activities!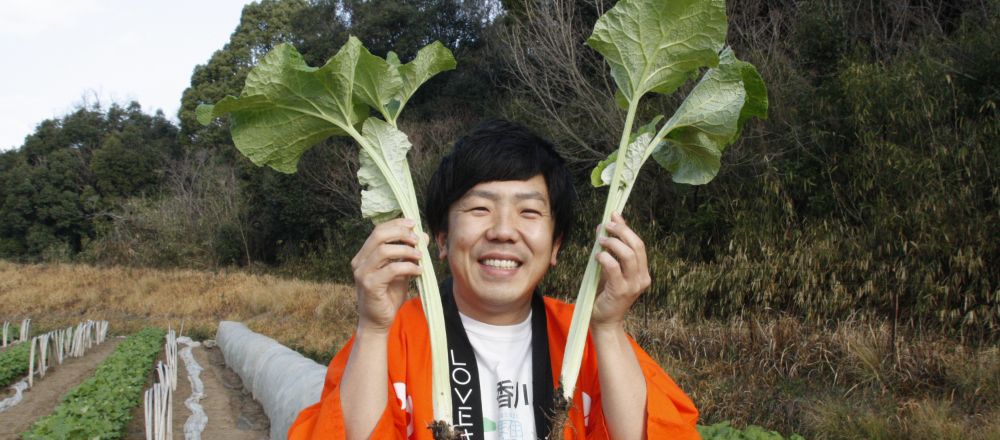 Burdock eats brown and long roots,
Kagawa's "Leaf Burdock" is different!
Short roots, long leaves and green leaves are special quantities, all of which are delicious spring vegetables.
In particular, Kagawa prefecture's leaf burdock is said to have a reputation for soft fiber and good taste.
Where is the secret? Kaji has searched.
How to grow the secret of deliciousness

Kaji is surprised to see, "Is it so big?" Looking at the open-grown leaf burdock that stretches out the leaves on the mountain slope of Mure Town, Takamatsu City. According to the producer, Orita, we sow seeds in the fall, and in the winter, harvest the grown stalks before they die, and in mid-February large soft burdock can be formed. "I'm going to wake up the spring, or burdock burdock," says Oda. The secret of deliciousness is this cultivation method. "That's why the leaves, stems and roots are soft, and the burdock tastes good." Kaji-san, I'm satisfied.

We actually harvest leaf burdock!

Mr. Oda carefully harvests by hand, "I do not have stems and leaves. It is soft." "I can eat this from the top down. The burdock is the best!" Oda said, "Some people think that they eat only the roots because they are rare vegetables outside the prefecture." Kaji says, "I want you to eat the whole burdock! Is there any recommended way of eating Oda-san?"

Let's boil the burdock! Good fried!

Oda recommends stewed dishes. The burdock leaves, stems and roots were fried and cooked with shiitake mushrooms, and brought home-cooked dishes with the flavor of sesame oil. Kaji-san, "U, Umaso!" "Wow, crunchy! But it's not stiff. The roots and leaves have different flavors." Mr. Oda says, "When tempura is boiled, it is delicious again." There may be more unknown burdock dishes in Kagawa. Kaji decided to visit a local restaurant.

How to eat burdock

I went to Vessel Oochi no Yuizaya Umashi. The chef, Mr. Sumoto, made "Green Leaf Burdock and Kinjiki no Kinpira" and "Boiled Leaf Burdock and Olive Chicken Rice" with bright green colors. Kaji is impressed by eating a bite. "Even though they are cut into small pieces and cooked, the feeling of crunch remains." Mr. Sumoto tells him how to use secrets: "Leaf burdock is cooked after boiled once, and it is important not to put too much heat so that the color remains. If cut diagonally along the fiber, the texture is good." Gave me "I see, you can do it at home." A leaf burdock is likely to appear on Kaji's spring dining table.
Past reports