LOVE Sanuki's report
The 60th tea
One of the major projects of Yoshimoto, "A project to live in your town", to make Japan feel good from the area. Entertainer "Kaji Tsuyoshi" who lives in Kagawa reports on local products.
reporter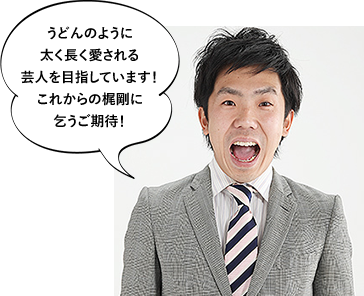 KAJI Tsuyoshi
NSC Osaka school 22nd grade
2005 Formed "Katsuyama Kaji" with Moody Katsuyama
2008 ABC Comedy Newcomer Grand Prix Newcomer Award
2010 Active as a pin entertainer
Birthplace: Mitoyo City, Kagawa Prefecture Born March 1981, 3
Check your activities!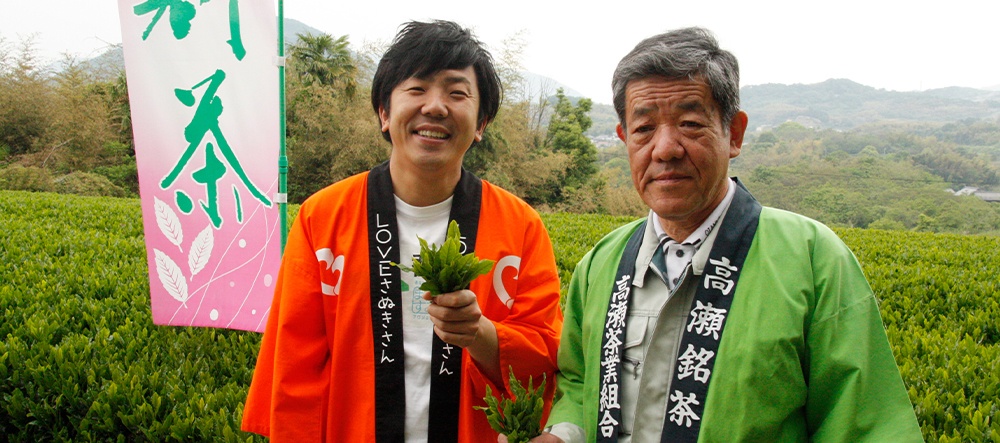 Refreshing sweetness and subtle bitterness that spreads out when you drink it.
Did you know that Kagawa Prefecture is actually a delicious tea production area?
Kaji came to Takase-cho, Mitoyo-shi this time in search of Kagawa tea with a history of 350 years.
The taste of Kagawa tea

In Kagawa Prefecture, in addition to the main varieties called "Yabukita", various varieties of tea such as "Meiryoku" are made mainly in the mountainous area in the southwest. "The harvest time is three times a year, and the best tea from around eighty-eight nights is considered to be the most delicious," says producer Onishi. The taste is exceptional, "Sprout grows in the warmth of spring and soft sunshine, so it has a lot of amino acids in the umami component," says Onishi. "I see! The nutrients stored in the trees during the winter are in the sprout as they are," says Kaji.

History of Kagawa tea

It is said that the making of tea in Kagawa began about 350 years ago when the Matsudaira clan made a tea garden in Ritsurin Park today. When asked, "Is Kagawa's climate suitable for tea making?" "Kagawa soil is clay-based, so you can make sweet and fragrant tea." Aroma is important for tea. Since it is stressful today, we want to brew tea and relax with the natural aroma. Kaji says, "I want to drink. I can't go home without drinking."

Surprising taste, Kagawa's new tea

They were told to go to a special place, and the party went to Ishigaya Chamonji Field. Mr. Kagawa, who manages the field, brought fresh tea. The vivid color of the tea that brewed, "It has a soft fragrance unique to new tea!" Take a sip and say, "Wow, this is delicious! The sweetness and aroma are refreshing. The aftertaste is also delicious," says Kaji. Mr. Kagawa said, "It has a good balance between sweetness and bitterness, a unique taste. You will feel the savoryness of your throat after drinking." "Besides the first tea in the early spring, the second tea followed by the fourth tea in the fall, and the Kagawa tea, you can enjoy different tastes throughout the year."

Tea here too! ? New taste

There are other ways to enjoy tea. "If you make the raw leaves tempura, you can eat the whole tea ingredients," says Kagawa. Onishi says, "If you add tea powder to beer, the taste will be rounded." "They can do various kinds of dishes with powder," said Kaji. "There are tea udon too." Kaji discovered that "Kagawa tea is not just for drinking." Please enjoy a good time with Kagawa Prefecture tea.
Past reports