LOVE Sanuki's report
62nd soy sauce beans
One of the major projects of Yoshimoto, "A project to live in your town", to make Japan feel good from the area. Entertainer "Kaji Tsuyoshi" who lives in Kagawa reports on local products.
reporter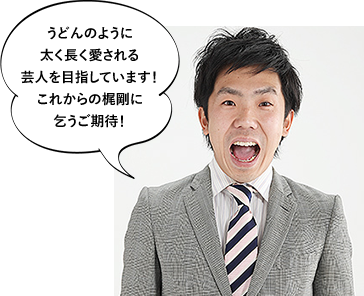 KAJI Tsuyoshi
NSC Osaka school 22nd grade
2005 Formed "Katsuyama Kaji" with Moody Katsuyama
2008 ABC Comedy Newcomer Grand Prix Newcomer Award
2010 Active as a pin entertainer
Birthplace: Mitoyo City, Kagawa Prefecture Born March 1981, 3
Check your activities!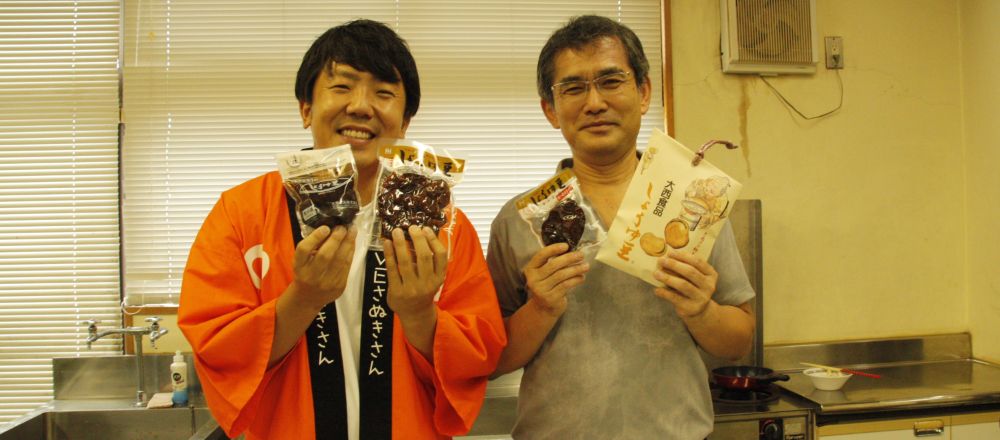 Today we will introduce "Soy sauce beans". Although it is a familiar taste to Kagawa prefecture residents, it is a local dish that many people do not know outside Kagawa prefecture. To explore its appeal, we visited Onishi Foods Co., Ltd., a soy sauce bean producer in Marugame City.
Kaji-san, the smell of soy sauce has come out!
What is soy sauce?

Kaji smiles without thinking "Wow, a good scent!" Mr. Hosoya, the president, tells us about the characteristics of soy sauce beans. "Soy sauce beans are roasted roasted beans (roasted) and then marinated in soy sauce jars. Sanuki's home cooking has different tastes such as sweetness and saltiness at each home. was". The point is to eat the whole beans. "Soy soy beans can provide all the nutrients in beans, and they can be eaten up to the skin, so their texture is one of the tastes."

The beginning of soy sauce beans

According to Mr. Hosoya, there are various theories, but soy sauce beans are starting to entertain on Shikoku pilgrimage. "Our grandmother was roasting pilgrims to eat the beans, and the beans popped out into a nearby soy sauce jar. When the beans were taken out and eaten, the taste permeated and tasted different. It has become soy sauce beans. " Kaji admire, "Is that so! There was such an episode in soy sauce beans that I usually eat." "It started with the kindness of hospitality. I like it," says Hosoya.

Secret of soy sauce beans taste

"It's strange that soy sauce beans have a savory skin and a crisp texture inside," says Kaji. Is there a special secret? "We try to leave a slight texture when roasting beans," says Hosoya. When Mr. Kaji said, "I'm calculating," he replied, "I'm more Keiken than Keisan (experience)." Look at today's beans and decide how to cook today. It is a world of craftsmen with years of experience. Mr. Kaji thought, "Can I try freshly made soy sauce beans?"

Discovered! New flavor of soy sauce

Mr. Kaji who says "Good! This balance between sweetness and saltiness". "You can mix and match various flavors," says Hosoya, who brought three dishes: "Fried soy sauce and chikuwa", "Fried soy sauce with pork and sweet vinegar", and "Mame Pete". The point is to use soy sauce soup. Kaji shouts, "The main dish is soy sauce beans!" "By the way, what is your favorite eating style?" Kaji asks Hosoya. As it is, for a side dish of sake, without a side dish of rice. It is soy sauce beans, a local dish with various tastes.

Soy sauce beans recipe

Stir-fried soy beans and chikuwa
Cut four chikuwa diagonally and chop 4/1 soy sauce beans into coarse pieces. Quickly fry the soy sauce beans and soup soup in the fried kuwa and sprinkle with white sesame.

Fried sweet vinegar with pork soy sauce
Season 50g of bite-sized pork with salt and pepper and sprinkle with flour. 1/4 onions are sliced. Make soy sauce beans and sweet vinegar sauce (take 5 to 6 pieces of soy sauce beans, finely chop, add XNUMX tablespoon soup stock and XNUMX tablespoon vinegar and mix). Fry the onions quickly and place on a plate. Bake both sides of the pork, return the onions, add the sweet and vinegar sauce and season over high heat.
Past reports