LOVE Sanuki's report
65th Ranunculus
One of the major projects of Yoshimoto, "A project to live in your town", to make Japan feel good from the area. Entertainer "Kaji Tsuyoshi" who lives in Kagawa reports on local products.
reporter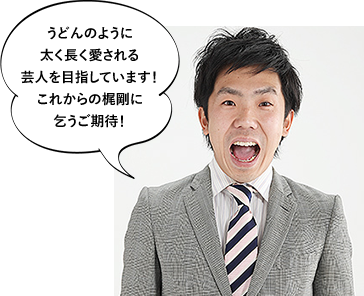 KAJI Tsuyoshi
NSC Osaka school 22nd grade
2005 Formed "Katsuyama Kaji" with Moody Katsuyama
2008 ABC Comedy Newcomer Grand Prix Newcomer Award
2010 Active as a pin entertainer
Birthplace: Mitoyo City, Kagawa Prefecture Born March 1981, 3
Check your activities!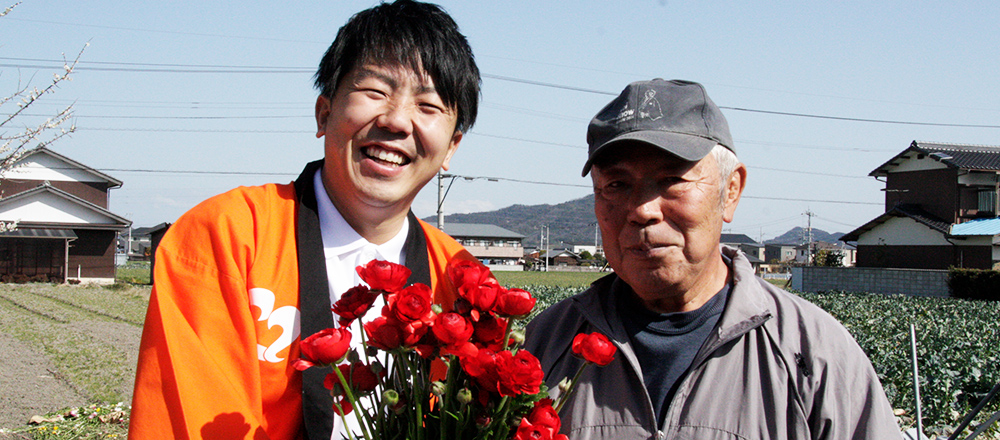 Colorful flower color with a rolling flower appearance. Ranunculus, a flower that tells spring early in the still cold winter season. Ranunculus, which has been growing in popularity in recent years because it originates in the Middle East and Europe, is actually a major production area in Kagawa. Moreover, Kaji heard that there are only varieties available here in Kagawa. I immediately headed for Nagao, Sanuki.
Kagawa is the third largest producer in Japan

"Wow, it's bright!" Kaji says unintentionally to the red and yellow ranunculus. According to Mr. Hasui, a producer and chairman of the Ranunculus Study Group in Kagawa Prefecture, cultivation in Kagawa began in the Nagao area around 60 and now spreads throughout the prefecture. Kaji applauded Mr. Hasui, saying, "Ranunculus in Kagawa ranks third in the nation for both cultivation area and number of units shipped." "Is it okay to pick?" Mr. Hasui told me, "This variety is" Akane Temari ". It is an original variety from Kagawa Prefecture."



Original variety "Temari" series

The original ranunculus in Kagawa Prefecture is known as the "Temari" series, and has a name associated with the color of the flower. "Yuzutemari" and "Remontemari" are yellow, and "Red Temari" and "Red Temari" are red. Pink "Sakura Temari". "Koharu Temari" and "Yukitemari" are based on white. Purple "Fuji Temari". "The buds are shaped like round temari, right?" Says Hasui. Mr. Kaji smiles, "It's cute!

Fun to grow delicate flowers

Kagawa ranunculus is grown from August and shipped from December to early April of the following year. Mr. Kaji asks, "Is cultivation difficult?" "Hasui carefully prepares for shipment, saying," Because it is a delicate flower, it is very difficult to make petals without stains. Is progressing. Looking at the ten ranunculus bundles, Kaji-san is impressed with his delicate work, saying, "When it comes to bundles, it's beautiful again! This is a work that must be done by hand."

Ranunculus loved by producers

"Kagawa's ranunculus has a long flowering period and excellent flowering life in addition to the cuteness of the flowers. I'm glad if Kagawa's producers increase and the amount of shipment increases," says Hasui.
On the way home, Mr. Hasui gives Kaji a surprise gift of a bouquet! Mr. Kaji touched his gentle heart and said, "There are producers who like this flower and make it. That feeling is reflected in the kindness and beauty of Ranunculus."

Past reports