Sanuki whole Chinese Chimaki
Did you know that there is a custom of eating "chimaki" in the festival of Tango? In the "Chimaki" and "Kagawa no Shoku" Happy Projects, where we pray for prayers and disease-free disasters, we will use only whole prefecture ingredients in collaboration with the Japan-Chinese Cuisine Association Kagawa Prefecture Branch in order to expand the appeal of prefecture ingredients. "Chinese Chimaki" has been developed.
Ingredients are 5 kinds of prefectural ingredients, named after the 5 colors of getting rid of evil.The main yellow "olive dream pig / olive pig", red "dried shrimp" harvested in Setouchi, blue is Kagawa's specialty "shoyumame" processed from broad beans, white is mountain food "takenoko" that tells spring, And black is "Shiitake" which is indispensable for "Chinese rice dumplings".In order to make full use of the charm of each ingredient, we prepared different seasonings and took the time to make it carefully.The balance between the glutinous rice produced in the prefecture, which is soaked in the dashi and umami of the ingredients, and each ingredient is exquisite, and the texture and the deliciousness of each ingredient are unique.
For the festival of Dango, eat "Sanuki Whole Chinese Chimaki" made with whole Kagawa ingredients together with the whole family. !
* As this is a limited quantity sale, please make a reservation as soon as possible.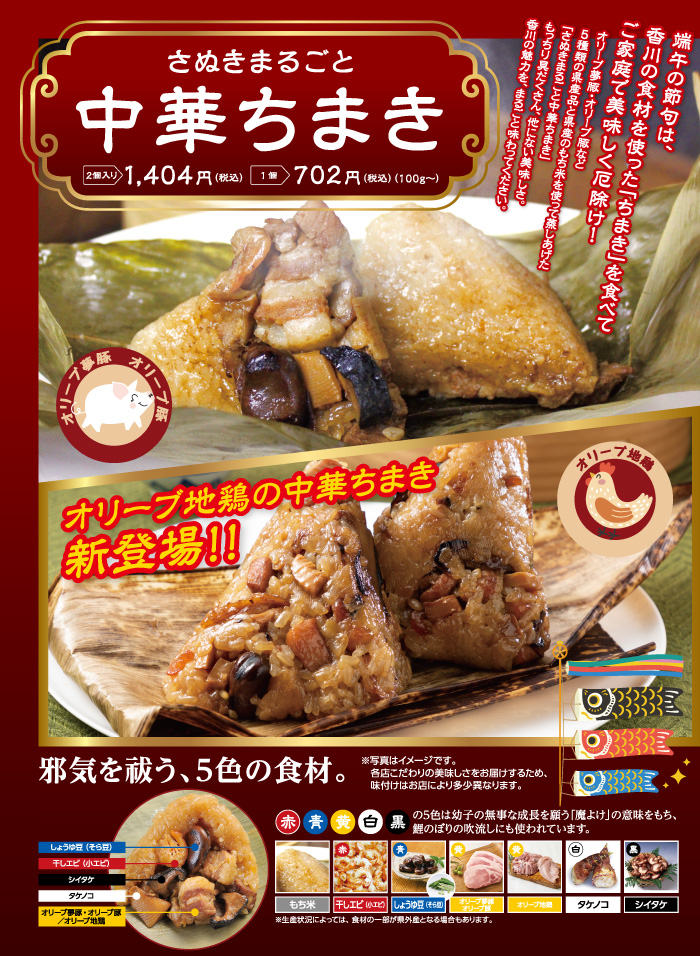 Click here for the leaflet! [PDF: 3.2MB]
Reservation acceptance period
April 2022th (Wednesday) -May 4th (Wednesday), 13
* The product delivery date (takeout) will be one of the five days from May 5st (Sun) to May 1th (Thursday).
As it is a limited quantity sale, please make an early reservation.
* The above period may differ depending on the store. For details, please contact each store.
* Sales may change depending on the situation, so please be sure to contact each store.
Ingredients used (all from Kagawa Prefecture)
Cantonese Cuisine Chugoku Shuka
Condition of takeaway products

Steamed, frozen

Address

760-0054
2-2-1 Tokiwacho, Takamatsu City Great Success Building 1F

Phone Number

Reception hours

11: 30 to 14: 00, 17: 00 to 22: 00

Regular holidays

Monday

URL
×
China Dining Mei Wei
Condition of takeaway products

frozen

Address

760-0080
410-1 Kitamachi, Takamatsu City

Phone Number

Reception hours

11:30~15:00(土・日・祝は14:00)、17:30~21:30(土・日・祝は21:00)

Regular holidays

Wednesday, 2nd and 4th Monday

URL
×
China Nagae Yanagisako store (Yanagizakoten)
Condition of takeaway products

Steamed

Address

761-8012
100-3 Kosaihonmachi, Takamatsu City

Phone Number

Reception hours

11: 00 to 14: 00, 17: 00 to 21: 00

Regular holidays

Wednesday
×
Chinese cuisine Saiban
Condition of takeaway products

Steamed, frozen

Address

760-0062
12-1 Shiokami-cho, Takamatsu City

Phone Number

Reception hours

17: 30-21: 30 (LO)

Regular holidays

Wednesday

URL

Remarks

We accept shipping
×
Chinese vegetable hall Hunan
Condition of takeaway products

Steamed

Address

762-0006
1-1-22 Asahimachi, Sakaide City

Phone Number

Reception hours

11:00~14:00、17:30~21:00(L.O 20:30)

Regular holidays

Monday, 1st, 3rd, 5th Sunday
×
Chinese food Aoyama
Condition of takeaway products

Steamed

Address

761-8044
940-1 Enza Town, Takamatsu City

Phone Number

Reception hours

11:00~14:00(L.O 13:45)、17:00~21:00(L.O 20:45)

Regular holidays

Tuesday
×
Chinese Restaurant Kakyu
Condition of takeaway products

Steamed, frozen

Address

761-8071
2133-16 Fushiishicho, Takamatsu

Phone Number

Reception hours

11: 30 to 14: 00 (LO 13: 45)
17:30 (17:00 on Saturdays, Sundays, and holidays) to 21:00 (LO 20:45)

Regular holidays

Tuesday, 1st and 3rd Monday
×
JR Hotel Clement Takamatsu Chinese Cuisine Momoko
Condition of takeaway products

Steamed

Address

760-0011
1-1 Hamanocho, Takamatsu City JR Hotel Clement Takamatsu 2F

Phone Number

Reception hours

11: 30-14: 30, 17: 00-19: 30 (LO)

Regular holidays

Wednesday

URL
×
Chinese Cuisine Tokaen - RIHGA Hotel Zest Takamatsu
Condition of takeaway products

Steamed, frozen

Address

760-0025
9-1 Furujinmachi, Takamatsu City RIHGA Hotel Zest Takamatsu North Side Annex 2F

Phone Number

Reception hours

11:30~14:30(L.O 14:00)、17:00~21:00(L.O 20:30)

Regular holidays

Monday

URL
×
Chinese Cuisine Pekin Honkan
Condition of takeaway products

Steamed, frozen

Address

760-0040
2-8 Katahara Town, Takamatsu City

Phone Number

Reception hours

11: 15 to 14: 00, 17: 00 to 20: 00

Regular holidays

Monday (irregular holidays)

URL

Remarks

Can be purchased from the EC site
We accept shipping
×
Takamatsu Mitsukoshi
Condition of takeaway products

Steamed

Address

760-0034
7-1 Takamatsu Town

Phone Number

Reception hours

Open: 10:00 - 19:00

Regular holidays

Irregular

Remarks

Only a set of 2 products
Handing over is only on May 5th (Thursday / holiday)
Reservation / Product delivery place / New building basement service counter
×