Sanuki Kashiwa Mochi
We have prepared "Sanuki no Kashiwa Mochi" which is a blend of Kagawa's original rice "Oidemai" and "Ancient Rice" and wraps "Shiro Miso An" which is made by adding Wasanbon and rare sugar to Shiro Miso. ..Please enjoy the sweet and spicy taste that reminds you of anko mochi ozoni.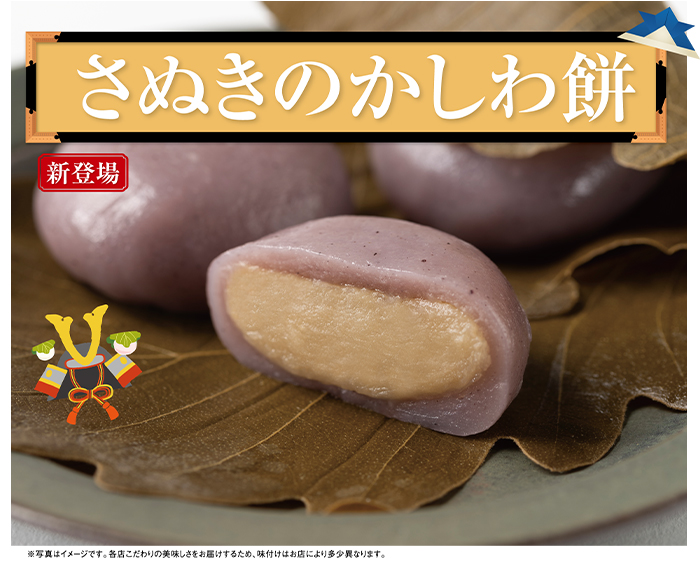 Reservation acceptance period
April 2021th (Tuesday) -May 4th (Tuesday), 13
* The product delivery date (takeout) will be one of the 4 days from April 30th (Friday) to May 5th (Wednesday).
As it is a limited quantity sale, please make an early reservation.
* The above period may differ depending on the store. For details, please contact each store.
* Sales may change depending on the situation, so please be sure to contact each store.
Ingredients used (all from Kagawa Prefecture)
Confectionery Kogetsu-do
Price

200 yen / piece

重 さ

Approximately 60g / piece

Address

16 Komeyacho, Marugame City

Phone Number

FAX Number

‭0877-23-0301

Reception time

9: 00-18: 00 (Wednesday 17:00)

Regular holidays

None

Remarks

There is also Japanese rice dumplings
×
Soke Kutsuwado
Price

170 yen / piece

重 さ

Approximately 60g / piece

Address

Sohonten / 4-3 Hyogomachi, Takamatsu City
West Store / 574-1 Gotocho, Takamatsu City

Phone Number

FAX Number

‭087-813-3111

Reception time

8: 00 ~ 18: 00

Regular holidays

None

Remarks

There is also Japanese rice dumplings
We accept shipping
×
Shofuan Kanesue
Price

600 yen / 4 pieces

重 さ

Approximately 60g / piece

Address

1-24-36 Ogimachi, Takamatsu City

Phone Number

FAX Number

‭087-823-0766

Reception time

8: 00 ~ 19: 00

Regular holidays

None

Remarks

There is also Japanese rice dumplings
×
Yumekabo takara
Price

165 yen / piece

重 さ

Approximately 50g / piece

Address

214 Kasuga Town, Takamatsu City

Phone Number

FAX Number

‭087-844-8802

Reception time

8: 30 ~ 17: 30

Regular holidays

Wednesday

Remarks

There is also Japanese rice dumplings
×
Sweets shop Minatoya
Price

173 yen / piece

重 さ

Approximately 50g / piece

Address

1-1-3 Kotobukicho, Takamatsu

Phone Number

FAX Number

‭087-823-3246

Reception time

9: 00 ~ 18: 00

Regular holidays

January 1 only

Remarks

We accept shipping
×
Confectionery Sakaguchiya
Price

150 yen / piece

重 さ

Approximately 40g / piece

Address

2401 Awaicho, Kanonji City

Phone Number

FAX Number

‭0875-27-8832

Reception time

9: 00 ~ 18: 00

Regular holidays

Sunday (irregular holidays)
×
Kasho Shibayama
Price

180 yen / piece

重 さ

Approximately 50g / piece

Address

46-2 Kozai Kitamachi, Takamatsu City

Phone Number

FAX Number

‭087-882-7310

Reception time

8: 00 ~ 19: 00

Regular holidays

Wednesday
×
Kisaragi
Price

170 yen / piece

重 さ

Approximately 50g / piece

Address

Main store / 107-3 Higashisakamoto, Iiyama-cho, Marugame-shi
Gunya store / 550-1 Kawanishichokita, Marugame-shi

Phone Number

Head office /‭0877-98-3394
Gunge store /‭0877-25-5611

FAX Number

Main store / 0877-98-6286

Reception time

9: 00 ~ 19: 00

Regular holidays

Main store / Tuesday
Gunya store / Wednesday
×
Tsu no Yamado
Price

150 yen / piece

重 さ

Approximately 60g / piece

Address

Utazu Town 1826

Phone Number

Reception time

8: 00 ~ 17: 00

Regular holidays

Wednesday (irregular holiday)

Remarks

Only available for pre-order
×
Naoi Confectionery
Price

150 yen / piece

重 さ

Approximately 50g / piece

Address

2-8-10 Doicho, Marugame City

Phone Number

FAX Number

‭0877-24-1882

Reception time

8: 00-17: 00 (12:00 on Sundays and public holidays)

Regular holidays

Sunday / holiday afternoon
×