Delicious recipe collection
Easy! Breaded bread crumbs with herbs in an oven toaster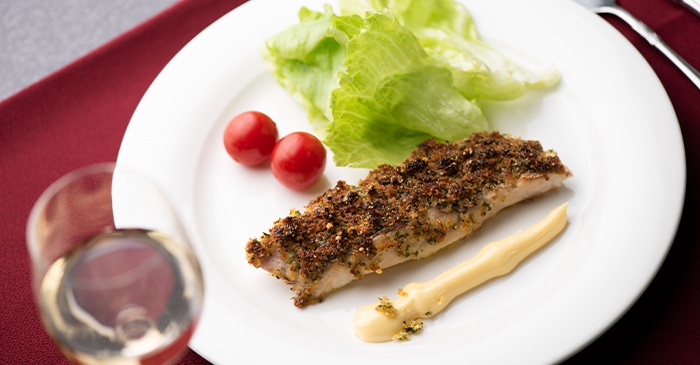 Ingredients
Red snapper (150g fillet)

XNUM X one

salt

4 knob

pepper

4 knob
A
Bread crumbs

6 tablespoons

Powdered cheese

2 tablespoons

Dried parsley

2 tsp

salt

Appropriate amount

pepper

Appropriate amount

Grated garlic

About 1cm tube

Olive oil

2 and 2/3 tbsp

mayonnaise
<as you like>
Baby leaf

Appropriate amount

Mini Tomato

Appropriate amount
Method
Sea bream removes all bones and makes a grid-like cut in the skin.

Sprinkle salt and pepper on the sea bream in step (2) and leave for a while.

Mix the ingredients of A in order from top to make herb crumbs.

Wipe off the water from the snapper with kitchen paper.

Put olive oil in a frying pan and heat over medium heat.

When the smoke comes thinly, bake the sea bream in a frying pan for about 1 minute from the skin and turn it over for about 30 seconds.

Remove the sea bream from the frying pan once, turn the skin up, and press ③ on the skin first.

⑦ Bake for 1200 minutes with a 5W oven toaster with the skin side up.

Serve on a plate, squeeze the mayonnaise in the same length as the bream, and add the garnish of your choice.