Delicious recipe collection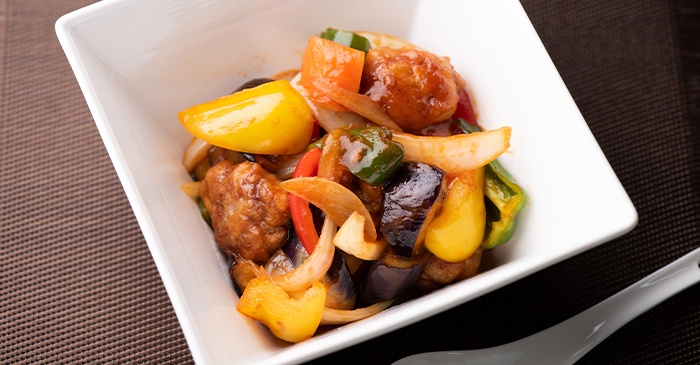 Ingredients
<Sauce>
Soy sauce

1 tablespoons

Local sake

1 tablespoons

Black vinegar

3 tablespoons

ketchup

2 tablespoons

sugar

1 tablespoons

eggplant

1

Ginseng

1/2

green pepper

2 individual

Paprika red

1/2

Paprika yellow

1/2

onion

1/2

Olive pork slices

200g
<Underwear>
Local sake

2 tablespoons

salt

a little

pepper

a little

potato starch

About 1 tbsp

Sesame Oil

Appropriate amount
<Water-soluble potato starch>
potato starch

5g

Wed

5ml-7ml
Method
Mix the sauce ingredients.

Eggplant, carrots, peppers, paprika red yellow and onions are cut into pieces that are easy to eat. Soak the eggplant in water and remove the lye.

Heat the carrots for about 1 minute in the microwave to soften them.

Slice the olive pork slices with a seasoning other than starch.

Squeeze the ④ meat into bite-sized pieces and add the starch.

Spread sesame oil in a frying pan, fry ②, and once cooked, serve once.

Next, bake ⑤, and when it 's cooked, add ⑥.

Wipe off the excess oil, add the sauce of ①, and when thickened with water-soluble starch, it's done.