Delicious recipe collection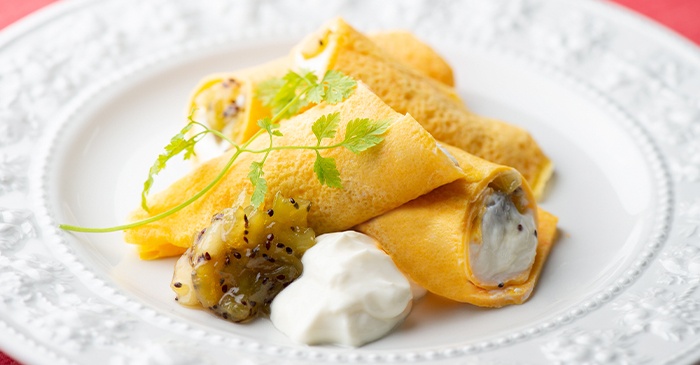 Ingredients
<Crepe fabric>
egg

1 individual

milk

100 ml

Kinki ginseng

40g

Oidemai rice flour

50g

Olive oil

Appropriate amount
<Yogurt cream>
Yogurt

250g

condensed milk

2.5 tablespoons
<Perfume jam>
Perfume (kiwi fruit)

2 individual

lemon juice

1 tsp

Syrup containing rare sugar

8 tablespoons
Method
Add eggs, milk and grated ginseng to the mixer.

Put rice flour in a bowl, add ① and stir, wrap and lay in the refrigerator for 10 to 15 minutes.

Spread olive oil on a heated frying pan (small frying pan 16-18 cm), lightly wipe with kitchen paper and turn off the fire. Put ① into it, stretch it, and bake on a medium heat. When the fire comes through, turn over and bake on both sides.

Spread kitchen paper in a bowl, put yogurt, cover with kitchen paper, weigh the water in a plastic bag on top, and drain for 10 to 15 minutes.

Add condensed milk to ④ and mix.

Peel the scented greens, cut into small pieces, put in a heat-resistant container, add lemon juice and syrup containing rare sugar, mix, wrap and heat in microwave 500W for 3 minutes.

Transfer ⑥ to a pan and remove the water over low heat.

Put the dough of ③ on the roll, apply the cream of ⑤, apply the jam of ⑦ on it and roll it like a sushi roll.