Delicious recipe collection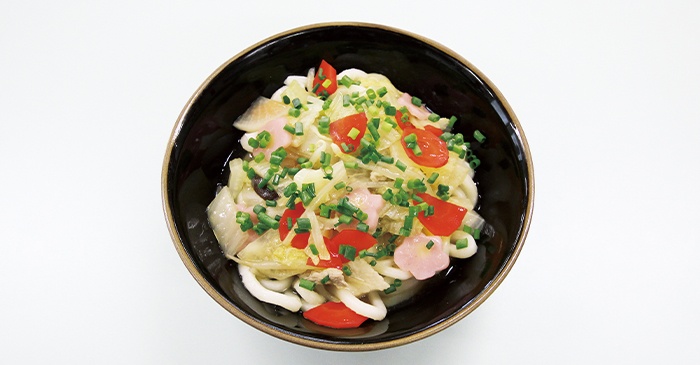 Ingredients
Udon

2 ball

Pork leg slices

60g
Pork savory
Ginger (grated)

1/8 teaspoon

liqueur

1/2 tbsp

Salad oil

1/2 teaspoon
Board kamaboko (red)

1/4

Hungry

1/16 shares

Onions

1/2 small

Japanese red Kintoki carrot

75g

Japanese white radish

1/16 medium

Bean sprouts

1/8 bag

Shiitake mushroom

1

Green onions

1 to 1.5

Light mouth soy sauce

3/4 tbsp

Soy sauce

1/2 tbsp

sweet sake

1/2 teaspoon

salt

1/8 teaspoon

potato starch

1 tablespoons

Iriko (boiled dried)

15g

Wed

3 cups
Method
Remove the broth with Iriko.

Season the pork with sake and ginger and cut into 2cm widths.

Put oil in a pan, add pork and fry.

Add thinly sliced ​​onions and fry to the sauce.

Add the soup and let it boil.

When boiling, add radish (chopped), carrot (round sliced ​​or half-moon cut), shiitake (lightly sliced), and cook until it is cooked.

Season and add thickened water-soluble potato starch dissolved in water twice as much as potato starch.

Put the ingredients on the warm udon and spread the green onions to finish.