Delicious recipe collection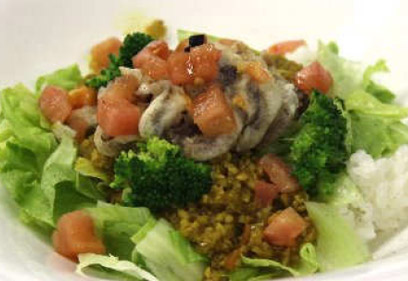 Ingredients
Sanuki Cochin Mince

150g

onion

1/2

Ginger

10g

garlic

1/2 money

Tomato (medium)

1 individual

Curry powder

1 tablespoons

tomato ketchup

10g

Chicken bouillon

75cc

Salt, pepper, sugar, salad oil

Appropriate amount

Sanuki rice

200g

Stewed stew

1.5 animals

Flour

50g

potato starch

7.5g

Baking powder

3g

Ajinomoto

1.5g

Rarirure lettuce

1/8

broccoli

7.5 individual

honey

1/2 teaspoon

Mitoyo orange (juice)

20cc

Olive oil

Appropriate amount
Method
Put the salad oil in a pot, heat, stir fry chopped garlic, ginger and onion, add tomatoes and fry further.

Stir in a pan with salt and pepper and season with Sanuki Cochin Mince.

Add curry powder, soy sauce, tomato ketchup, and sugar to (XNUMX) and season to taste.

Boiled Idako Dashi 6: Soy Sauce 1: Mirin 1: Ginger, Sugar in a proper amount. Combine the ingredients of the fritter powder and mix with the same amount of water to be used.

Combine dice-shaped tomatoes with honey, Mitoyo orange juice and olive oil to make salsa sauce.

Put the sliced ​​lettuce, boiled broccoli, cochin dried curry, and Iidako fritters on rice in a plate, and add salsa sauce.