Delicious recipe collection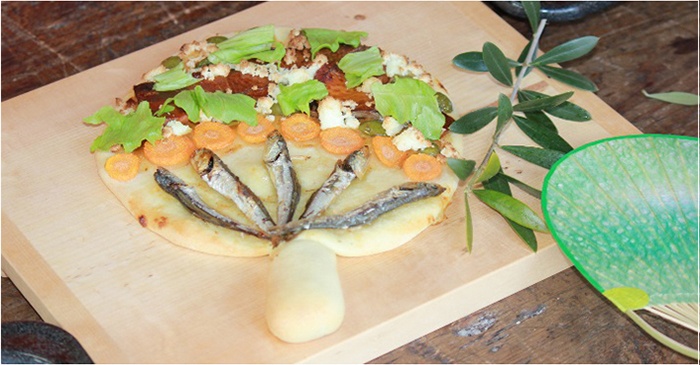 Ingredients
Iriko oil sardine
Iriko

20 animals

Garlic (sliced)

2 portions

Red pepper

2

Laurier

5

salt

1 tsp
Smoked town
Hamachi (saw cutting)

150g

Salt noodle

2 tsp
Handmade cottage cheese
milk

1.5 liter

vinegar

4 tablespoons
Cloth
Wheat flour

300g

Sugar Salt

1 teaspoon each

Dry yeast

1/2 teaspoon
ソ ー ス
Red miso

1 tablespoons

egg yolk

1/2 teaspoon

Olive oil

10 ml
Carrots (round slices / boiled)

100g
Olive oil

Appropriate amount
Method
* Make Iriko oil sardine
Put the ingredients in a saucepan, pour water into the flour and cook over low heat.
Once drained, add 1/4 cup of olive oil and cook for 5 minutes.
Turn off the heat and soak for 30 minutes.

※ We make town smoked
Sprinkle the town with salt and koji and leave it in the refrigerator overnight.
Put 30g of smoked chips in a frying pan. Put the net, lay the aluminum foil, and arrange the town.
Put the lid on a high heat, and after about 5 minutes, when the smoke starts to come out, turn to medium heat and smoke for 5 minutes.

* Making handmade cottage cheese
Boil the milk in a pan and stop the fire just before boiling. Add the vinegar and mix gently 5-6 times. After a while, strain with a paper towel.

In a bowl, mix the ingredients of the dough and 3/4 of a water cup, mix and add a 1/4 cup of olive oil, then knead.
Once smooth, wrap in a bowl and let sit for 30 minutes, then ferment until it is slightly larger.

Combine red miso, egg yolk and olive oil to make a sauce.

Cut the olives into fruit only.

Divide the dough into four equal parts and make them into the shape of a fan.

Spread red miso sauce and koji.

Oil sardine, smoked town, salted cheese, olives, and carrot.
Bake in an oven at 200 ° C for 10 minutes, tear off lettuce and complete.