Delicious recipe collection
Sanuki Cochin mustard sauce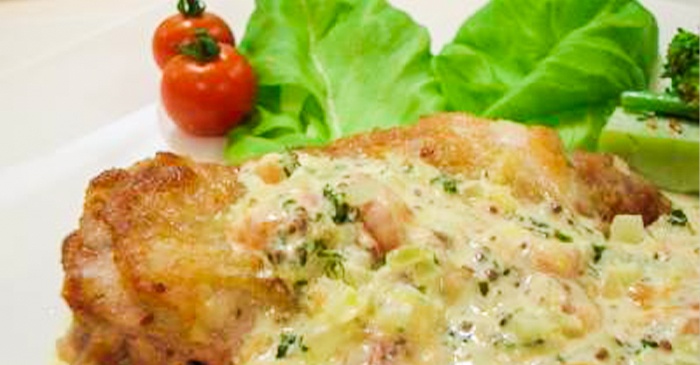 Ingredients
Sanuki Cochin Thigh Meat

1 sheet (300g)

Salt and pepper

Appropriate amount

Flour

Appropriate amount

parsley

a little
Mustard sauce
Onions (medium)

1/4 (30g)

Tomato

50g

バ タ ー

10g

White wine

50cc

Fresh cream

75cc

grain mustard

20g
Garnish
Salad greens

1/2 bundle

Mini Tomato

4 individual
Method
Sanuki Cochin removes streaks and excess fat, and cuts thick sections evenly.
Salt and pepper the unskinned surface and mix it in.
* Taking the muscle and fat will prevent shrinkage and remove odor.
Apply the knife by grabbing the muscles and fat, and move the knife as if it were sliding.

Cut the mustard sauce ingredients. Onions and parsley are minced, and tomatoes are boiled to remove the seeds and roughly minced.

Make mustard sauce. Put butter in pan and fry onion over medium heat until tender.
Add white wine and cream and boil until thick.
Turn down the heat, add the mustard and tomatoes, bring to a boil and season with salt and pepper.

Sprinkle flour on Sanuki Cochin. Heat XNUMX tablespoon of salad oil in a frying pan, bake on medium heat for XNUMX to XNUMX minutes with the skin down.
If the skin burns brown, turn it over and lower the heat, and bake again for a few minutes.
* Wipe off excess oil with a paper towel.

Put the roasted meat on a plate, sprinkle with warm mustard sauce and sprinkle with parsley.