Delicious recipe collection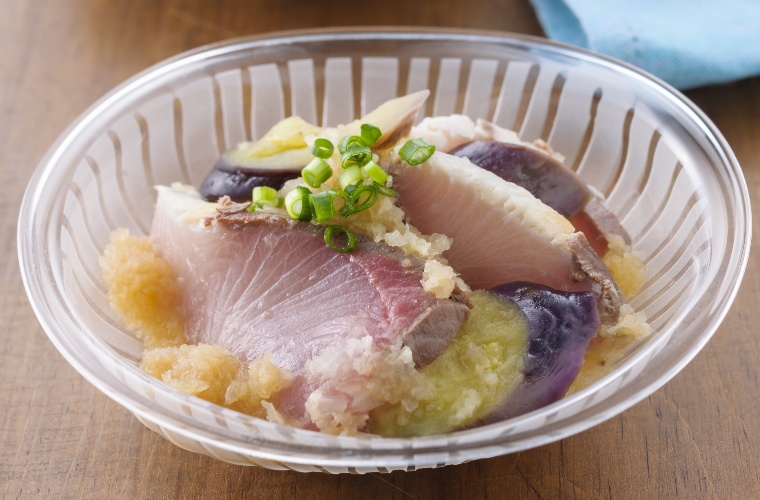 Ingredients
For 2 people
Olive hamachi (for sashimi)

140g

Mitoyo eggplant (* 1 bottle, equivalent to 120g for other varieties)

1/2

Radish

100g

Olive oil

1/2 tbsp

Ponzu sauce

1 tbsp + 1/2

Chopped green onions

Appropriate amount
POINT
By roasting the surface, you can bring out the aroma and the taste of fat.The chewy texture of the olive hamachi and the savory texture of the eggplant are a perfect match!
Method
Cut the Mitoyo eggplant in half lengthwise, slice it into thin slices with a width of 5 mm, and soak it in water.
Grate the radish, make grated radish and squeeze the water lightly.

Put aluminum foil on a frying pan and heat it over medium heat, and line up the drained Mitoyo eggplants.Cover and cook over low heat for 4 minutes on each side, then remove to a plate.
(A microwave oven is also acceptable: Put the drained Mitoyo eggplant in a heat-resistant bowl, wrap it, and heat it in a 600w microwave oven for 3 minutes.)

Take the aluminum foil, sprinkle olive oil in a frying pan and heat over medium heat.Add olive yellowtail and lightly cook the surface for 10 seconds each to cut it into pieces that are easy to eat.

Put step 2 and step 3, grated radish and ponzu sauce in a bowl and mix.Serve in a bowl and sprinkle chopped green onions to finish.