Delicious recipe collection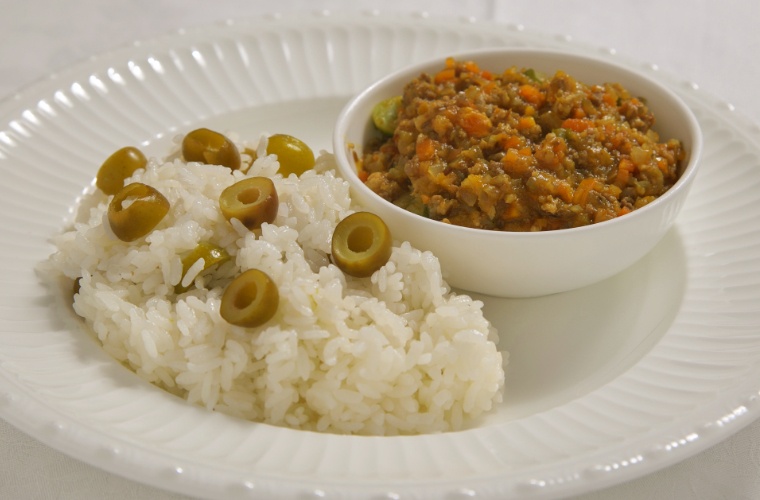 Ingredients
4 servings
Minced olive beef

200g

Minced olive pork

300g

eggplant

Middle three

Okra

5 to 6

Ginseng

1

onion

2 in

Tomato

(Ripe) Medium 3

Curry powder

3 tablespoons

mash

100g

Cumin seed

1 tablespoons

Olive oil

1 tablespoons

Garlic

2 piece

Ginger

1 piece

Salt and pepper

Appropriate amount

Oidemai Rice

3 go

Olive salted

(If there is, from Shodoshima) 20 to 25 grains
Method
Wash the rice in Oidemai, soak it in water for 20 to 30 minutes, put the olive fruits cut in half, and cook the rice.

Cut okra into 5mm widths, chop eggplants, onions and carrots, and boil tomatoes and chop them into zaku.
Finely chop the garlic and ginger.

Add olive oil to a pan, add cumin seeds, garlic, and ginger and fry. When the scent comes out, add minced meat and vegetables in that order and fry.Lightly salt and pepper.

Add moromi, mix and simmer for 20 to 30 minutes.
Taste, salt and add a little curry powder and cumin seeds to finish (not included)

Serve cooked olive rice on a plate and serve with keema curry.
Invented
This recipe is a "delicious de prize" work of a curry recipe contest that uses one or more ingredients from Oidemai and Kagawa prefecture.
For a list of other delicious recipes that use "Oidemai"hereKara (Kagawa Food Happy Project)
For more information on "Oidemai"hereKarakara (LOVE Sanuki)