Delicious recipe collection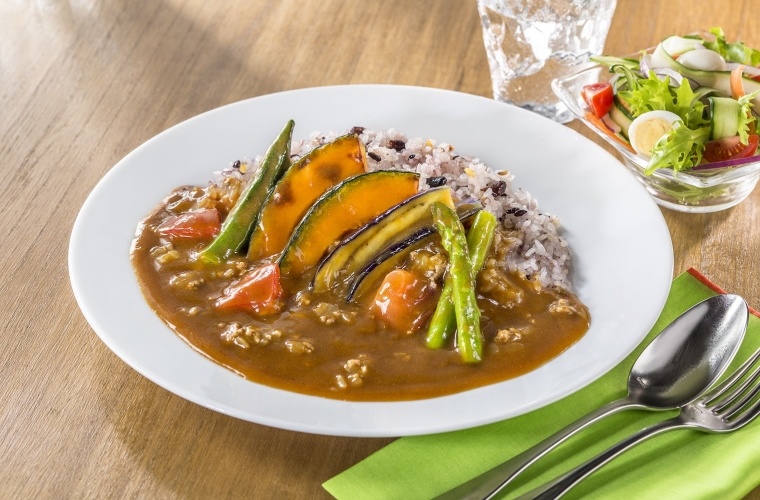 Ingredients
6 dishes
House Vermont Curry <Sweet> 230g

1/2 box (115g)

Minced beef and pork

250g

onion

Medium 2 (400g)

Tomato

Medium 1 (150g)

Eggplant (Naho Mitoyo)

2 bottles (160g)

Green asparagus (Sanuki no Awakening)

1 bundle (100g)

Okra

1 pack (100g)

pumpkin

1/8 (150g)

Salad oil

1 tablespoons

Wed

800 ml

Salad oil (for fried)

Appropriate amount
Rice (Oidemai)

3 go (450g)

House Cheerful Grains Scented XNUMX Grains

1 bag (30g)
Method
Wash 3 go of rice, mix with the same amount of water as white rice, add XNUMX scented grains, stir lightly, and cook.

Finely chop the onions, chop the tomatoes and green asparagus into bite-sized pieces.Divide the eggplant vertically into 2 equal parts, make XNUMX sashimi holes in the okra with a kitchen knife, slice the pumpkin into thin slices, and wipe off the water.

Heat 2 tablespoon of cooking oil in a thick saucepan and fry the onions in step XNUMX well.When the onions are squeezed, add the minced meat and fry until the meat changes color and the fat is squeezed.

Add water, remove the lye when it boils, and simmer on medium heat for about 10 minutes.

While boiling, heat 1/2 tablespoon of salad oil in a frying pan, add the tomatoes from step 1 and bake both sides quickly, then wipe off the frying pan.Add salad oil to the extent that it spreads over the bottom of the frying pan, heat it, and fry the green asparagus, eggplant, okra, and pumpkin in step 2 in that order until cooked, and drain the oil.

Turn off the heat in step 4, add the roux to melt it, and simmer again on low heat for about 5 minutes with occasional stirring.Add the vegetables from step XNUMX and let them boil.

Place the rice from step 1 in a bowl, sprinkle with curry, and sprinkle the vegetables on top.
Invented
One point memo
Pumpkin can be baked in a shorter time by wrapping it softly, heating it in a microwave oven at 600W for about 3 minutes, and then frying it.
About this recipe
This recipe is a recipe devised by House Foods Co., Ltd. as a curry menu using summer vegetables produced in the prefecture.Please try.
▼ Green asparagus and eggplant fried curry (House Foods Co., Ltd.)
Recipe page (go to external site)