Delicious recipe collection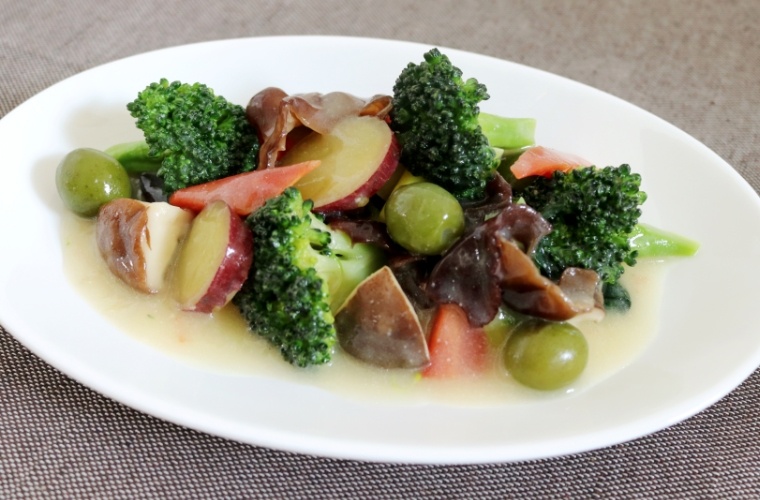 Ingredients
For 2 people
broccoli

Kobo 6 cuts

Kinki ginseng

1/4

Tabetena

XNUMX share

Kinki potato

1/2

Shiitake mushroom

2 individual

Sanuki Kurage (dry)

3g

Olive pickled

8-12 pieces

White onion (not necessary)

8cm 程度

Ginger

3g

salt

a little

Edible oil

Appropriate amount

Cooking sake

a little
[Matching sauce]
Wed

300 ml

Chinese soup base

1 tsp

sugar

1 tsp

White miso

30g

potato starch

1 tablespoons
Method
Prepare the vegetables.
<Cut>
Broccoli is bite-sized, Kintoki carrots are sliced ​​at an angle (strips are also possible), Eat green onions are 2 cm wide, Kintoki potatoes are 1 mm wide, and sliced ​​into half-moons. Cut / 4 cuts, cut white onions into small pieces, and cut ginger into 1 cm square colored paper.

<Lower boiling>
Fill a frying pan with a thin layer of water, add a pinch of salt and a small amount of oil, add Kintoki carrots and Kintoki potatoes, and heat.When it comes to a boil, add broccoli and the rehydrated wood ear mushrooms, boil them quickly, and put them in a colander to drain them.

POINT!The key to making crispy stir-fry is to boil vegetables.By adding salt and oil, the boiling point rises, so it can be heated at a higher temperature than boiling with hot water alone, and has the same effect as oiling.

Combine the seasonings from [Mixed sauce] and mix well.

Put a lot of oil in a frying pan and heat the ginger cut from colored paper over medium heat.

When the aroma comes out, add all the ingredients and fry quickly so that it is covered with oil.

Add the [Matching sauce] from step 5 to step 3, and when it becomes thick, it's done.
Invented
Eight treasures made with white miso using 7 kinds of vegetables from autumn to winter in Kagawa prefecture.
White miso adds richness, and it's so satisfying that you can't think of it as just vegetables.
* Try making with your favorite vegetables such as asparagus and turnips.
* Ankake rice and ankake fried noodles are also recommended.
---
This "Sanuki Cloisonne" is a recipe devised by "IKUNAS f" that sends out information about the food culture and local cuisine of Kagawa Prefecture and Shikoku of tao. Co., Ltd.
Related Links
Ikunas HP:https://www.ikunas.com/
IKUNAS f:http://ikunas.com/ikunasf/
Click here for "IKUNAS f Recipe" in Sanuki Umaimon Recipe Collection
IKUNAS f recipe (in the collection of delicious recipes)