Delicious recipe collection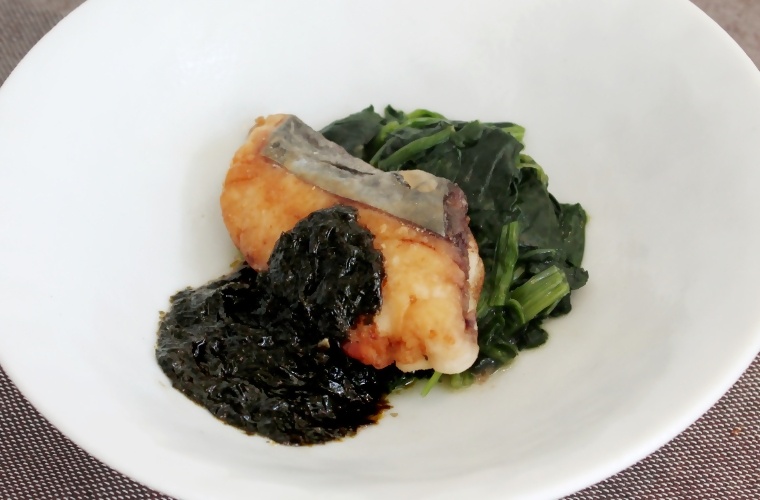 Ingredients
For 2 people
Fish fillet

2 pieces

salt

A little (approximate: XNUMX% of the weight of the fillet)

Wheat flour

Appropriate amount

Olive oil

1 tablespoons

バ タ ー

15g
Kagawa seaweed sauce
Wed

150 ml

Ginger

2g

Kagawa seaweed half-cut size

2

salt

a little

Soy sauce

1/2 teaspoon
Method
Sprinkle salt on the fish fillet and leave it for about 15 minutes, then wipe off the water with a paper towel.

Sprinkle flour evenly on the fish fillets from step 1.

Warm the olive oil in a frying pan and bake from the skin.

Bake slowly over low heat for about 5 to 6 minutes, then turn over and bake when the skin is browned.

Add butter to the frying pan and shake occasionally to keep the foam fine.

Scoop the butter with a spoon and bake it while putting it on your body.

After baking, take it out on a paper towel and drain off excess oil.

POINT!I will make the sauce, so I will not throw away the contents of the frying pan.

Put the torn Kagawa seaweed, chopped ginger, water, salt and soy sauce in the frying pan of step 7 from which the fish was taken out, and heat it.
* Nori seaweed can be used as a product with a translation such as a hole when making nori seaweed.


When the seaweed melts, adjust the taste and complete the sauce.

Sprinkle the sauce on the fish in step XNUMX served on a plate and it's done.
Invented
Kagawa's seasonal ingredient "first picked seaweed" is made into a sweet and savory sauce with plenty of umami.
It goes well with local fish in Setouchi, white fish such as sea bream, Spanish mackerel, sea bream, flounder, and blue fish.
---
This "Fish and shellfish Meuniere Kagawa seaweed sauce" is a recipe devised by "IKUNAS f" that disseminates the food culture and local cuisine of tao. Co., Ltd. in Kagawa prefecture and Shikoku.
Related Links
Ikunas HP:https://www.ikunas.com/
IKUNAS f:http://ikunas.com/ikunasf/
Click here for "IKUNAS f Recipe" in Sanuki Umaimon Recipe Collection
IKUNAS f recipe (in the collection of delicious recipes)