Delicious recipe collection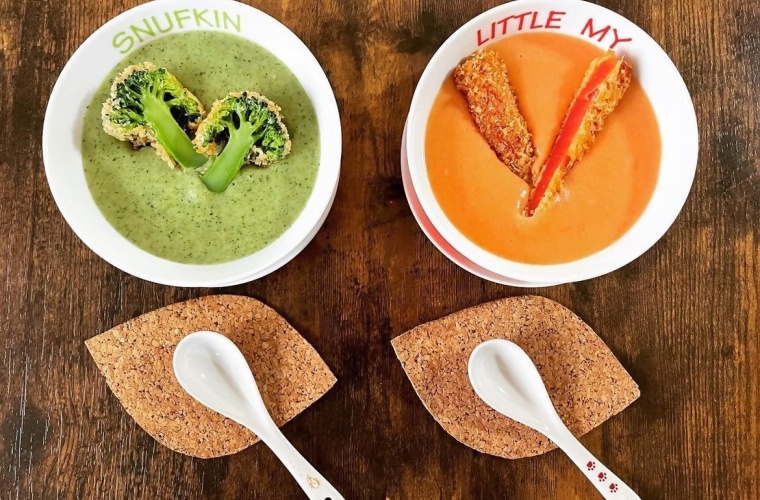 Ingredients
For 2 people
Broccoli potage
broccoli

1 large share (about 300g)

onion

1 small (about 100g)

Rice (Oidemai)

100g

Water 200cc + 1 consomme
milk

100cc

Extra virgin olive oil from Kagawa prefecture

1 tablespoons

Salt and pepper

Appropriate amount
Kintoki carrot pottage
Kinki ginseng

One large (about 1g)

Others have the same amount of ingredients as "broccoli pottage"
《For frying》
Fried oil (olive oil)
Flour, beaten egg, bread crumbs

Appropriate amount
Method
Divide the broccoli into small bunches, peel the hard stalks, and cut into appropriate sizes. Save 300g of the 100g for frying.

Finely chop the onions, heat the olive oil in a pan and fry. When it is clear, add broccoli and fry lightly.Add water and consomme and simmer until the broccoli is cooked.

Add rice to step XNUMX, let it boil, and mix.

When it becomes smooth, transfer it to a pan.Put the milk in the mixer, sprinkle it lightly, and transfer the amount in the mixer to the pan together. (Ingredients can be used without waste.)

Boil and taste step XNUMX, and if you like, lightly salt and pepper to finish.
* Make a pottage of Kintoki carrots in the same way.

Add flour, beaten eggs, and bread crumbs to the broccoli and Kintoki carrots left for frying, and fry in olive oil.
Pour the pottage into the soup plate and serve the fries.
To finish off, add plenty of olive oil (not included in the amount) to complete.