Under recruitment! 11月1日(日)オリジナル天ぷら作りワークショプNovember XNUMXst (Sun) Original Tempura Making Workshop
2020/10/09EVENTS
"Sanuki Marche Workshop" where you can learn about Kagawa's ingredients and crafts. In November, we will make "tempura" with Yuta Kumano, the third generation of the Kumano Gamo store in Kawashima Honmachi, Takamatsu City, as a teacher.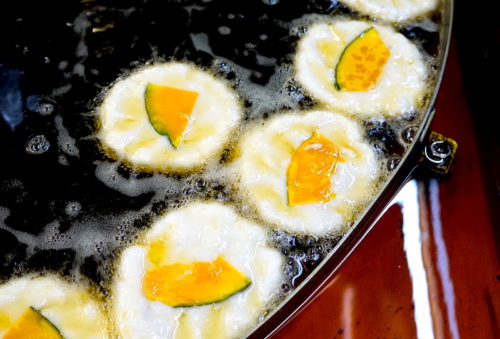 In Kagawa prefecture, "tempura" is fried food.It is no exaggeration to say that sole food is for the citizens of the prefecture.A standard product that is sure to line up at supermarkets and udon restaurants.Satsuma-age is famous for deep-fried foods, but Kagawa's tempura is fried at low temperatures, so it has a light color.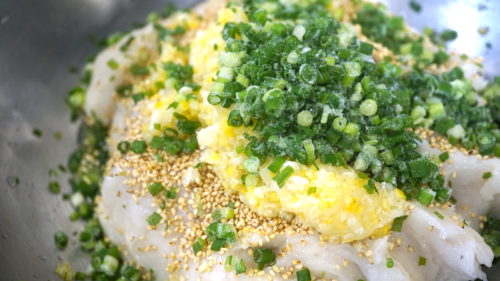 Let's make this "tempura" by kneading your favorite ingredients.
About 50 pieces per person (about XNUMXg per piece) are molded and fried.It is elastic and unexpectedly powerful.
You can take the finished tempura home with you, so please bring a container with you.
Date and time: Sunday, November 2020, 11 ① 1:10 ② 00:11 * Up to 00 people each time
* In case of stormy weather, it will be held on November 11th (Sun) the following week.
Location: Sunport Takamatsu West Passage / Multipurpose Plaza Sanuki Marche Venue
Participation fee: 2000 yen
What to bring: Hand wipes, aprons, take-out containers
Application: NPO corporation Archipelago
tel: 087-813-1001 (Mon-Fri 10: 00-18: 00 except weekends and holidays)
mail: info.marche@archipelago.or.jp (Inquiry FormYou can also apply from. )
Please contact us with the following information when applying.
1. Name (Please give the names of all participants)
2. Number of participants (Please let us know if you would like to participate with multiple people such as family members)
3. Contact information to be reached on the day
Thank you for your cooperation as a measure against corona.
・ Please wear a mask.
・ Please disinfect your hands with alcohol disinfectant before starting.
About Kumano Gamo store
The Kumano Gamo store started at a fish shop in the town called "Kumano Shoten".Although it was a rural area located in an area relatively far from the seaside, it was founded to deliver fresh fish to the people of the area that prospered as a post town.Yuta Kumano is the XNUMXth generation, counting from the generation of the fishmonger.With the improvement of refrigeration technology and storage technology, the content of handling from fresh fish to processed kamaboko has changed.Underlying is to continue to make products that are close to the people who live in the town.At the time of the move to the Kamaboko store, it seems that the main product was the crafted Kamaboko, which was popular as a gift.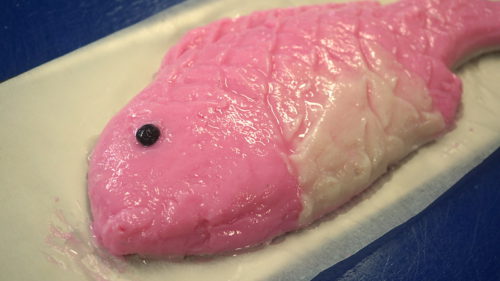 Sea bream scraps
It is called "Kuzushi" because it is made by smashing fresh fish meat.A type of crafted Kamaboko that can be eaten during celebrations.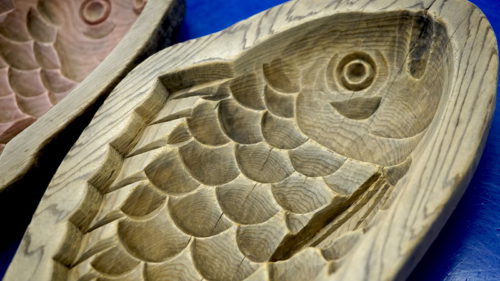 A wooden pattern that is still active and has been used since before the war.
Originally a fishmonger, I still have the right to participate in the auction of the fish market (purchase right).Therefore, we can directly purchase Kamaboko and tempura ingredients, and we are particular about fresh ingredients.Currently, facing the issue of Japan's catches, including the Seto Inland Sea, continuing to decline, we are also working on a new attempt to use resource-managed fish as a raw material so that the next generation can pass on tempura.
The key to making kneaded products is the technology that gives them a unique elasticity.Kneading, which is mainly made of protein, has accumulated scientific knowledge on how to control the hardening of protein and experience to master it.Especially when making kamaboko, what ingredients should be added at what timing?Also, the temperature range when heating is very important.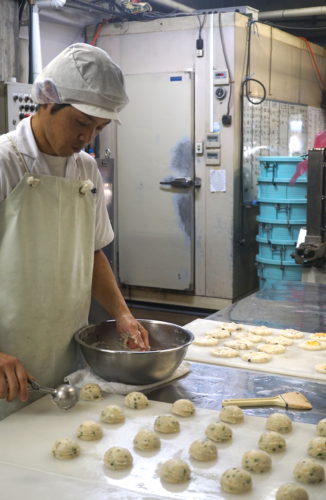 Yuta Kumano is the only person who has the technology for this whole process at the Kumano Gamo store.It is a very valuable technology.
Please experience the elasticity of the surimi of fish and the precious technique of craftsmen, which you do not usually touch.
ACCESS
760-0019 Sunport, Takamatsu City, Kagawa Prefecture 2-1
Sunport Takamatsu Symbol Tower West Passage
Read More