"Sanuki Marche in Sunport" Announcement of June 11st and Requests for Visitors
2020/10/05OTHER
The next "Sanuki Marche in Sunport" will be held on October 11th (Sun).
On the day of the event, the closing time will be shortened to 14:XNUMX by XNUMX hour, and only merchandise and takeout products will be sold.
Please note that you cannot eat or drink in the venue to prevent splash infection.
At the time of the event, we will consider the safety of our customers and shopkeepers based on the infection spread prevention guidelines.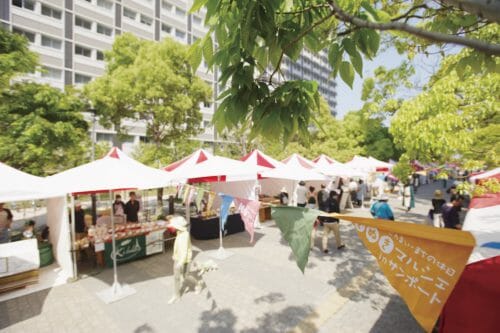 <<Requests to customers to visit>>
・Please come wearing a mask.
・Customers with a body temperature of 37.5 degrees or higher and poor physical condition are kindly requested to refrain from visiting.
・Please disinfect your hands with the disinfectant solution when you come to the venue.
・When purchasing, please keep the social distance according to the mark on your feet.
・Please refrain from touching products that are not purchased.
・Please refrain from staying for a long time in order to avoid crowding and close contact.
・Please install the contact confirmation application (COCOA) before visiting.
Ministry of Health and Welfare of Infected Patients New Coronavirus Contact Confirmation App (COCOA) Overview Page
https://www.mhlw.go.jp/stf/seisakunitsuite/bunya/cocoa_00138.html
<<Infection prevention measures for venue equipment>>
・Regular disinfection
・Installing splash prevention sheets at all stores
・Securing social distance (installation of guide tape, tents separated from each other by XNUMX m or more, stores that are expected to be crowded will secure more space for sale)
《Infection prevention measures for shopkeepers》
・Be sure to wear a mask and gloves
・Check physical condition and temperature
・Installation of antiseptic solution at all stores. Thorough regular disinfection.
・All products for sale are individually wrapped. (Excluding some products such as vegetables, fruits and flowers)
・Sale of goods and take-out products only.
We apologize for the inconvenience, and we appreciate your cooperation.
<Sanuki Marche in Sunport>
Date and time: Sunday, June 11, 1:10-00:14
Venue: Sunport Takamatsu Symbol Tower West Passage, Multipurpose Plaza, Takamatsu City, Kagawa Prefecture
Postponed to October 11th (Sun) the following week in stormy weather
*It may be canceled or postponed depending on the status of new coronavirus infection in the prefecture. Please refer to this official website for information about the event and information on who has the store.
ACCESS
760-0019 Sunport, Takamatsu City, Kagawa Prefecture 2-1
Sunport Takamatsu Symbol Tower West Passage
View more