"Sanuki Marché in Support" Information of 1th November and request
2020/10/05OTHER
The next "Sanuki Marché in Sunport" will be held on 1th November (Sun).
To prevent the spread of COVID-19, eating and drinking at the event site are not allowed.
We will consider our customers and shops safety first, base on the guideline of preventing spread of infectious diseases.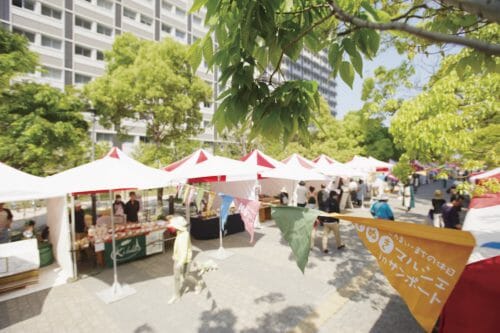 ・ Please wear a mask.
・ Please do not enter the site if you have a fever of over 37.5 or feel unwell.
・ Please disinfect your hands and fingers with the provided antiseptic solution.
・ Please follow the markings on the ground to keep the appropriate social distance following when making a purchase.
・ Please do not touch products if you do not intend to buy them.
・ Please do not stay too long to cause to avoid crowding.
・ Please install the smart phone application "NON CONTACT CONFIRMATION (COCOA)" before you come.
・ Disinfect regularly.
・ All stores are equipped with plastic sheeting prevent droplet infection.
・ Social distance (Induction tape, 3 meters distance between shops, If there are more crowded give them more distance)
・ Wear a mask and gloves.
・ Check the health conditions and temperature.
・ All shops must provide their own antiseptic solution. Disinfect regularly.
・ Each item must be wrapped individually. (Expect vegetables, fruits, flowers and some others)
・ Only sell and take away service.
We are very sorry for the all trouble. Thank you for your cooperation.
Date: 1 November (Sunday), 10:00 to 14:00
Venue: West Promenade of Sunport Symbol Tower, Takamatsu, Kagawa.
If the event is canceled due to inclement weather, it will be rescheduled to 8 November (Sunday).
* The event might postponed or canceled due to the status of COVID-19 by Kagawa Prefecture. Please refer to the official website for updates and more details.
ACCESS
760-0019 Sunport, Takamatsu City, Kagawa Prefecture 2-1
Sunport Takamatsu Symbol Tower West Passage
View more