There is a word called autumn in art, but traveling in Kagawa is perfect for viewing art on autumn days. "Genjiro Inokuma Museum of Contemporary Art" and "Higashiyama Kaii Setouchi Museum". If you cross the island, you will find Benesse Art Site Naoshima, a fusion of nature and art. Aji Ishi no Sato is dotted with stone art works and houses the world-class sculptor Isamu Noguchi Garden Museum.
And this time, we will introduce the Shioe, a hot spring area with a small art museum. In the Shioe area, surrounded by the rich nature of the mountains, there are a variety of exciting encounters.
Takamatsu's back parlor is the National Health Resort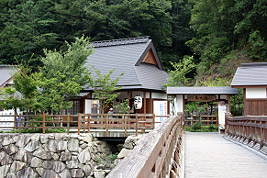 About 10 hour by car from Takamatsu Station and about 2 minutes by car from Takamatsu Airport, there is Shioe Onsen, the largest hot spring resort in Kagawa Prefecture, nestled in nature. Named "Yumei no Sato", it has been designated as a "Kokumin Onsen Resort" by the Ministry of the Environment. This is an area where there are many hot springs that are expected to use the hot springs sufficiently and have the conditions of a healthy hot spring. This requires satisfying conditions such as high efficiency of the source, environment as a recreation area, medical facilities using hot springs, enhancement of staff, safety against disasters and transportation convenience. In Shikoku, Yunoura in Ehime Prefecture Only two places, hot springs and Shioe, are designated.
Shioe Town, where Shioe Onsen is located, was born in September 31, but merged with Takamatsu City in September 1956, and is now Shiomachi, Takamatsu City. Shioe, which has long been called the "Okuzashiki of Takamatsu", is a healing area that is located right now in the city's Okuzashiki, where you can greet important guests and relax.
A hot spring with a history of 1300
It is said that Shioe Onsen was discovered about 1300 years ago by a famous monk, Gyoki. However, in the legend of a far distant era, there was no way to confirm. However, Mr. Hidetane Matsukubo, the former chief of Nara Yakushi-ji Temple, visited this place and saw one stone with Sanskrit characters transmitted to Shioe, `` It is highly probable that Gyoki Bosatsu visited this place. '' He said. As a result, the statue of Gyokiza will be celebrated in a wooden building of Kiso Hinoki at Yakushido in the hot spring area. This is a replica of the statue of Gyokiza, an important cultural property of Toshodaiji Temple in Nara. The temple (Kagayama Yuno Yakushi), which celebrated its thankful appearance, is still protected by the hands of locals, and once a year the Yomashi-ji Temple sponsors a memorial service. By the way, Gyoki was also the second generation beneficiary (priest) of Yakushi-ji Temple.
Sightseeing inquiries in Shioji area: Takamatsu Shioe branch phone 087-897-0131
Shioe Onsen Tourism Association: Telephone 087-893-0148 (Open 10: 00-17: 00, closed every Wednesday)
Hagi-no-ji Temple where Gyoki opened
Shortly after entering National Highway No. 193 from the Takamatsu city area into the Shioe area, you will see a sign for "Saimyoji" on your left. Turn left along the sign and cross the Koto River that flows along the road to find "Shomyoji". It is said that Gyoki, who discovered Shioe Onsen, carved a statue of Yakushi Nyorai in the first year of Taobao and opened it as Nyoirinji Temple. Later, Tokori Hojo revived and was renamed Saimyoji. In particular, from the beginning of September to the mid-autumn lunar month, Hagi flowers bloom on the grounds and are visited by many people.
Grandpa's workshop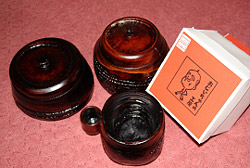 An antique market will be held during the Hagi Festival during this period, and Tadao Ohgami, who lives in the immediate vicinity of the temple, will exhibit works here. Mr. Ogami has been a leader of Shioe Town Bamboo Crafts Club "Grandpa's Workshop". The members gathered in a workshop near the branch, cut bamboo by themselves, and began to work on the work, but now they are older and their feet are far away. Mr. Ohgami has a long life of 94 years. Like the portrait of the box, it is a warm and fun personality and work.
In the past, Shioe bamboo was a special product nationwide. Approximately 1 bundles were produced annually before and after the war and used for building materials. Bamboo skin was sent out for about 1 kilograms as a packaging material for food. However, due to changes in lifestyle, bamboo is no longer used, and the bamboo grove in Shioe has become noticeably degraded. So, in 4, the Shioe Town Bamboo Crafts Club was launched in an attempt to make effective use of the bamboo.
Dear black bean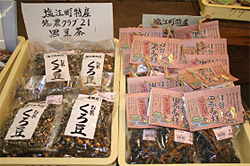 Next to the workshop of "Grandpa's Workshop", "Yonaga Club 21" is packing. This is also a group where the local silver generation is very active, working to make special products that make use of the beautiful nature of Shioe, and focused on the clean and safe black beans cultivated in the mountains. Black soybean is a food that is attracting attention as being effective for lifestyle-related diseases.Shioe's black soybean was analyzed by a professor of Kyoto University's Faculty of Agriculture, Dr. Sate, who found that the active ingredients such as isoflavones, saponins, and anthocyanins were analyzed. The content is by far the highest, and it is said to have been endorsed as "the best black bean in Japan". Using that black bean, we sell `` Ocha black beans '', which allows you to eat the beans as they are after serving tea, and `` Haikei Kuro Mame-sama '', which is a sweet natto that spreads in the mouth with the sweetness and richness of black soybeans. Did. "Kirei Komame-sama" received the 13 Kagawa Prefectural Processed Food Best Award.
Tiara-like flowers, cherry carnations
After passing the Shio branch, there is a three-way road. After crossing the Mizukibashi bridge, enter the mountain road on your right, and you will find the agricultural cooperative "Kokaen". It is a historical agricultural union corporation founded in 43, led by specialized farmers.
Here, various advanced technologies have been introduced, including the establishment of hydroponic cultivation using peat mats in 61. In 11, bucket transportation started. Bucket transport is a method of transporting flowers soaked in water so that they can be delivered fresh. It was rare in Japan at the time of its introduction, and the equipment was imported directly from the Netherlands. There is no waste material such as cardboard, so this is an environmentally friendly transport method.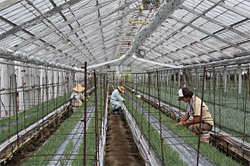 And now, Koukaen is focusing on the new mini-tiara series of Kagawa prefecture's original. As you know, "tiara" is a crown-shaped hair ornament, it is characterized by a lot of small pointed petals, just like jewels and the shine of stars. The carnation image is different from the traditional carnation image. This "Mini Tiara Pink" received the Best Flower Award and the Special Bleeding Award at the "Japan Flower Selection" cut flower category held in Kagawa Prefecture in 2007.
The original varieties that took several years to create independently were Rico. The pale and elegant pink flowers are cherry blossoms that Japanese people love. We are planning to register the varieties this fall, and will be on the market over the next two years. This is mainly for selling seedlings to farmers, but they can also take personal orders if you call.
Inquiry: Agricultural union corporation flower garden Phone 087-897-0478
Golden ginkgo in autumn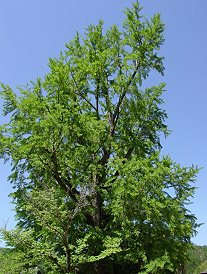 When you turn back on Prefectural Road 43 and enter the left hand (south) on the way, it is called the "gasoline road". Now, it is also recommended as a seasonal walking path and cycling road. You can go by car, but please be careful because it is difficult to oppose. On the other hand, cross the Mizukibashi bridge and return to National Route 193. On the right is Tanioka Shokudo. It is a popular restaurant where you can enjoy local flavors such as chirashi sushi, grilled sweetfish, and winter soba noodles. In the fall season, you may be able to meet Matsutake mushroom udon.
If you go to the right of the dining room, you will find the famous cherry blossoms in the past called Oku Senbonzakura, Toishi in the original basin of Ayakawa, and the end to Kashiwara Valley in Ayagami. At the end of the national highway, you will soon see the "Sato-chan Market" where local agricultural products gather on the left. If you go further, there is Iwabe Hachiman Shrine on the left side in front of Shioe Onsen, where large ginkgo trees over 600 years old tower.
Museum surrounded by babbling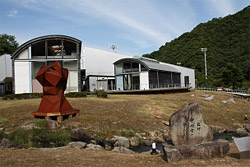 After passing the bus stop at Iwabe Hachiman Shrine, you will see the Takamatsu City Shioe Museum on your right. In 17, it was newly merged with the Municipal Museum of Art as the second museum in Takamatsu City. The building features natural light and a bright exhibition room. The permanent exhibition room is an exhibition of Western painter Shunichi Kumano from Shioe Town. In the special exhibition room, private and group exhibitions are held, concerts are held in halls, etc., cultural classes and ceramics classes are also held.
There are waterways around the area, dotted with stone art works and monuments, so you can enjoy a walk while listening to the babbling. In the garden, there was also an iron work by Mr. Kojiro Nakai, a modeling artist in Shioe Town. The area is also home to fireflies and cultural village parks, grounds and outdoor stages, and is an event venue.
Inquiries: Takamatsu City Shioe Museum Phone 087-893-1800
Closed: Mondays and New Year's holidays (December 17 to January 16) / Opening hours: 30:XNUMX to XNUMX:XNUMX (admission until XNUMX:XNUMX)
Popular products at Road Station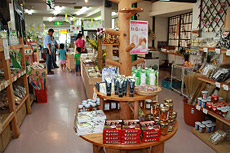 Roadside station Shionoe is located along the national highway in the center of Shioe Onsen. Recommended spot where you can meet local specialties and agricultural products.
Although it is a small shop, there are various souvenirs such as sweets, wooden products, healthy foods and goods, rare items, gem. The shop's direct sales market is lined with flowers, fruits, and fresh vegetables, and is a hub for people to interact with. There is a break corner in the back, and you can meet "Dear Kei-Koma Mame" in the season. The most popular restaurant is the soft ice cream from Shionoe Fujikawa Farm. Refreshingly mellow, the deep sweetness of milk is captivating people. Besides, it 's so hot! Yuzu-flavored spice "Baishin", Amago-based miso "Meshari", and "Nakano-cha-en" 's famous tea were taught as popular local products. So, after this, I will continue to report on this popular product.
Inquiries: Road Station Shionoe Telephone 087-893-1378 (Open 8: 30-19: 00, closed every Tuesday)
In front of the roadside station, there is the Shioe Onsen Tourist Information Center (telephone 087-893-0148) across the national highway, where you can make reservations.
I want to heal the fatigue of the people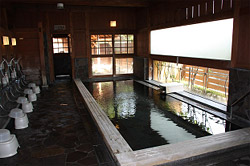 Before that, visit a public hot spring located adjacent to the roadside station. If you cross the wooden bridge from the parking lot at Michi-no-Eki, you will find Gyoki no Yu. For cars, there is a large parking lot across the bridge on the right from the road station (national road). There is an indoor bath, a low-temperature sauna, and an open-air bath in the hall where the feel of wood is nice, so you can enjoy a relaxing bath. The spring quality is an alkaline hypotonic cold spring. It is effective for skin diseases, gastrointestinal diseases, health promotion, allergic diseases, rheumatism, etc. The name of the hot spring, of course, comes from the famous monk Gyoki, who was used to promote the Great Buddha sculpture of Todaiji Temple. In 745 (Tenpei 17), the Imperial Court gave him the first rank of a Japanese monk. He has also spent his entire life in social and philanthropic projects, such as building bridges, ponds, and free lodgings throughout Japan. This hot spring is filled with the wishes of Gyoki who excavated a hot spring in hope of the happiness of working people. Gyoki-no-Yu is a place where you can relax and heal the tiredness of working people.
■ Gyoki-no-Yu telephone 087-893-1126
◆ Closed: The first and third Mondays of the month and the year-end and New Year holidays. On holidays, the following day / Opening hours: 1:3 am to 10:22 (admission until 21:30)
The recommended place to take a bath is "Salon de Beaute Wa", which is open on weekends at the Gyoki-no-Yu rest area, Yasunba. From the 30-minute normal course, color therapy, eyelash perm, nail care can be done, and all facial courses have a shoulder massage. "It's very good," told the female staff of Gyoki no Yu.
■ Salon de Beaute sum telephone 087-816-8181
Local soba after bath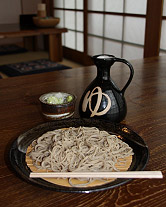 Next to the hot spring facility, on the left hand side of the bridge (walking only) is "Soba restaurant Gyoki-an". It is a luxury to take a soba using local buckwheat flour after getting up on a nostalgic tatami room. There are zaru, bukkake and kake, and there are Chikuwa Tensoba and Yamana Soba. The soup can be sweetened if offered at the time of ordering. In addition, it is possible to experience "buckwheat noodle making", which takes about an hour from a water mill to a kitchen knife with about 6 lower powders. Please enjoy the taste of soba grown here in the memories of Shioe.
Inquiries: Soba restaurant Gyokian Telephone 087-893-1726
Bamboo workshop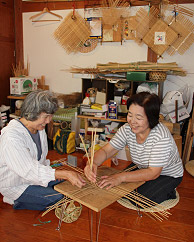 Next to Gyokian is a cute bamboo shop. This is an experience studio where bamboo work is taught by bamboo work. If you make an appointment, we also go to women's associations, children's associations, schools, and other classes. Depending on the order, such as a cute frog or crab figurine, a basket named the beautiful four sea waves, or a wall, you can choose a menu from about 30 minutes of experience time. There is also an unusual, jet-black "Ibushi bamboo" that has been carefully squeezed in a wood-working drying kiln, and "Bamboo Akari" on a bridge is said to have been made by members of the group.
Contact: Gyoki no Yu
Waterfall from Kobo Daishi
If you enter the sign near the sign of Shioe Onsen Village on your left, you will find Fudo Falls in Yamate. When Kobo Daishi trained, it was reported that the appearance of Fudo Myo Oo and that he came to be called the "Fudo Falls". It is said to be a "five-stage waterfall." There are parking lots and benches, and you can enjoy the autumn leaves.
Firefly Village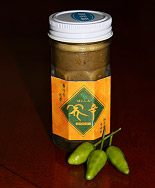 This time, we visited "Uotora Ryokan" located along the old Yamate road from the national highway. The owner is the leader of the "Wanchikai" who struggled to make Shioe Onsen a firefly village. The association has begun breeding fireflies since 52 and has been working on environmental issues in water, nature and hot springs, and the "Firefly Festival" has also been held. When you enter the entrance, the floor of the lobby is glassed, and river fish are swimming. The proud living room is a living room. You can enjoy grilled sweetfish, grilled local chicken, and hot pot. Day trips to enjoy only hot springs and meals are OK.
Here, we heard that we are also focusing on selling one of the popular Michi-no-Eki products, "Baishin," and we spoke with a wolf. One of the tastes of Shioe, "Ayu salt grilling" is eaten with "fresh vinegar," but instead of "fresh vinegar," "Baishin" was considered. It is made by kneading the green pepper that was harvested in the particularly hot spicy summer and the skin of the yuzu that was harvested in the winter. Anyway, it is spicy and full of adult flavor. You can enjoy new stimuli such as soba, udon, hot pot soup and tempura.
Inquiries: Uotora Ryokan Phone 087-893-0121
Recommended for metabo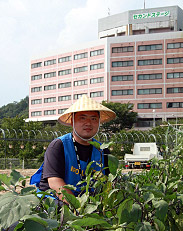 When you enter the prefectural road No. 7 on the right hand side of the national road along the Sansoji Road in front of the roadside station, the Uchiba Dam, which is one of the symbols of Shioji, spreads. There is a "second stage" along the Uchiba Pond where you can easily experience rural life. This is a stay-type experience-based accommodation, with a variety of experience menus to enjoy in nature. Long-term stays are often used by middle-aged and elderly people, and meals and experience programs designed to prevent and improve lifestyle-related diseases are also appreciated as diets. Not only farming experience, but also pottery, bread class, udon making, flower arrangement, plant dyeing, dressing, social dance, picture letter, etc. There is also a relaxation room for karaoke, culture, dance and so on. You can also enjoy sports at nearby golf courses, tennis courts, and heated pools, and enjoy the experience of picking up guests at Sanju Izutsu-yashiki, the Hikita at the eastern end of Sanuki. The facilities that allow you to enjoy Japanese cuisine using local ingredients, natural hot springs and long-term stays are reasonable prices, and are recommended even for families and groups from one night.
Inquiries: Second Stage Phone 087-893-1100
I will have the clear stream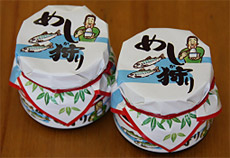 Along the Uchiba Pond, there is "Amago Sanmai", which is directly managed by the farm. Grilled Amago salt grilled over charcoal, sashimi made lively. It is a specialty store where you can enjoy fresh amago. And this shop is selling "meal picking". A superb dish of roasted amago sliced ​​with mirin, miso and sugar. It is said that the rice was delicious and could not be stopped, so it was named "Meshi Hunting".
Inquiries: Amago Zanmai Telephone 087-893-1623 Closed on Wednesday / 11: 19 to XNUMX:XNUMX
Ranch experience and sweets known throughout the country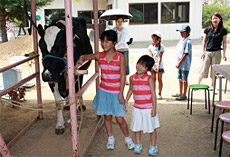 At the south end of the Uchiba Pond, on the right hand side along the sign, is the Shionoe Fujikawa Farm, which produced the most popular soft serve ice cream at Roadside Station. Horses and sheep leisurely walk to the ranch where cattle are raised in the clear stream of minerals. If you make a reservation, you can also experience cow milking, butter, cottage and ice cream making.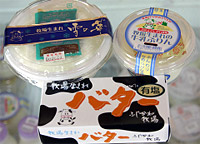 Here, original products were born one after another from high-quality milk. Raw cheesecake that won the 5th place at the national cheesecake exposition. Baked pudding and milk pudding on soft cream with milk and matcha flavor and ice cream without eggs. Refreshing rich butter that has never been tasted. A special chocolate chip ice cream ice cream that uses luxury imported chocolate from Germany. And "mellow ice" is sold out this fall. You can also enjoy grilled meat and enjoy wild boar meat. Under such circumstances, the milk tofu "Yuki no Hana", which looks like a slightly sweet bubble snow, is growing in popularity. It is a gem that can be a dish or a dessert.
Inquiries: Shionoe / Fujikawa Ranch Phone 087-893-0235
Pure Asan Drops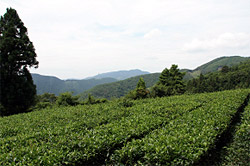 In the immediate vicinity of the ranch there are pensions and member-only resort apartments, as well as day spa facilities. The surrounding area is approaching the mountains of Mt. Ryuo and Mt. Otaki, but Nakano Tea Garden grows delicious tea in the high mountains. The predecessor began to make tea plantations in earnest in 40, and now has a 700-hectare tea plantation at an altitude of 800 to 1.5 m and plucks about 15 km of tea leaves annually. This is an unusual tea plantation that grows and retails tea and grows tea. The owner is a specialist who has been trained at a tea school in Shizuoka and succeeded to the tea garden. The difference in temperature between day and night is great, the water is clean, and the tea here, which is carefully cultivated with organic fertilizers, is ordered from various places if it tastes really good. It is sold at supermarkets, retail stores, and roadside stations in Shioji, but we also receive orders over the phone. Sencha products such as "Asan no Shizuku" and "Sugayama" are reminiscent of the pure wind and water of the Asan Mountains.
Inquiries: Nakano Tea Garden Phone 087-893-1131
At the Shioe Onsen in autumn, the "Ogoma Fireworks Crossing Ceremony" will be held in early November, and the "Momiji Festival" will be held in the middle of the year, where local specialty products will line up. Autumn of Shioe with beautiful autumn leaves. Please come to the healing hot spring area.
Inquiries: Shioe Onsen Tourist Association Phone 087-893-0148 (Open 10: 00-17: 00 every Wednesday)