When the spring breeze blows on Sanuki Road, the sea undulates and the reservoir shines in Noyama. Sawara on top of sushi, beautifully baked cherry bream, Sanuki Denbuku (Nashifugu), which is also recommended for deep-fried food for picnic lunches, and the spring sea is full of blessings, wild vegetables, bamboo shoots, strawberries and nabana, spring cabbage Spring lettuce, green peas and fava beans, and Noyama is a treasure trove. A trip to Kagawa where such seasonal delicious products and flower scenery invite. This time, we will visit "Manno-cho" in the southwestern part of the prefecture on such a spring scenery of Sanuki Road.
Spring wild play mountain walk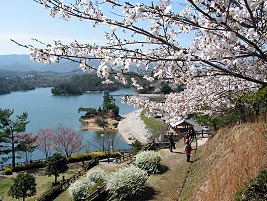 "Manno-cho" was born in the spring of 18 after the merger of the former Konan-cho, where plenty of wild vegetables are harvested, the former Nakanan-cho, a famous bamboo shoot production area, and the former Manno-cho, a beautiful bank of cherry trees on the banks of the pond.
In spring manno, the scenery of flowers spreads everywhere. The area around Japan's best irrigation pond "Mannoike", the mountains and the Shioiri Onsen are dyed cherry blossoms, and the vividness of the lotus fields and azaleas, the lovely turf cherry blossoms and the tulips in the park also attract colorful people. There are also Shioiri Hot Spring, Mikado Hot Spring and hot springs with good spring quality. After strolling through the spring wilderness, it is recommended that you use the hot springs to eat delicious food.
Sightseeing in Manno-cho Inquiries: Manno-cho Commerce and Tourism Division Telephone 0877-73-0122
Japan's No. XNUMX Mano Pond
The landmark of Manno-cho is Mannoike Pond. It is also a symbol of Sanuki, a historical heritage that represents Kagawa Prefecture. Among the reservoirs with a water storage capacity of 1,540 million cubic meters, about 1 in Kagawa Prefecture, and about 6 in the whole country, it is the king of the pond because it boasts the best water quality in Japan for irrigation.
According to "Mannoike Pogo Inscription," the reservoir was built during the Taiho Year (701-704) and collapsed in Hirohito 9 (818). Renovation was not easy, and here, Kojin Daishi and Kukai appeared in 12. People gathered one after another under Kukai, taking advantage of the civil engineering learned in the Tang Dynasty, and in less than three months, a large pond with a surrounding area of ​​821 towns (about 3 km) and 2 town steps (about 25 ha) was completed.
After repeated destruction and renovation, the building was finally completed in 34 and is now the size of the Manno Pond. The scenery of the seasonal pond against the backdrop of the Sanuki Mountains has an elegance, and especially on June 1959th, "Yul-no-ki (watering for rice planting)" attracts many spectators.
Udon of Mannoike I wish for happiness
"Spring Manno Pond is wrapped in cherry blossoms like a spring haze. The road from here to Manno Park is a cherry blossom road, and cherry blossoms are planted all the time. The teachers taught me were the mothers of Karin-tei on the banks of Mannoike, and the members of the Manno Town Life Study Group Council. We have been taking care of "Karin-tei" for the 7th year this spring, as we want to provide a relaxing place to relax and a lunch place for delicious foods for visitors to Mannoike.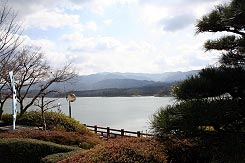 The specialty of "Karintei" is "This is the best place because you can see the best Manno Pond in Japan like a pond in your own garden. , "Yacon udon". Yacon is a root vegetable from the Andes region of South America. About 15 years ago, cultivation began in the old Manno town and became famous as a healthy vegetable. The udon kneaded with yacon has no salt, but has a firmness and becomes a low calorie healthy udon.
By the way, it is reported that Kobo Daishi and Kukai brought back "Karin" seedlings from the Tang Kingdom and planted them there for the first time. From there, Karin became a town tree and was planted. Every year, the "Karin Festival" is held in the autumn of fruiting. There is also a legend that Mr. Kukai brought back "wheat" and "made udon" from Tang country, and came up with a taste of udon on the banks of Mannoike Pond. However, it was "Yacon Udon" that came up with the idea that amateur mothers in the Manno area of ​​the udon shop's fierce battlefield would not have a chance to win in the second generation even if they competed with ordinary udon. Yacon jam, Yacon grilled meat sauce, and Yacon half-life udon are also available.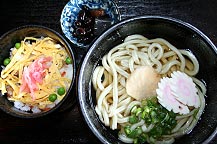 While watching the Manno Pond, try "Yacon Udon," which conveys the hearts of Kukai who brought Karin and wheat back at "Manegan Kama's handmade udon" Karintei "" in hopes of the happiness and health of the people. Do you not?
Inquiries: Karintei Phone 0877-75-3333 (closed Wednesday)
Volunteer guide & Sunday market
Immediately above Karin-tei there is the Karin Kaikan, a break and training facility, and the view of Mannoike from here is also exceptional. It is also the base of Mannoike Koinet, which is a member of the Mannocho Cultural Property Protection Association, and you can ask for volunteer guides around Mannoike. On Sundays, Karin-ichi is held under Karin-tei, where fresh seasonal agricultural products are also displayed.
Apply for a volunteer guide: Karin Kaikan Phone 0877-75-0200 (closed Wednesday)
* Karin-tei and Manno-cho Commerce and Tourism Division also accept it.
Specialty of bamboo shoot famous locality
From Mannoike, we will head to the old Nakanancho area. This area has a lot of bamboo grove and is known as a famous bamboo shoot in spring. In the season, such bamboo shoots are lined up in stores at Nakanan Sannadaichi, a roadside station along the National Highway Route 32, "Sora no Yume Mominogi Park". Local rice and tea, fresh vegetables, fruits, and flowers are lined up, and shoppers come from afar.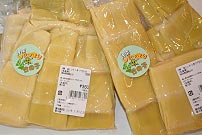 The bamboo shoots named "Nannan Shurikari Takenoko" are all year round. The part of the bamboo shoot tip that extends about 3 meters above the ground, has a fragrance more than ordinary bamboo shoots, and features a crunchy texture. It seems that many regular customers prefer this one because of its habitual texture. And from the end of March to the end of May, the bamboo shoot season. Freshly dug, soft and fragrant bamboo shoots are waiting at stores.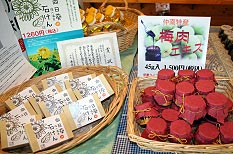 This area is also famous for its ice cream that you cannot eat anywhere else. There is also a menu of seasonal spring azaleas and summer sunflowers (petals). Classic, marron, black sesame flour, and sunflower (seed). The Nakanan area is also famous for the spread of sunflower fields in summer, and "sunflower oil" rich in vitamin E is also sold. Himawari soap, which was born from that, is also one of the popular products. Around February, Bairin is also a beautiful place, and "Plum Meat Extract" and "Plum Jam" are also sold. The restaurant also has a restaurant where you can taste bamboo shoots and taketori udon and taketori bento. Nearby are the Ninomiya Chuhachi Airfield and Ninomiya Flight Park, which are related to great people who have imagined the principle of flight at this pass.
Inquiries: Nakanan Sannada City Phone 0877-75-1994
Bamboo charcoal health products
Another specialty was born from the bamboo forest in Nakanan. It is bamboo charcoal powder and bamboo vinegar from "Agricultural Production Corporation Shikoku Techno". In the old days, bamboo shoots that can be taken in the immediate vicinity of Konpira-san were called "Konpira bamboo shoots" and were sold like flying at high prices. However, sales dropped sharply to one-hundredth of its peak, mainly due to imports from China. If this situation continues, the successor shortage will occur, and bamboo forests will be unlimited. Therefore, I came up with a product called bamboo charcoal and bamboo vinegar to figure out if I could use this bamboo. Installed a continuous bamboo powder charcoal bamboo vinegar production facility to produce it. Founded in 100, we started processing 7 tons of raw material a day.
Initially, it was marketed as a soil conditioner or a plant conditioner, but many products were commercialized in advance and sales did not increase.Next, we worked on deodorants, health pillows, etc. We are expanding our sales area. Bamboo charcoal and bamboo vinegar have long been known for their intestinal action. If this is mixed with the feed, it will be less lively and will produce high quality eggs and meat. Bamboo charcoal is also used in colored plaster as a healthy exterior material that does not emit harmful substances.
Inquiries: Agricultural Corporation Shikoku Techno Telephone 087-777-2331
Sanuki's Hideaway Bath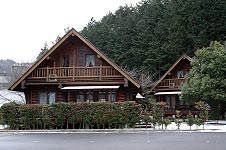 If you follow Prefectural Road No. 4 toward the Asan Mountains, you will find Shioiri Hot Spring near Noguchi Dam. It is said that during the Kamakura period, Kohansan's Dohan Ajarashi was discovered when he stopped at Onose Mountain during his training. The spring quality is sodium-bicarbonate cold spa (weak alkaline hypotonic cold spa), and the effects are neuralgia, muscle pain, joint pain, fifty shoulders, coldness, hemorrhoids, convalescent recovery, fatigue, etc. It is a natural hot spring where you can get tired. In addition, there is a product corner with souvenirs such as sunflower products and a dining place "Seiryu-tei" where you can enjoy the taste of local mothers. Immediately next to this hot spring is "Shioiri Fureai Lodge". You can enjoy the villa feeling at a reasonable lodge at a reasonable price.
Inquiries: Shioiri Onsen Phone 0877-78-3363 (closed Wednesday)
Inquiries: Shioiri Fureai Lodge Phone 0877-78-3837
Udon Ginza?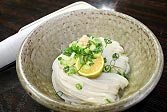 Next, I will return to the old Mannocho area again. Manno is the best noodle town in Kagawa prefecture. There are many famous shops near Mannoike that locals call "Udon Ginza". Some stores have made the nationally famous way to eat soy sauce and eat udon, which is unique to Sanuki, where the udon itself is delicious.
Sweets Castle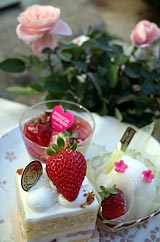 Near the shop of soy udon, there is a popular sweets shop "Nishiuchi Kagetsudo" where a parking clerk appears on the weekend. It is a shop that continues to produce high-quality sweets full of originality, sticking to local fruits, etc. There is also a bread shop and a florist in one drawing, like a little theme park with a sweet scent.
One of the best springs here is a series of sweets made from the original varieties of Kagawa prefecture strawberry "Sanukihime" which has just been born. "Sanuki Hime" is sweet and juicy, but it is very difficult to handle it in cakes because of its soft fruit. However, Mr. Kagetsudo makes sweets that make good use of the ingredients, so "Sanuki Hime" was also turned into a beautiful princess of sweets. The standard strawberry short, strawberry milk jelly, and strawberry Daifuku are lined up in the showcase, and plenty of strawberry is used in the whole cake. In addition, you can find sweets unique to Kagetsu-do, such as rice castella. There is a cafe on the premises, so it is recommended for lunch as well as tea time.
Inquiries: Kagetsu Nishiuchi Toll Free Number 0120-793-307 Phone 0877-79-3307 (Closed Tuesday)
Vast flower park
Next, return to the area near Mannoike and visit Sanuki Mannou Park. Opened as the first state-owned park in Shikoku on a nature-rich hill overlooking the Manno Pond, the main theme is "talking with humans and interacting with nature and space." The park, which has a big theme and grounds, has four zones: central square, lodging, nature utilization and environmental protection. The accommodation zone "Hot! Stay Manno" has one of the largest auto campsites in Shikoku, and you can enjoy barbecue on the large terrace in the log house cabin. It is very popular and Golden Week is already full.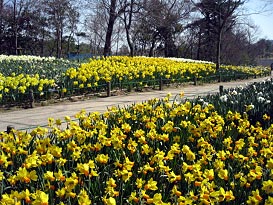 ■ Flower events
In the vast park, there are large lawn squares and beautiful flower beds, and flower events are held one after another in spring. "Early Spring Flower Festa" will be held from March 20 (Sat) to March 3 (Wed), 1. Flowers such as crocuses, violas, and early blooming narcissus are in full bloom along the path of the flower dragon, and character shows and flower quiz rally are held mainly on Saturdays and Sundays.
From March 20 (holiday) to April 3 (Sunday), 20, the "Narcissus Collection" will be held. Shikoku's largest, 4 narcissuses of 13 species are blooming mainly on the flower path of the flying dragon, character shows are held mainly on Saturdays, Sundays and holidays, and a narcissus guide introducing how to enjoy narcissus is also held .
After that, the "Spring Ranman Festa" will be held from April 20 (Sat) to 4 May (Sun), 19, and the Big Event will be a big event.
■ Experience menu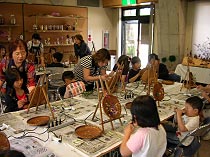 At Manno Park, a variety of experience menus are also available. "Herb classroom" to make dried flowers using herbs in the garden "Woodworking classroom" to make a book with thinning materials etc. "Take mushroom digging" in the spring feature magazine "Guide walk" to observe nature in the garden・ Some are held on weekends and holidays in a variety of menus, such as "Satoyama handing down experience" that performs bamboo work. (Groups can book on weekdays)
Inquiries: Manno Park Management Center Phone 0877-79-1700
Inquiries: Auto Campsite "Hot! Stay Manno" Phone 0877-79-1717
■ Enchanted by cherry blossoms and the forest
Near the Manno Pond, there is another large park where you can enjoy spring flowers. "Prefectural Mannoike Forest Park". There is a promenade, a forest learning exhibition hall, a forest hall, a wild bird forest, and a trim course. You can enjoy forest bathing, bird watching, and nature. Cherry blossom trees, Kobushi, Forsythia, Snow willow, Onza azalea, Fuji and the spring will be enchanted with flowers.
Inquiries: Prefectural Mannoike Forest Park Phone 0877-78-3364
Challenge woodworking
Then, head to the Konan area from the Manno area. From Manno Park, go to the north exit and follow National Road 438 along the Pottery River and continue to Tokushima (Mima City). From the forest park, there is a large-scale farm road that leads to Konan in the middle of the mountain if you go to the south side, which leads to National Road 438. After a while on the national highway, you will find the Challenge Center "Ikiikikan" just before the intersection with the prefectural road No. 108, just above the old road running parallel to the national highway and a little uphill. By making a reservation on Friday, Saturday and Sunday, you can experience woodworking craft. With very reasonable material costs, you can also use tall paint and wood craft equipment.
Inquiries: Challenge Center "Ikiikikan" telephone 0877-84-2533 (Friday, Saturday and Sunday reservation system)
Hot springs and sacred places near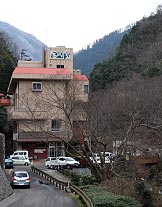 If you go further on the national highway, you will see a private hot-spring accommodation facility called Village Miaikan. There is also a cottage, a restaurant and a footbath, so you can enjoy a one-day hot spring. There is also a private house in front of this, where you can enjoy handmade soba. If you follow the national highway, you will find "Mikado Hot Spring" on the right side of the road, just down the river.
This is a 200-year-old hot spring that has been praised by Genki Hiraga, the inventor of the Edo era when Sanuki was born. The hot spring water was exhibited at the Pharmaceutical Association held in Edo, and it was introduced in the book as hot water like white milk, which is prized as a burn medicine. "Mikado Hot Spring" is surrounded by cherry blossoms in the spring. The surrounding area is a scenic spot in the Mikado valley. You can enjoy both overnight and day trips.
Inquiries: Mikado Onsen Phone 0877-84-2211
Roadside station with hot spring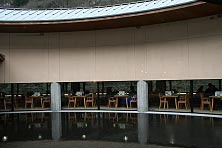 The water quality of "Mikado Hot Spring" is an alkaline hypotonic cold spring. Indications include neuralgia, chills, chronic skin diseases, chronic gynecological diseases, hemorrhoids, etc. The hot spring facility that you can enjoy using this hot spring as a source is "Epia Mikado" in front of "Mikado Onsen" and in front of the Sanzu Tunnel. This is also a roadside station, and many people stop by as a key point connecting Kagawa Prefecture (Sakaide IC) and Tokushima Prefecture (Mima IC). "Epia" in "Epia Mikado" is a coined word that combines the two words of "enjoy" and "people", and includes a hot spring facility, a restaurant, a product corner, a sansanichi market, and an information corner.
The hot spring has a jacuzzi and sauna, and the break corner is large, clean and popular. Shampoo and body soap are also in the bathroom, so you can drop in casually. There are galleries and a stone stage floating on the water, and sometimes you can meet at a concert. At the restaurant, you can enjoy set meals using local ingredients, soba and sweetfish, and enjoy delicious food after taking a bath.
Epia souvenirs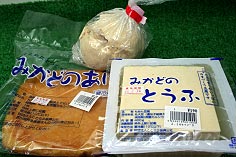 There are many local products in the product corner, and wood products made at the Challenge Center "Ikiikikan" are also sold. In addition, soft cream such as "Kinako Soft" is also recommended for bathing. Kotonan is famous for Iwatofu. Tofu in the mountain village cannot be returned with a distant mountain path unless it is hard to decay and hard to crumble. Therefore, "Iwatofu", which can be tied back with a rope, became a specialty. Many of the tofu shops along the old road were closed, and if the Tofu in Konan was gone, the locals would stand up and start making tofu at the Challenge Center "Ikiikikan". Everyone who follows along the mountain path from dark yet. The tofu made with all your heart is lined up in a showcase of "Epia Mikado" with your okara and okara.
Recommended meat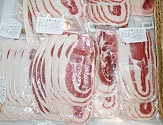 At the restaurant and product hall of "Epia Mikado", a hot item that was newly launched last fall was "Botan Nabe". For souvenirs, "Asanashi meat" and "Characteristic botan nabe soup" are included in a set, and a delicious pot that can be eaten as much as its miso flavor is completed. Many people will wake up to the deliciousness of the sashimi meat (meat of the squirrel) with moderate elasticity without squeezing.