From the spring to early summer of the cherry blossoms, the sea of ​​Sanuki shines refreshingly. Prior to marine sports, the seaside walk with a camera is also a pleasant season. At the ebb tide, there are several recommended seasides on Sanuki Road, such as the Angel Road of Shodoshima that follows Kojima, the Kotochiji Coastline of Art Island / Naoshima, Ariake Beach in Kanonji City, which is also famous for Zenigata, and Matsubara in Tsuda in Sanuki City. There is also.
The seaside area that is also attracting attention as a base for the islands is Sunport Takamatsu, located in Takamatsu City, the prefectural capital. This time, we will report around the sun-lit bay area, "Sunport Takamatsu".
Miss port town
Takamatsu City, the prefectural capital of Kagawa Prefecture, prospered as a castle town of Takamatsu Castle, and is now crowded as the central management city of Shikoku. The gateway to Takamatsu City is Takamatsu Port. In the past, the port where novelist Fumiko Hayashi wrote in the Wandering Record, "I have missed that port of Takamatsu" has attracted the nostalgia of many people as the first place to land in Shikoku. However, after the Seto Ohashi Bridge, its role became lighter, so "Sunport Takamatsu" was completed as a new base. There are JR Takamatsu Station, Takamatsu Port Passenger Terminal Building, Takamatsu Symbol Tower, Hotel, Bus Terminal, Harbor Promenade, Ferry Terminal, Floating Pier, etc., which play an important role as a transportation base on land and land as a tourist base. You. The scenery of the building that emerges in the morning sun is exactly the capital of Seto. In particular, "Sunport Takamatsu" seen from the water is an impressive figure that invites you to travel in the 21st century.
Mediterranean sea breeze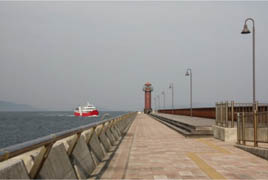 Shining at the tip of this sunport Takamatsu is the red lighthouse, commonly known as Setosurube. This is the world's first all-glass lighthouse, and the Tamamo Breakwater that follows it is a great promenade. The stepped seawall "Seto Sea Palette" at the base is also known as a sunset spot. Surrounding the harbor promenade on the harbor side and the seafront promenade on the sunset side, you can enjoy a variety of seaside walks. There is also a XNUMX-ton-class quay here, and if you are lucky you can meet a beautiful large ship.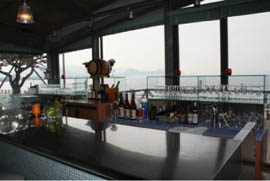 "Takamatsu Port Rest House" connects such two promenades with the Sea Palette. Under the unique roof with a photovoltaic device, there is a restaurant "MIKAYLA" where you can view the sea from any seat. If the weather is nice, the terrace seats are comfortable, and the time when the sunset in Seto spreads over the counter. Some dishes use plenty of fresh seafood from the Seto Inland Sea, and the menu changes according to the season. In spring, we recommend sowara and Thai (bream) dishes. "MIKAYLA" enjoys the taste of the Seto Inland Sea while feeling the sea breeze reminiscent of the Mediterranean Sea. In the stylish space, you can enjoy sweets and alcohol.
Contact: MIKAYLA Telephone 087-811-5357
Restaurant in the sky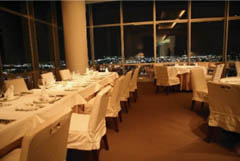 The symbol of Sunport Takamatsu is also called "Takamatsu Symbol Tower". A high-rise office building that includes commercial facilities. There are a high-rise building (tower building) and a low-rise building (hall building), and the Dex Galleria connects them. The high-rise building is the highest in Shikoku at 151.3m. On the 29th and 30th floors of the top floor, there are three iron restaurants known as Yutaka Ishinabe of French cuisine, Kenichi Chen of Chinese cuisine, and Takaaki Nakamura of Japanese cuisine.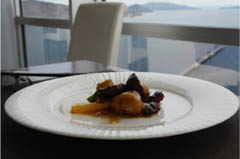 At French "Alice in Takamatsu", there is also a menu entitled "Regional-Local cuisine" at lunchtime, and you can enjoy a menu that is a modern arrangement of French local cuisine using local ingredients. "Suwan Restaurant Chen" also recommends menus using local chicken and local vegetables. "Takaaki Nakamura TAKAMATSU" is a seasonal dish made from Seto Inland Sea fish and Sanuki ingredients. There is also a reasonable "Sanuki Udon Zen" at lunchtime.
Leave lunch and banquet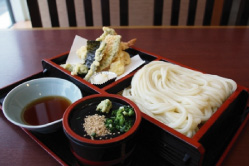 The symbol tower also has a variety of shops. On the third floor of the hall building is "Sanuki Udon no Kuni", a ramen shop lined with unique nationwide ramen shops. On the same floor is the long-established Sanuki udon "Kawafuku". The head office was established in 25 under the name of "Lion Street". As a result of pursuing the goodness of the throat, the noodles that are kept at 4 mm are especially popular as "zaru udon". There is also a hall for 40 people, and banquets can be held with "udon suki-nabe". You can also enjoy the taste of Seto, such as white grilled conger and three tablespoons of horse mackerel.
Kawafuku Maritime Plaza Store Phone 087-825-5580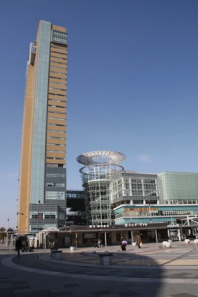 In addition, there are other delicious restaurants such as Indian food, pot rice and sushi, pasta and pizza, cafes and burger shops, so you can enjoy various tastes. Above all, "Yasai Field" is particular about local production for local consumption. Sanuki's food culture doctor and dietitian propose healthy menus based on the keywords of beauty and health.This shop uses brown rice, millet rice balls, seasonal vegetables, soy products, etc. Menu can be eat-in and take-out. This `` Dr. Sanuki's Food Culture '' is given to those who have attended the `` Dr. Sanuki's Food Culture '' training course for the purpose of cultivating the leaders of the Sanuki's food culture. Only those who have experience in local food education promotion activities and knowledge and experience about food can take this course. In other words, there are menus created by veteran nutritionists who are well versed in Sanuki's food culture, such as local production and local consumption, as well as for health.
Yasai field telephone 087-811-2336
Dr. Sanuki's Food Culture: Kagawa Health and Welfare Division, Food Education Promotion Group Telephone 087-832-3273
International conference OK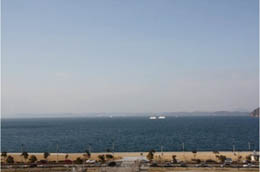 The important thing about the symbol tower is that it has extensive convention functions that can hold international conferences and events. In the tower building, there is the "Kagawa International Congress Center" equipped with an interpreter booth, and the wall in front of the conference hall can be opened and closed with one touch operation. When opened, the scenery of the Seto Inland Sea expands. The hall building has a large hall with 1500 seats, "Sunport Hall Takamatsu" with two small halls and a conference room, and a variety of events such as a multipurpose open space, a large tent open space and an art open space can be developed outdoors. You. The Dex Galleria's entrance space is also popular as an all-weather event stage, with a variety of entertainment on weekends. The rooftop of the hall building is opened as a "rooftop open space" in fine weather, allowing you to overlook the Seto Inland Sea.
Kagawa International Convention Center / Exhibition Hall Phone 087-825-5120
Multipurpose open space, large tent open space, art open space telephone 087-825-5128
Sunport Hall Takamatsu Telephone 087-825-5000
The charm of Kagawa ...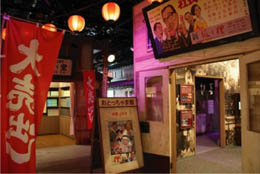 Next, "Kagawa Plaza" on the third floor of the Tower Building. This is an information dissemination and exchange base that allows you to easily enjoy and experience Kagawa Prefecture. Lots of information on tourism and local products. If you go inside, you will find many tourist brochures from all over the prefecture. You can also use the search computer to look up events, so get the information you need here. The bright resting corner is also popular, and is recommended for a break in Sunport Takamatsu.
Going further, the "Kagawa Discovery Zone". The charm of Kagawa is scattered around the good old streets. Finally, the showcase is filled with local products from Kagawa Prefecture. It displays specialty products such as udon, local sake, Japanese sweets and shrimp crackers, as well as traditional handicrafts such as tiger tiger, Japanese umbrella, fan, lacquer ware, ranma, hotaori and lion head. A luxurious lacquered set awaits at the furniture corner of Kagawa Lacquer Ware.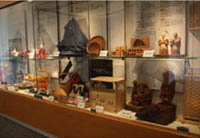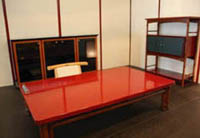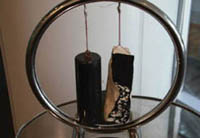 Inquiry: Kagawa plaza telephone 087-825-5125
On the 4th and XNUMXth floors of the Tower Building, there is the e-Topia-Kagawa Information and Communication Center, and there is also a studio where public recordings are performed and a small hall equipped with large video equipment.
Inquiries: e-Topia-Kagawa Phone 087-822-0111
Seto sea bream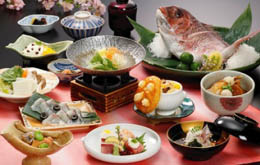 Next, cross the passage on the second floor of the hall building, and look in front of Hotel Clement Takamatsu. Located in the Sunport Takamatsu area, this hotel boasts a panoramic view of the 2th floor above the city, overlooking the Seto Inland Sea and the city of Takamatsu. The hotel has 20 restaurants and bars where you can enjoy a menu based on local ingredients. Special and special menus are available this spring, with a lunch buffet on the first floor, Chinese and Japanese cuisine on the second floor, and a sky restaurant on the 1th floor, where you can enjoy lunchtime from 2 yen or 20 yen . Also, at Seto, a Japanese restaurant, a sea bream dish menu in May and June and Setouchi appears. There is also a pie wrap using Sanuki's Wasanbon and sea bream collagen, so you can enjoy exquisite sea bream dishes from the Seto Inland Sea.
Inquiries: Hotel Clement Takamatsu Telephone 087-811-1111
Paris North Station and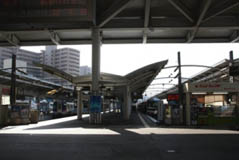 We go to JR Takamatsu Station across the station square with flower clock and fountain. This station has the same head-end platform as Paris North Station. The head-end type is also called a comb-shaped platform, and has a barrier-free structure with no steps from the road around the station or the station square to the platform. Here, the Yosan line to Ehime (via the Dosan line to Kochi), the Kotoku line to Tokushima, the Seto Ohashi line to Okayama, etc. arrive and depart.
Inquiries: JR Takamatsu Station Phone 087-825-1702
Both marine liner and sunport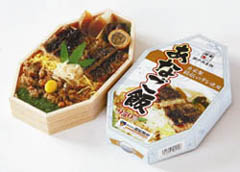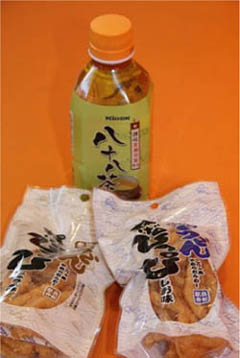 On the first floor of this station building, there is a shop of Takamatsu Ekiben, which also has a taste unique to Kagawa. Among them, "Takome", which is a local dish "Gome Sushi" and TV program that is cooked with octopus introduced in the Naruma Market, topped with Iidako, and "Anago Mei Bento", which is very popular, are recommended. Sanki Cochin's "torimeshi bento" made with Kagawa's original chicken is also difficult to throw away. The "pilgrim lunch" in a bamboo basket is not only packaged, but also contains the contents of Sanuki Cochin's teriyaki and boiled Idako. Very popular. One of the most popular spots on the day of interviews at the shop was the Marine Liner Lunch, which boasted a special package of Tatsuta fried Sanuki Cochin, boiled Iidako, and anago rice in a package that resembled a marine liner train. There is also a luxury curtain named Sunport Takamatsu. The rice here is all from Hinohikari from Kagawa Prefecture. Kagawa boasts rice that has a subtle sweetness and cooks delicious rice even when cooled. In the station building, there is Takasai Ekiben's shop "Nanasai", where you can eat a lunch. In addition, the udon shop Tsutsutsuya on the second floor and the ferryboat udon noodles on the home (you can enter from outside) are also directly managed by Takamatsu Ekiben. You can enjoy the taste of Sanuki.
Takamatsu Ekiben also sells souvenirs, which are now rising in popularity. "Fried Pop", a snack confection born from authentic Sanuki udon. There are three flavors, salty, sweet, and ginger, all of which are delicious. It is very popular as a souvenir because the price is reasonable. It is also sold at directly managed shops and kiosks.
Contact: Takamatsu Ekiben Telephone 087-851-7711
Takase Mecha in PET Bottle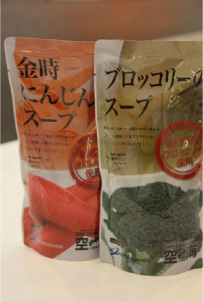 The second thing to remember is Kiosk. The kiosk in the station building is a "big kiosk" with a variety of convenience stores. Of course, it is perfect for souvenirs. Various specialties in Kagawa Prefecture are gathered together. The most popular item in this kiosk is "Sanuki Udon". There are various types of udon, so try two or three instead of just one. There are also a variety of local sake and Japanese confectionery, and you can choose from more greens such as tiled rice crackers, shrimp crackers, and elegantly sweet Wasanbon. "Udon Tie" and "Olive Handkerchief" designed with Uchiwa and Shido Kiri Geta and Udon are also on sale.
And with "Kiosk" and "Nisasai", one of the best things to go with your trip is "Shikoku XNUMX tea". It is a mellow tea that has been finished using eighty-eight places and eighty-eight nights, using Takase Mecha, which is proud of the local Kagawa prefecture. Please try it with "Fried Pop". JR Shikoku's original product "SHICOOK SOUP Kukai" is also popular, and Kagawa Prefecture has a nationwide share of "Kintoki carrot soup", "Black bean soup" full of polyphenols using prefecture-grown black beans, and prefecture-grown broccoli with rich sweetness. There are "broccoli soup" used, and "onion soup" made with high-quality and reputed prefecture polish onion.
Inquiries: Shikoku Kiyosk Corporation Phone 087-851-0171
A tile cracker related to a castle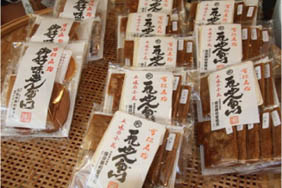 Next, from the wide road in front of JR Takamatsu Station, enter the alley that goes east one. Here, I found a small tile-senbei shop called Kokumune Shogido. It was founded in Taisho 1 and used to be along Chuo-dori, but it was relocated to this location and remodeled to the current location due to the flood. Tile crackers are baked in Takamatsu Castle tiles and are baked using Wasanbon. The tile cracker here can enjoy five flavors of "Shiroshita" where the taste of sesame, butter, ginger, cinnamon, and old-fashioned white sugar is alive. (Closed on Sundays and holidays)
Inquiries: Kokujong Shodo Phone 087-821-3196
Ooguri in connection with Ritsurin Park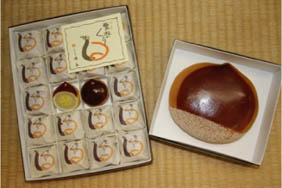 This time, we will visit Minatoya along the broad Chuo-dori, which runs further east, and in front you can see Takamatsu Chikko Station and Tamamo Park. This is a Japanese sweets shop that was founded in 28 and is famous for "Kuribayashi no Kuri" in connection with Ritsurin Park. This "Kuribayashi no Kuri" is a famous confection that has won Omuri, Nakaguri, and cute Oguri, which are enough to stretch out the palm of a woman's hand, and who won the Chairman's Award of the 2008 Himeji Confectionery Expo. In addition, "Chestnut" wrapped in one chestnut using chestnuts, "Kurinatto", which is also a type of stewed boiled with Sansan, Kurizenzai, Kurikanoko, Kuriyokan, and very popular There is also "chestnut dorayaki". In addition, there are Japanese sweets such as "Sanuki Yuzan" using Kagawa Prefecture olives and Wasanbon sugar, and cherry blossom Daifuku and Ichigo Daifuku for spring only.
Contact: Minatoya Telephone 087-821-8634
Go-go at Taigan Castle!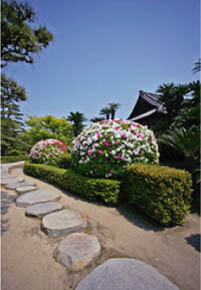 Tamamo Park has an entrance beside Chuden Street, next to Chikuko Station. Many tourists visit the station square park at the historical site of Takamatsu Castle, which you know all year round. The park has important cultural properties such as Tsukimi Ogura, Mizute Gomon, Watari Ogura and Ugura Ogura, and a tea ceremony and events are held at the cultural property "Ununkaku" designated by Takamatsu City. Cherry blossoms are in full bloom during the season, and cherry blossoms are free at night (planned for April 4-1). As with Ritsurin Park, the pine trees are wonderful, and the stroll in the park is worth seeing.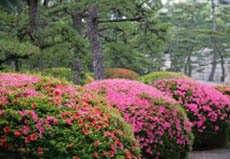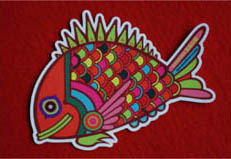 Here, the original souvenirs are now being sold one after another and are attracting attention. The original picture postcard set was released in the spring of 18. It is increasing by one set each year. Next, in the spring of 19, a "keeping tower gold badge" was released in hope of restoring the castle tower that no longer exists. One set costs 500 yen, but a set of 6 colors costs 2,500 yen. Next is a traditional handicraft from Kagawa Prefecture, a handkerchief made by Hotoori that absorbs water and feels good. This is a handkerchief with three brightly colored letters, "Taigan Castle Ju", which was used to fulfill the Great Application. In addition, the sticker of "Takanashi Joshi" is also gaining in popularity as a unique good luck merchandise, also known as "shining sea bream". In fact, the moat of Takamatsu Castle is built by drawing in seawater, and you can see how a sea bream swims in the moat. So, these goods were made with the hope that the castle tower would be restored as soon as possible. At the moat, you can also experience feeding sea bream. A wish would be fulfilled if you feed the water gate to the tower.
Tamamo Park will celebrate its 55th anniversary this spring. Therefore, on May 5, a 5 campaign event will also be held, opening the Daishoin and performing a dance in the upper part, "Dancing Sanuki's Tanuki," a quiz rally for parents and children, and a photo contest in the park. By the way, May 55 is open to the public free on the anniversary of the park. Go-go with everyone at Tamamo Park!
Inquiry: Takase contact nasanada phone 0875-72-3192
For castings and overhangs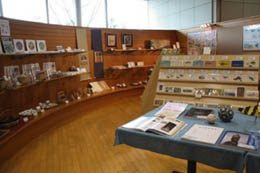 The Kagawa Prefectural Museum is located at the east entrance of Tamamo Park and heads north. This is the best place to learn about Kagawa Prefecture's history, arts, ethnicity, and cultural heritage. There is also a library of the Matsudaira family, who was the owner of the Takamatsu Castle, and a room in Kukai, where you can learn about Kagawa from many directions.
On the first floor there is also a shop that sells museum original goods and local products, a clear file that designs an old map around Takamatsu Castle, including a postcard of a fish figure transmitted to the Matsudaira family, Isamu Noguchi Design There are Akari, Kanei Tsuho treasure made of cast of Mitoyo City, a lovely Sanuki Karigari kit, and a classroom for making Karigari.
Inquiries: Kagawa Prefectural Museum Phone 087-822-0002
The port warehouse is also romantic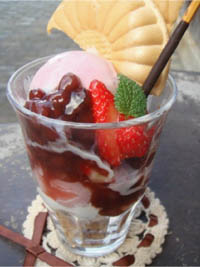 Going further east from the Prefectural Museum, there is Kitahama Alley, which reuses a warehouse area along the sea. Stylish cafés and general stores have opened in the warehouses constructed in the early Showa era as storage places for cargo to be landed at Takamatsu Port, and they are busy every day and night.
Here, "Izara Moon" has many menus that use a lot of local ingredients, and vegetables and herbs are preferably grown without (reduced) pesticides near Takamatsu. There is something that uses the taste of seasonal vegetables as it is, and customers often say that vegetables are also delicious. There is also a local chicken menu, meat and fish from the prefecture are used, and local fruits appear in desserts. Spring recommends a "strawberry and condensed milk parfait." You can taste plenty of sweet strawberry from Kagawa.
Contact: Izara Moon Telephone 087-811-4531
Dining room directly connected to the sea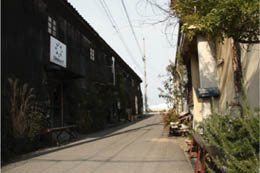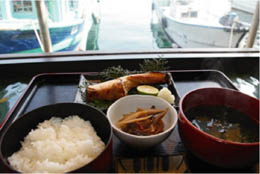 "Kitahama Ebisu Seafood Restaurant" is run by the Eastern Fishery Cooperative, further east of Kitahama Ally. The cafeteria, which has been open for more than five years and has a growing fan base, uses most of its menus from freshly caught seafood. The most popular menu is fresh sashimi set meal. In addition, you can enjoy various kinds of grilled dishes, boiled, tempura, fried foods and fresh fish dishes. The photo shows the amberjack set meal. You can easily enjoy Kagawa's signature hamachi and amberjack dishes. This amberjack for the rich group. For light-hearted people, a Thai bite is recommended. Until around April 5th, there is fishing for sea mussels that dive into the seabed while wearing diving clothes, and then takotsubo fishing starts, so sea mussels and octopus are also recommended. In addition, it is a gem that wants you to enjoy classic Thai and Sawala in spring. The Seto Inland Sea fish is small and tastes good, and it is said that any fish you eat is delicious. Please taste the fresh seafood with white rice. (4: 20-11: 14, closed on Sundays and holidays)
Sightseeing Inquiries: Higashihama Fishery Cooperative 087-821-4155
Towards the Setouchi International Art Festival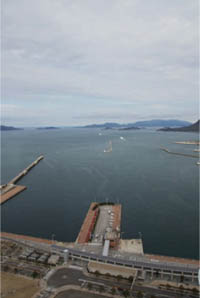 The Setouchi International Art Festival will be held from July 7 (Sea Day) to October 19 (Sun) based on Sunport Takamatsu, which we introduced this time, on seven islands. This spring, the islands are steadily preparing for an art festival. Please consider a trip to watch such a rare site or, of course, a trip to appreciate art during the exhibition. It will be a journey full of excitement, touching the sea, touching the beauty. Also, please take a walk around "Sunport Takamatsu" and its surroundings.
Sightseeing Inquiries: Setouchi Triennale Executive Committee Secretariat Phone 087-832-3123
The sea service from Takamatsu Port to the islands goes to "Shodoshima", and to "Naoshima" is the ferry terminal in front of the passenger terminal building. Passenger boats to "Oshima" floating off Anji-cho, Takamatsu-shi and "Teshima" floating off Shodoshima arrive at the first pier in front of Hotel Clement.
土庄行き高速艇(小豆島急行フェリー 電話087-851-8171)/草壁行き高速艇(内海フェリー 電話0879-82-1080)/池田行きフェリー (国際フェリー電話0879-75-0405)/直島行き高速艇・フェリー(四国汽船電話087-821-5100)/女木・男木行きフェリー (雌雄島海運 電話087-851-2412)/大島行き客船(大島青松園 電話087-871-3131)/豊島行き客船 (豊島フェリー電話 087-851-4491)