LOVE Sanuki's report
The 46th Pione (New Pione)
One of the major projects of Yoshimoto, "A project to live in your town", to make Japan feel good from the area. Entertainer "Kaji Tsuyoshi" who lives in Kagawa reports on local products.
reporter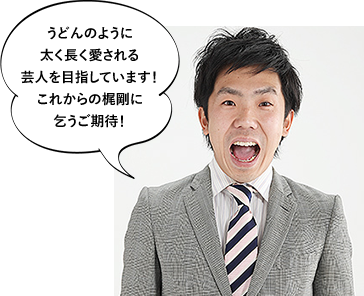 KAJI Tsuyoshi
NSC Osaka school 22nd grade
2005 Formed "Katsuyama Kaji" with Moody Katsuyama
2008 ABC Comedy Newcomer Grand Prix Newcomer Award
2010 Active as a pin entertainer
Birthplace: Mitoyo City, Kagawa Prefecture Born March 1981, 3
Check your activities!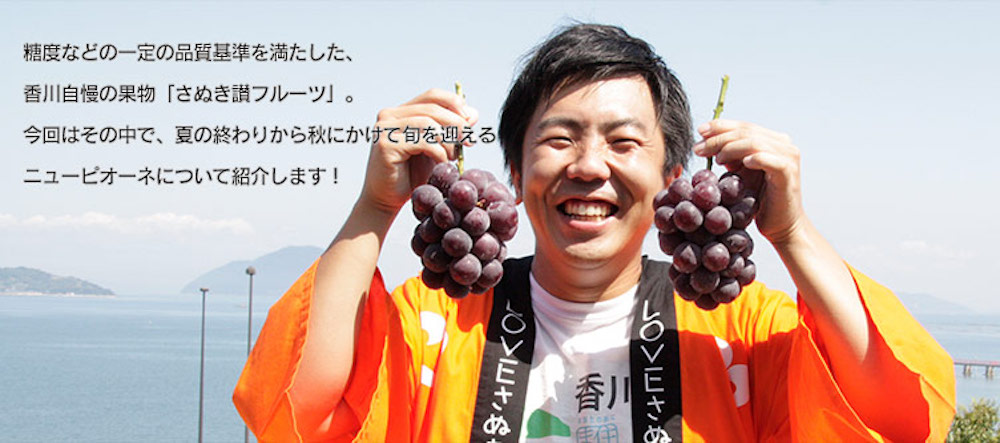 Sanagawa Sansui Fruit is a Kagawa proud fruit that meets certain quality standards such as sugar content.
This time, the season will be reached from late summer to autumn
Introducing New Pione!
My mom is Kyoho and my dad is Muscat.

Mitoyo City is one of the prefecture's leading grape-producing regions, and New Pione accounts for more than half of the city's grape production. In the late summer, when the harvest of New Pione was about to reach its peak, I visited a farm in Mitoyo City overlooking the Seto Inland Sea. The role of the guide this time is Noripack, a grape producer, and Mr. Kagawa of the JA Kagawa Prefectural Farming Department. "New Pione is a cultivar made by crossing Kyoho and Muscat of Alexandria (tetraploid). It is large purple black and grows to a weight of about 4 to 1 g per grain." Kaji-san, into the vinyl tunnel. There are, as they say, full of large, large bunches.

Strictly check both the sugar content and appearance.

Blessed with long sunshine hours and a mild climate, high quality New Pione grows. However, the cultivation is not easy, and harvesting takes several steps, including pruning, applying fertilizer, and bagging. "Now in late August, it's time to check if it meets certain quality standards. If we can do it, it's time to harvest," says Norikazu. For example, the sugar content must be 8 or more. Appearance is important and must be appetizing purple-black. The scar on the trunk is a proof of the work of promoting the coloring, and the root of the nutrient around the root is temporarily cut off by peeling only the part of the trunk skin about 17 cm in width, and temporarily concentrate the nutrients on the fruit. I will send it. By the way, the wound seems to regenerate in about one month.

New Pione is delicious to eat and will be glad to give.

Measure sugar content before eating. The measuring instrument displayed 23.1. "It has greatly exceeded the standard! It looks sweet and delicious! I'll have you," said Kaji. "The sour taste is refreshing because of the sour taste! It 's elegant sweetness. One of the characteristics of New Pione is that it is easy to eat because it is a seedless grape. Pione is a kind of varieties, but most of the varieties currently made in the prefecture are New Pione. Mr. Kagawa also gave us information that it is popular as a gift.

Refined sweetness that heals summer fatigue.

"Newpione contains a lot of nutrients called polyphenols, which are said to be good for lifestyle-related diseases, and it also contains glucose, which helps to recover from fatigue," says Norikazu. New Pione seems to be good for summer batter prevention. "It's best to chill in the refrigerator a few hours before eating and eat it as it is. In summer, topping it on shaved ice is also recommended!" Kaji-san doesn't seem to stop, and another grain goes into his mouth. Mr. Kaji was very satisfied with the taste that the sweetness and sourness were kept in an exquisite balance.
Past reports