A lively town at the Setouchi International Art Festival
The Setouchi International Art Festival, which enjoys beautiful ocean and rustic island scenery and contemporary art, until October 2010, 10. Not only during the islands and during the period, Kagawa is dotted with unique museums. For example, Kotohira-gu Shrine has the Omoteshon-in and Yuichi-kan Takahashi, which hold the works of Maruyama Okyo, the Higashiyama Kaii Touchi Museum under the Seto Ohashi Bridge, and George Nakashima in the Anjiishi village. Memorial hall ". In autumn of art, please come to art kingdom "Kagawa"!
And this report is the Shodoshima Tonosho area, which is attracting attention as an art festival island. This autumn, we will also visit Teshima, where an art museum is opened with an image of Ritsuei Nishizawa's water drops and water works by Rei Naito.
The gateway to Shodoshima sightseeing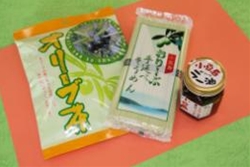 About 1 hour by ferry from Takamatsu Port, about 30 minutes by high speed boat. Arrive at Shodoshima, Tonosho Port, known as Olive Island. The second largest island in the Seto Inland Sea is also rich in mountain greenery, and as the boat approaches the shadow of the island, the mood of the resort increases. This island once became famous for Sakae Tsuboi's novel "The Twenty-Four Eyes". The Tonosho Port Tourist Center faces the high-speed boat and ferry landing next to the statue. As a sightseeing base on Shodoshima, there are many souvenirs from the island.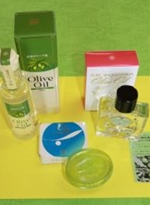 If you ask about the 3 best souvenirs recommended this fall, you will find `` Olive tea '' using olive leaf extract, `` Olive hand-rolled somen '', a collaboration of specialty somen and olives, and `` Shodoshima olive lar oil '', a hot topic now did. After all, the topical olive is popular as a healthy ingredient. The owner of this store is Shodoshima Olive Co., Ltd. Of course, the olive products are also very popular. The best three were "pure edible olive oil", ideal for healthy cooking, "virgin olive oil for makeup", the secret of beautiful skin, and "olive beauty soap" for refreshing bare skin.
Well, some of the olive leaves have a heart shape inside. It is said to be a lucky olive that brings happiness like a four-leaf clover. You can find the bookmark here as well. Here you can also taste some of the island's specialty, somen. The exquisite soup uses Motoya soy sauce "natural soy sauce" in Tonosho. This will be a great souvenir.
Tonosho Port Tourist Center Phone 0879-62-1666
Business hours from 8:18 to 4:11 (April to November)-17:30 (December to March) / Open all year round
Shodoshima Olive Co., Ltd. Head office 0879-62-1277
Ceramic art experience
About a 10-minute walk west of Tonosho Port, there is the Kankake kiln, a famous pottery for Shodoshima. Here, you can make workshop tours, experience pottery, and make pure silver clay accessories by making reservations. Let's touch on the charm of Shinkake-yaki.
The Town of Flame Shinkake Kiln / Kamamoto Shinkake Yaki Muroi Phone 0879-62-4857 8: 30-18: XNUMX
Sesame oil on the island that continues from the end of the Tokugawa period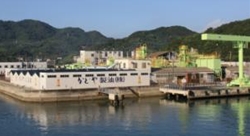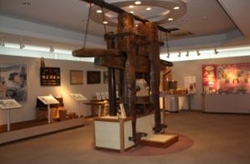 The factory that appears on the quay when a ship enters Tonosho Port is Kadoya Oil Co., Ltd. It is a sesame oil company that has a fragrant smell from somewhere. Sesame oil is also essential for somen on the island. Its history begins with the founding of the Katoya Refinery in Shodoshima in 5. It collects sesame and rapeseed harvested by nearby farmers and crushes it for production. At that time, the oil was used not only for somen but also for lighting. In this area, the outstanding skills of sesame oil production grew. Eventually, in 1858, Katoya Refinery Co., Ltd. established its head office in Tokyo. In 32, the company changed its trade name to Kadoya Oil Co., Ltd. Today, it is a large company that makes sesame, a raw material collected from all over the world, into products and sends it to all over the world as well as in Japan. The Shodoshima Plant handles all of this production. It is highly evaluated as Japan's largest sesame oil production facility.
In line with growing health consciousness, sesame oil products have also expanded in variety. Familiar genuine sesame oil is available in white, black, and gold, and sesame seeds, sesame seeds, chili oil, black sesame & oligo, and "Sesame Sesame", the ultimate health food, are also growing in popularity.
The Shodoshima Plant has the Konjakukan, which tells the history of sesame oil grown on the island. You can also enjoy sesame oil tasting and factory tours, so be sure to get acquainted with sesame oil.
Kadoya Oil Co., Ltd.Phone 0879-62-1133
Konjakukan Opening hours: 9: 12-13: 17 XNUMX: XNUMX-XNUMX: XNUMX / Closed Weekly on Saturdays, Sundays and holidays, Bon holidays
Delicious udon shop on the island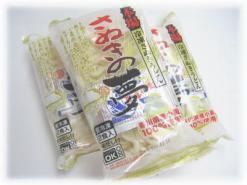 In front of Kadoya Refinery, Omine is located in a corner of a residential area. Here you can find local products such as olive products, island soy sauce and hand-rolled somen, as well as frozen Sanuki udon and raw udon made from Sanuki no Yume, an original wheat produced in Kagawa. There is also an Omine no Udon shop where you can taste delicious Sanuki udon, and you can also experience handmade udon making.
Omine Co., Ltd. Telephone 0879-62-1147 / 8am to 17 pm/Closed on Sunday and Wednesday afternoon
Olive ramen and pasta also appeared!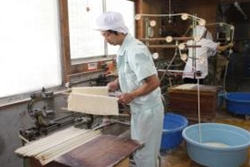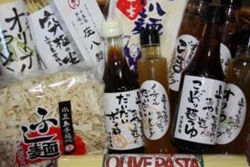 Follow the signs to the Orchid Hotel and follow the signs to Kashima. There is "Kyoei Food Co., Ltd." This is a noodle-making company that manufactures the popular "olive salad pasta" and "olive ramen". At first, I started with making somen, so it's natural that noodle soup is delicious using somen and Iriko from Ibukijima. Noodles called Shohachi noodles, one-third of normal thickness, have a reputation as island-specific udon. Pasta made by mixing olive oil into the dough has a refreshing texture. The set olive oil dressing is also very popular and has become a standalone product. "Olive ramen" is a gem that was featured on NHK programs. The technique of making olive oil and noodles has created a ramen. Delicious soup is also included, so you can enjoy it easily.
Kyoei Food Co., Ltd. Phone 0879-62-5826
Maze town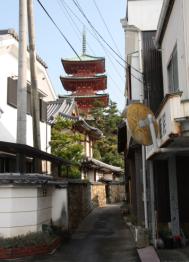 From Tonosho Port, this time is about 5 minutes by car east. There is a new tourist spot in the Tonosho area called "Maze Town". About 680 years ago, Shodoshima was involved in a government struggle in the North and South Korea. A fierce battle on land and at sea took place on this island. Complex streets were created in preparation for the battle at the time, and the maze-like path still remains. It is also a shopping street in Tonosho Town. A shopping street with rice islands, liquor stores, shoe stores, groceries, dining rooms and cafés. From the streets, I asked for two shops.
Sweetness dedicated to the Majesties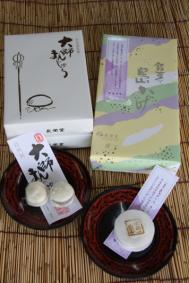 "Okada Choei-do" is located at the entrance to the maze, at the gate of Shokojima Sacred Ground No. 58, "Saikoji". For 16 years, we have welcomed pilgrims visiting Shima-Shikoku and tourists with a warm welcome. At the shop where many sweets are lined up, the island Kage is a beautifully colored box that stands out. This Japanese confectionery, made by wrapping a fine sashimi bean paste with fertilizer, looks and tastes elegant. It was presented as a tea confectionery when the Emperor and Empress of Japan went to Shodoshima in XNUMX.
Near Okada Choei-do, there is a memorial hall for the poet Hoya Ozaki. Daishi Manju is a popular tea ceremony held here. Koshian is wrapped in a thin skin and steamed in a steamed steamed bun. It carries a lot of light sweetness into your mouth. Choei-do opens Daishi's inn and souvenir shop at Pier-dori, but the Daishi manju steamed at the store is also very popular. In addition, you can also find sweets unique to the island, such as "herb cookies" using local herbs, "Angel's promenade" in connection with Angel Road, and "Olive Yokan".
Okada Choei-do Phone 0879-62-0055 Opening hours 8:19 to XNUMX: XNUMX / No regular holidays
Brown rice sticky "Bansuke"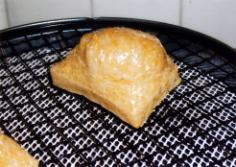 There is a phrase of Hoya Ozaki on the andy facing the alley at a rice grain store, Tomoyuki Takahashi. Banyuki is the name of his father, and the current owner, Nobuyuki, is the fourth generation. By the way, "Bansuke" is a trade name. This is a rice grain shop, so it's natural to handle rice, but it also handles some of the specialty of Shodoshima, "Shimon no Hikari". Then, it was "Brown rice cake" that started to be a PR for the maze. Brown rice cakes that I knew in Osaka are rare and we commercialized them by trial and error, but unfortunately we sell them during the cold months from November to May. Brown rice generates gas when it is warm and cannot be stored. As a result of struggling with the preservation method, we decided to sell it for a limited time. If you visit during the time of sale, please by all means souvenirs. It is sweet and savory, and has a slightly different taste.
Takahashi Banyuki Store Phone 0879-62-0067 Opening Hours 8: 20-XNUMX: XNUMX / No special holidays
World's best strait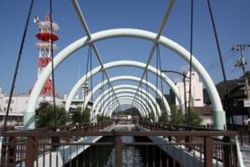 Near the maze town is Guinness's largest strait in the world. It is the world's narrowest Tsuchibuchi Strait. A crossing certificate is also issued at the Tonosho Town Hall next to the strait.
New somen of island thought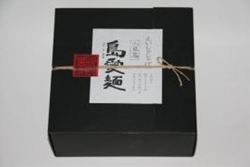 Just east of the Dobuchi Strait is the Tonosho Chamber of Commerce. "Shima Ai Noodles" was created by Shokajima to create a town on Shodoshima. We are looking for somen dish recipes at the summer festival to find new charms of somen. The first place was somen, which is eaten as ramen. This hot chicken soup, hot hand-rolled noodles, was commercialized under the name of "Shima Aimen". Easy, delicious and perfect for the coming season. Please come and enjoy the deliciousness of "Shima Ai Noodle".
The Tonosho-cho Chamber of Commerce and Industry organizes the "Great Commerce Festival" at the Tonosho-cho General Hall in early November every year. Special products of Tonosho-cho and delicious foods are also gathered. Please go out.
Tonosho Town Chamber of Commerce Phone 0879-62-0427
Long-established store in Onbata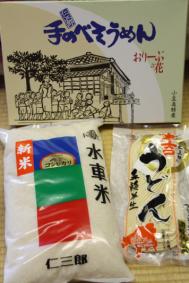 In the center of the Tsuchibuchi Strait, in front of Fuchizaki Port is Nisaburo / Kasai Tadashi. The whole area is called "Ombata", and in the past it was said that the ship was sideways. "Nisaburo" is a trade name from the Edo period. At present, we handle a variety of specialty products from Shodoshima, but since it was originally a rice shop, we also handle "Koshihikari from Shodoshima". It is said that the rice on Shodoshima, which grows hard with clean water, has a good taste and many repeaters. For somen, we recommend Olive Flower, which is made with special high-quality flour. In addition, you will be asked to make an original set of island specialties such as half-life type hand-rolled udon "Daichi udon", island-specific soft "soy sauce", Tsukudani products, olive products, rare "katakuri soumen" etc. according to the price You can also. In October, you will also find the excellent "Olive Pickled". Why do not you enjoy the taste of Shodoshima with the Nisaburo original set?
Kasai Tadashi Store Phone 0879-62-0157
Island feast for lunch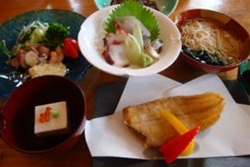 Near the Fuchizaki intersection where National Route 436 turns towards Ikeda, there is "Hikos of the sea and the mountains". It is very popular with people who want to eat delicious food from the island. Weekend lunches are often full. The menu is an original menu that uses the best ingredients for the day and season. Delicious seafood, fresh vegetables and plenty of island feasts.
Sea and mountain goodness Hicos telephone 0879-62-5619 business hours from 11:13 to 16:21, from XNUMX:XNUMX to XNUMX: XNUMX / closed on Wednesday
Kabuki stage and bamboo house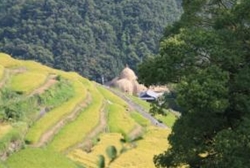 From Fuchizaki intersection, follow prefectural road No. 26, and you will see the scenery of the Hidoriyama village Kabuki stage and terraced rice fields. Nearby, you can also see the work of the International Art Festival, a Taiwanese writer made of about 5 bamboos, "Shodoshima's House" by Bunshi Wang.
Premium noodle master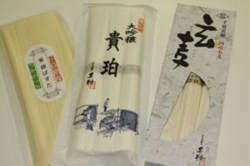 The Shodoshima noodle master "Jinsuke" is close to the "Shodoshima House" and just before heading to Mt. Hido. Jinsuke's commitment to noodle making, founded in 10, is considerable. Kiginaku Daiginjo, a flavor that uses only the center of high-quality wheat, with no savory taste, Genbu, a whole-wheat mill that reproduces the nostalgic taste of the old days, and Shima Pasta Takumi's specialty noodles such as the special dish "Shodoshima Handmade Pasta" are waiting for you. You can enjoy soft serve ice cream and bukkake somen only during the art festival at the direct sales shop.
Jinsuke Telephone 0879-62-1363
Tangerine garden where the sea can be seen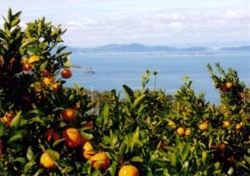 When you proceed from Prefectural Road 26 to Prefectural Road 27 (in the direction of Choshikei), you will see Yuhigaoka Mikanen. Shodoshima is known for producing delicious fruits every season, but it is also known for its citrus flavor. Here you can enjoy the delicious Mandarin orange picking. You can buy sweet spring, navel, Iyokan, Dekopon, Harumi, etc. unique to Shodoshima from October 10 to December 5 during this year, and from January onwards, you can buy them directly or mail order. Forty years after tangerine picking, it is reputed to be a particularly sweet orange with 12% organic fertilizer and plenty of fishmeal. There are many repeat customers who look forward to it every year. Sunset-colored oranges in Yuhigaoka. Let's taste it.
夕陽ヶ丘みかん園 電話 0879-65-2350・090-7145-3859/みかん狩りは10月5日~12月10日
Choshikei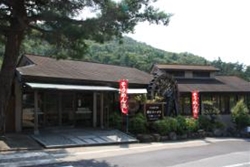 Choshikei is located in Choshikei Monkey Country. There are Choshi Chaya and Takimi Chaya in front of this. Shodoshima souvenirs are also lined up, so you can taste the island's somen while also extending the valley's greenery, so it is very popular with group customers.
Choshikei Monkey Country Phone 0879-62-0768
Shodoshima Stone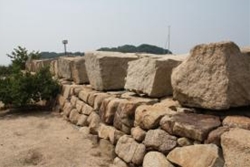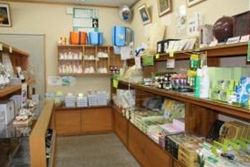 Follow Prefectural Road No. 26 and go out on the north side of the island for a while, then you will find the roadside station "Osaka Castle Remains Memorial Park". Shodoshima has a long history of stone materials. About 400 years ago, Tokugawa Ieyasu ordered a stone quarry at the Osaka Castle fortification, but the stone walls left after the completion of the castle still remain on the beach. It is said that Shodoshima stone is also used in Edo Castle, the Imperial Palace Glass Bridge, Todaiji Temple Approach Stone, Horyu-ji Temple, and Kofuku-ji Temple. According to the panel of the museum at the roadside station, there are 47 quarries on the island, 200 million tons per year, one tenth of the national market share. However, when I asked Mr. Hashimoto of the Memorial, most of it was rubble for landfills, and only a small portion was tombstones. There are now 10 to 20 architectural stone shops that have now become one. Therefore, if you want to touch the island's stone as much as possible, we also produce small stone items and sell them at Roadside Stations. There is also a souvenir shop and a snack corner at Michi-no-Eki, so why not take a break and touch the stones of the island?
Road Station Phone 0879-65-2865
`` Light of the island '' of a couple of technicians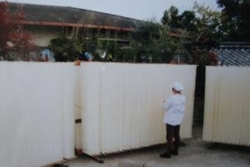 Return to Prefectural Road Route 26 back to Tonosho Port and enter the sign for Kasagataki Fudo to find the Okada Hatsuyoshi Noodle Factory. Now, with his late father, Mitsugi, it has been nearly 46 years since he started making somen in 40, when consumption of somen began to increase. Currently, two couples, Hatsumi and Yuko, start working at 2 am and spend nearly 3 hours a day making somen. There is no time to take a break from work, and if you read the temperature and humidity incorrectly, you may throw away the 1 kneaded crying crying. "Island Light" is made with such uncompromising commitment and loving and careful work. Hatsuyoshi received the first year in the first year, and Yuko ten years later, he obtained a single "Noodle Making" technician certified by the Ministry of Health, Labor and Welfare. It is one of the few technician couples on the island.
Okada Hatsuyoshi Noodle Factory Phone 0879-62-1793
One by one from Shodoshima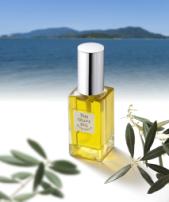 At "Kozushima Healthy Land Co., Ltd.", which you can see when you go straight on Prefectural Road 26 and enter Prefectural Road 254, we are lovingly growing "Olive" trees that started from soil preparation every day.Under the theme of "pursuing mental and physical health," we develop, manufacture, and sell cosmetics and health foods that make full use of the "olive" called the "Tree of Life."Among them, the additive-free beauty oil "The Olive Oil", which is 100% natural olive, has gained explosive popularity.It is a drop that is indispensable for creating beautiful skin that you cannot part with once you use it.However, please contact us as it is a limited-time product.
Shodoshima Healthy Land Co., Ltd. Phone 0120-77-0000 (Reception hours 9am to 18pm (closed on Sundays))
The long-awaited brand cow is born!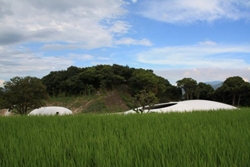 Tonosho is also famous for raising cattle since ancient times. And "Olive beef" is attracting attention now. I visited Shodoshima Animal Husbandry Working Group's chairman, Ishiibe, chairman of the development. At the `` National Wagyu Beef Competition Association '' held in Tottori Prefecture, we heard that the fact that a lot of oleic acid of umami ingredient is also included in the criteria for judging, and came up with the idea of ​​using olives on the island that contains a lot of oleic acid as a feed. , I started a challenge with failure. Olives on the island are valuable, albeit a specialty. It is only available from November to December to use the oil after squeezing. Dry it and add it to the feed for one year. The collected bait quickly rotten, so it was transported separately in the morning and afternoon, protected from rain and wind and dried on the sun, but after hearing that ultraviolet rays were not good, we finally introduced a dedicated dryer this year . Thanks to such efforts, "Olive Beef" has a reputation for excellence. "Delicious and delicious!" "Soft and delicious!" "Delicious and delicious!" Mr. Ishii, who works hard to secure and spread the ingredients, wants to raise this as a Kagawa brand cow.
Chairman Ishibe Telephone 0879-64-6044

Approximately 50 minutes by ferry from Tonosho Port, arrive at Ieura Port on Teshima (30 minutes to Karato). Toshima, which continues to evolve in the wake of the art festival, also has attractive sightseeing points and products.
Teshima stone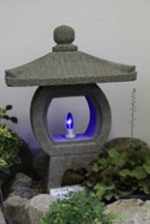 One of them is Teshima Stone. However, the quarry has not been done anymore, so let's touch the valuable works at "Owl's House" under Shimizu Reisen.
Owl House Phone 0879-68-3051
Teshima lemon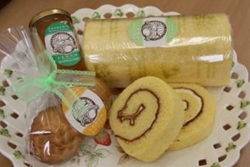 The Seto Inland Sea is the Mediterranean Sea of ​​Japan. It has been said that it is suitable for olive cultivation because the climate is very similar. Toshima also has the largest olive groves in Japan. Mr. Okamoto, who started cultivating lemons 11 years ago, should be suitable for growing lemons. Now, we have established the brand "Toshima Lemon" and have many fans mainly in the Kanto area. Naturally, this lemon is popular because it is blessed with the pure breeze and water of the island, is exposed to warm light, and does not use pesticides or chemical fertilizers when cultivated.
The social welfare corporation "Mikuni-en" makes marmalade and roll cakes with its proud lemon. In Japan, the island's only ripe lemon is used as a material, and no preservatives or colorings are used. Marmalade, consisting only of Toshima lemon and sugar, has the highest level of security and refreshing sweetness. Roll cake lemon cream has an exquisite balance of acidity and sweetness. Okamoto narrows his eyes, saying, "The best thing you can do!" With such voices, "Mikunien Garden Cafe" will open in September. Here you can taste scones and lemonade of Toshima lemon. (The opening commemorative set is $ 9!) However, the opening is scheduled to open from 13:30 to 15:XNUMX from Monday to Friday, with a limited season.
Social welfare corporation Mikuni-en Garden 0879-68-3165 (also used for fax), 0879-68-3161
Mitsuru Okamoto 0879-68-2118 (contact us by fax) Fresh lemons are available from December to April
Lunch spot on the island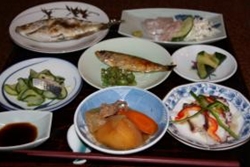 Lunch spots have gradually increased in Teshima. Here are two shops. The first one is "Urara", where mothers of farmers started together. They offer reasonable lunches made from fresh local fish and vegetables. Reservations are recommended as seats and numbers are limited. Lunch boxes can also be reserved.
Urara Telephone 0879-68-2352 (10: 18-XNUMX: XNUMX / Closed on Tuesdays)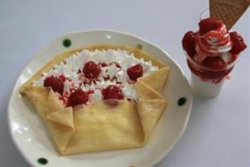 The other is the "Strawberry House," a topic of sweets made from strawberries harvested in Toshima. Tada Farm's fresh strawberries are added as they are, depending on the season, with plenty of compotes. Until October, the popular product is shaved ice with a soft texture, parfait and crepe for winter, and fresh strawberries from late November to June. Blueberries and sweet summers also use Toshima products. In addition, lunch menu Bukkake Somen is also from Toshima. It is the best spot to taste Teshima.
Strawberry House Telephone 0879-68-2681 (11:18 to XNUMX Own business / Closed on Wednesday)
The Tonosho area that I have been introducing by foot. There are still many famous shops here. We were able to introduce only a small part, so please enjoy the Tonosho area with your own eyes and tongue. The fall of art, the fall of appetite, and the fall of the island are waiting for you.