LOVE Sanuki's report
The 21st Sanuki Denbu (Nasifugu)
One of the major projects of Yoshimoto, "A project to live in your town", to make Japan feel good from the area. Entertainer "Kaji Tsuyoshi" who lives in Kagawa reports on local products.
reporter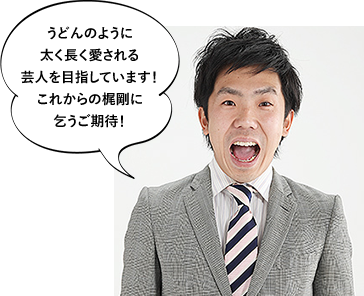 KAJI Tsuyoshi
NSC Osaka school 22nd grade
2005 Formed "Katsuyama Kaji" with Moody Katsuyama
2008 ABC Comedy Newcomer Grand Prix Newcomer Award
2010 Active as a pin entertainer
Birthplace: Mitoyo City, Kagawa Prefecture Born March 1981, 3
Check your activities!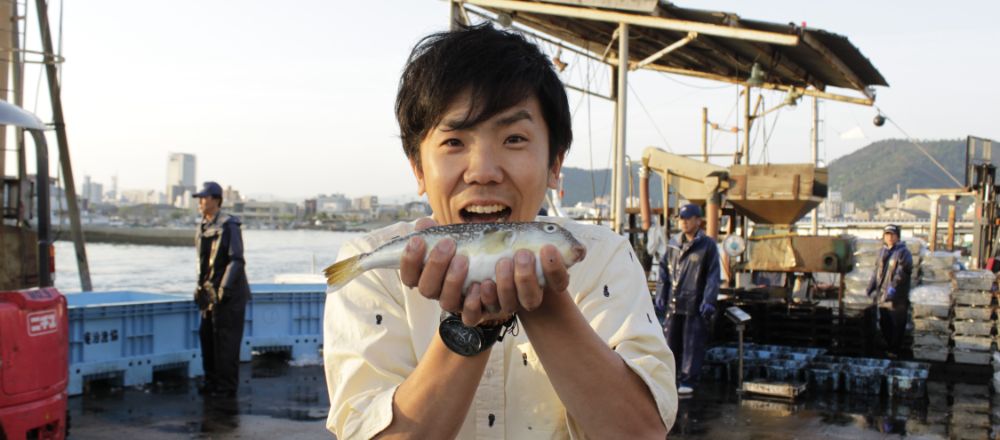 Speaking of puffer fish in Kagawa prefecture, not puffer fish, but pearfish!
Among the Nashifugu, only those that have been landed in Kagawa Prefecture and properly treated
You can call yourself "Sanuki Denbuku".
This time Kaji starts at 5:XNUMX in the early morning at the fishing port! Are you not sleepy?
Now, at its peak, the pufferfish is thrilled

Kaji arrives at Takamatsu Fishing Port when the sun rises from across Yashima.
This time it is a report of "Sanuki Denbuku". First of all, we interview Kagawa Prefectural Fisheries Association, Matsumoto.
"Nashifugu uses the fast current of the Seto Inland Sea to catch fish using the" net net. "At this time, squid can be caught using the same net."
Certainly there are plenty of pufferfish and squid in the port! Mr. Kaji is also excited to see the scenery of landing for the first time. "It's so lively!"

Only two places can be caught nationwide!

Nashifugu is caught in Kagawa Prefecture over 240 tons per year. However, it is a fact that it is not widely known nationwide.
If you ask that question, you will be surprised! "Nashifugu is only allowed to fish in two places in Japan: Kagawa and Okayama, and Ariake and Tachibana Bay.
It's a "phantom hidden blowfish". " In addition, Nashifugu is said to only ship properly processed after being landed as "Sanuki Denbuku".
After hearing that, Kaji left the port and headed to the nearby processing plant.

Only qualified people handle properly

The processing plant located just near the harbor is filled with fresh pufferfish that has just been landed.
Here, we were guided by Kansai Bussan Shirai Plant Manager. First, the head, tail, and internal organs are removed, and then the skin is peeled off, leaving only the body and bones. Furthermore, after being washed with water, we use scissors and hair removers while checking with humans to thoroughly clean the details.
"I'm so tedious. I've been here so I can eat with confidence."

Sashimi is recommended for this time!

Nashifugu is said to be softer and sweeter than Torafugu. It's delicious not only for hot pot dishes, but also for tempura and fried chicken.
This time, the sashimi has just been landed. The thickly cut pufferfish is fresh, rich, and sweet. Unlike torafugu, it seems to be very popular as a sushi theater.
"This is a horse that can eat anything."
Although it was a report from the early morning, Mr. Kaji was very satisfied with eating a lot of delicious pearfish.
Past reports