LOVE Sanuki's report
The 52nd Margaret
One of the major projects of Yoshimoto, "A project to live in your town", to make Japan feel good from the area. Entertainer "Kaji Tsuyoshi" who lives in Kagawa reports on local products.
reporter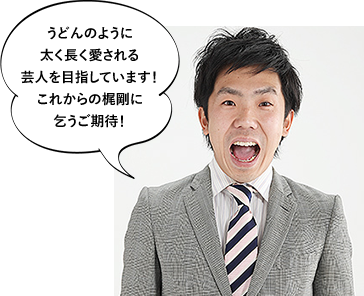 KAJI Tsuyoshi
NSC Osaka school 22nd grade
2005 Formed "Katsuyama Kaji" with Moody Katsuyama
2008 ABC Comedy Newcomer Grand Prix Newcomer Award
2010 Active as a pin entertainer
Birthplace: Mitoyo City, Kagawa Prefecture Born March 1981, 3
Check your activities!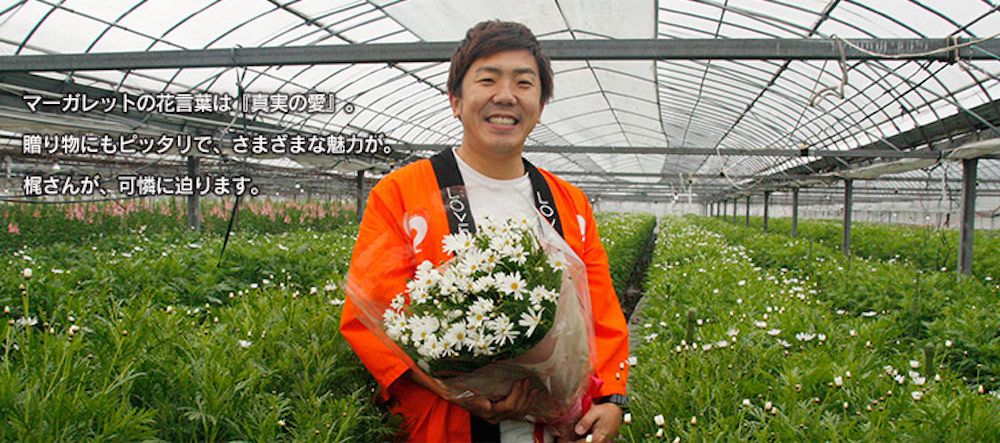 Margaret's flower language is "true love."
Perfect for gifts, various charms.
Kaji approaches pretty.
The Margaret of Mitoyo City, proud of all over Japan

We came to Mitoyo City, one of the prefecture's leading production areas. We will talk with Mr. Tsuji, the chairman of the producer Margaret Division of JA Kagawa Prefecture, in a huge greenhouse. Margaret's place of origin is the Atlantic Ocean, the Canary Islands. It was introduced to Europe in the 17th century and to Japan during the Taisho era, after which it was grown on the Izu Peninsula in Shizuoka. In Kagawa Prefecture, cultivation started around 30 on the Shonai Peninsula in Mitoyo City. Now it boasts the highest production volume in Japan. "That's over 1% of the national cut flower share," says Tsuji. The target shipment volume for this year is 60 million, about 250 hectares in area, and about 1 Tokyo Dome. Kaji-san couldn't imagine the number of "Tokyo Dome".

Margaret and Mitoyo-shi, Kagawa are compatible

Kagawa Prefecture initially focused on open-field cultivation in outdoor fields, but recently shifted to greenhouse cultivation to ensure stable shipments throughout the year. Margaret, if given too much water or fertilizer, will lose its quality, such as landing, so Mitoyo's margaret is planted in a hammock-like place by removing the soil (root) from the ground and planting seedlings. Is controlled. When asking Mr. Tsuji about the cultivation conditions, he said, "Temperature management is important, cool in summer, warm sea breeze in winter, and a warm climate is nice." Kaji-san is angry with these words ... "Wait a minute ... just that Kagawa is right for you!" What a detective Kaji showed me.

The royal family also loved flowers

In Kagawa Prefecture, white varieties called "conventional" are dominant. Pink and yellow varieties are also grown in small quantities. The shipping period is from November to May for 11 months. When asked about the appeal of Margaret, Mr. Tsuji, who grew up for many years, said, "It is a very elegant and dignified image, and it has also become the name of a European royal family, such as Princess Margaret of England. There is no better flower to decorate than Margaret! " "It's amazing ...", Kaji also nails Margaret's appeal.

Perfect as a talisman for taking an exam

Finally, Kaji challenges Margaret's flower arrangement! I came to Flower Station NIINA in Mitoyo City. Experience the arrangement with the guidance of the owner, Seki. "A margaret is dignified and beautiful when it's a single wheel, and it's cute when it's a crowd." The flower language is perfect for Valentine's Day and Valentine's Day, and it's popular as a talisman for exams because it doesn't drop petals. And the beauty of flower arrangements, the advantage of good flower life. "I'm just really happy!" Said Kaji, inserting a margaret and giving a gentle expression like a girl.
Past reports