LOVE Sanuki's report
17th Nori
One of the major projects of Yoshimoto, "A project to live in your town", to make Japan feel good from the area. Entertainer "Kaji Tsuyoshi" who lives in Kagawa reports on local products.
reporter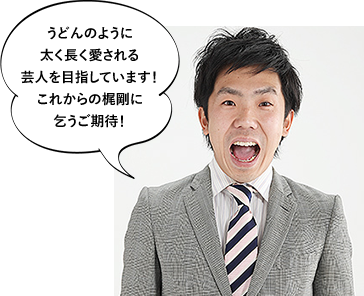 KAJI Tsuyoshi
NSC Osaka school 22nd grade
2005 Formed "Katsuyama Kaji" with Moody Katsuyama
2008 ABC Comedy Newcomer Grand Prix Newcomer Award
2010 Active as a pin entertainer
Birthplace: Mitoyo City, Kagawa Prefecture Born March 1981, 3
Check your activities!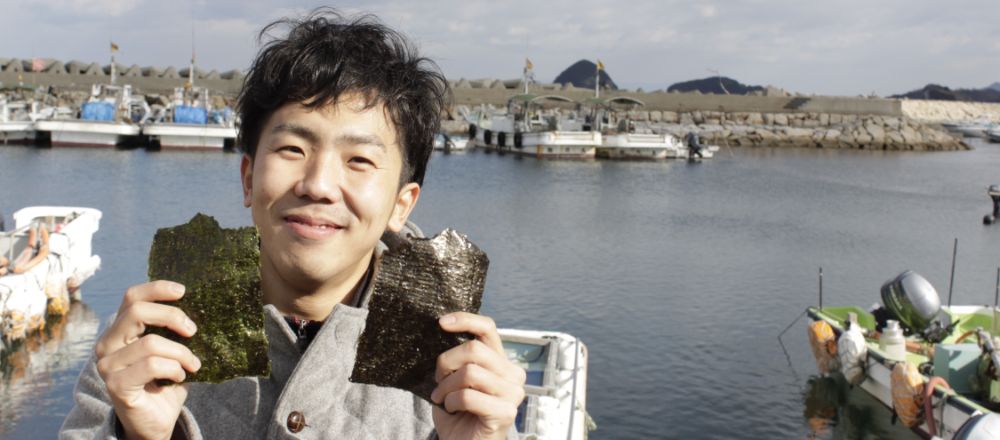 This report is Nori from Kagawa Prefecture. "Huh? Are you making seaweed in Kagawa Prefecture?"
He seems to have never seen it in Mitoyo City, where Kaji was born.
"I'm curious how to make glue that I always eat at home!"
As usual, I came to Wakimoto Fishing Port in Tsuruga, Tsuda-machi, Sanuki City.
Harvest is a "submersible" !!

Mr. Uyama, Vice Chairman of the Kagawa Prefecture Nori Culture Research Society, guided me.
Kaji explains that he has never seen nori cultivation, saying, "I used to cultivate seaweed in the past, but now east from Marugame city is the main one."
Aquaculture is carried out on a large scale, especially off the coast of Wakimoto Fishing Port. Nori cultivation in Kagawa Prefecture that has been practiced since the Meiji era. Nowadays, mechanization is progressing, and specialized vessels for harvesting are used.
Mr. Kaji is also surprised at the unique shape that sinks under the nori net! "Cuckoo ee wow-this boat"

No need to worry about repeated washing and aging! !

Harvested seaweed is transported to a processing plant near the harbor, where it is aged for half a day to a day in a dedicated storage tank.
"I'm going to dry this and it will be the seaweed I usually see." Wash twice more just before processing. Once you have dropped large or small garbage, cut it into smaller pieces.
After that, through several steps such as kneading, it is shaped into a plate and dried.
"Wow, it takes so much work." I was even more surprised to hear that this processing plant alone produces 1 laver a day!

Strict check with machine and human eyes!

Is dried seaweed passed through the sensor and is there any foreign matter? Check one by one for color unevenness or tears.
After the final check by human eyes, it becomes a bundle of 100 sheets. Before weighing, only those between 330g and 350g are shipped as positive grade.
"A difference of 100g per 20 sheets is only 1g per sheet!" Not only in the aquaculture stage, but also in the processing stage, there is a device to ensure high quality.

Soft, roasted prefecture laver

The characteristics of Kagawa Prefecture nori are its softness, crispness, and roasted color.
Mr. Uyama grilled freshly made laver. When the black seaweed is grilled, it becomes a beautiful green! "Before baking, the scent of the beach will spread when you eat it.
Roasted seaweed is crispy and has a good texture and aroma. Both of them are hard to put on. "From now on, March is the peak of Nori from the prefecture.
"I'm good for my health and I want to eat more Kagawa seaweed!" Mr. Kaji, who met a wonderful prefectural product and a person, gave him energy.
Past reports