Kagawa prefecture products
Kyuusen (Bella)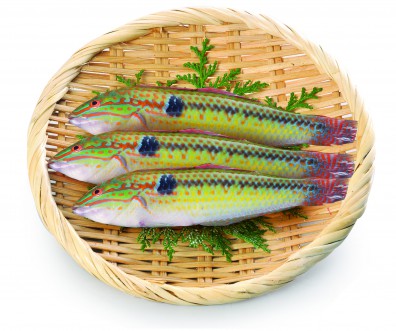 Speaking of "Bella" in the Seto Inland Sea, it means "Kyuusen". It is a small fish that represents the summer beach. It is a fish that is rarely distributed in the Kanto region, and its taste is said to change depending on the place of residence and food, but it is a high-quality fish that is traded at a high price due to its high quality in the environment-rich Seto Inland Sea. For this reason, there are fisheries such as "Nobu Nawa" and "Sashimi", which are specialized in wrasse, and there are recreational fishing activities in search of wrasse.
Seasonal season

Time to go around Peak season (seasonal season)
Main production area

Bisan Seto
Vera has a red body color of female (red vera) and a blue body color of male (blue vera). It is said that the large blue berries caught in the summer season are grilled with salt. The smaller ones are unglazed and boiled or pickled in two tablespoons of vinegar or nanban. The skin has a flavor and the body is plump. It is said that it is a high-class fish, and its elegant taste spreads throughout the mouth.