Kagawa prefecture products
Sanuki Kiwikko Kiwifruit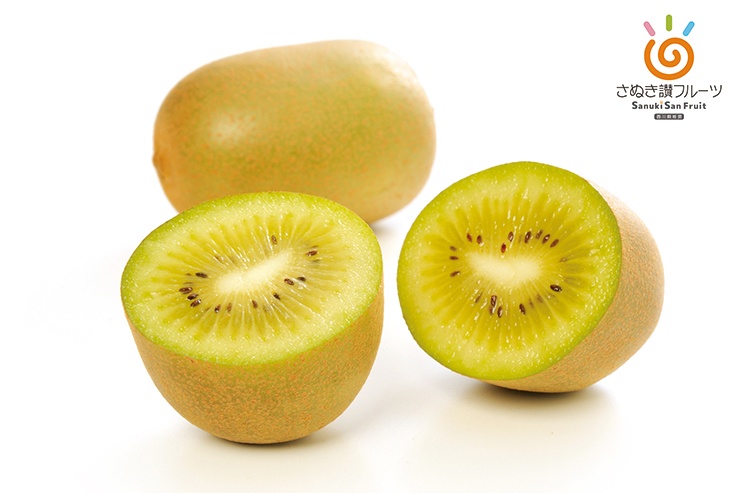 In a joint research project between Kagawa Prefecture and Kagawa University, five original varieties of kiwifruit were developed by cross breeding great tasting kiwifruits with shimasarunashi, a plant native to Japan. These new varieties made their debut under the name "Sanuki Kiwikko"!
*Sanuki Kiwikko is a registered trademark of Kagawa Prefecture and Kagawa University.
Seasonal season

Time to go around Peak season (seasonal season)
Main production area

Takamatsu City, Zentsuji City, Shodoshima Town
Sanuki Kiwikko has a good balance of sweetness and acidity, with a sugar content ranging between 17 and 20.

Sanuki Kiwikko®'s sugar content of 17 to 20 is considerably higher than the common Hayward variety of kiwifruit. With its good balance of acidity and pleasant aftertaste, Sanuki Kiwikko®'s sweetness is reminiscent of Wasanbon Sugar, a high quality sugar produced in Kagawa. Additionally, because the proteolytic enzyme properties of Sanuki Kiwikko® are extremely low, there is none of the typical irritation that comes with eating kiwifruit. Also, one bite-sized Sanuki Kiwwiko is only about half the weight of a regular kiwifruit! If you cut Sanuki Kiwikko® in half, and pinch gently to push the fruit out, you can eat it just like a mini jelly cup. Sanuki Kiwikko® is so small and adorable, if you happen to see it at the store, please give it a try.
Premium quality Sanuki Kiwikko® Kiwifruits with a sugar content of 15.0 or more are sold as "Sanuki San Fruits".
Related Links