Kagawa prefecture products
Hiketa Buri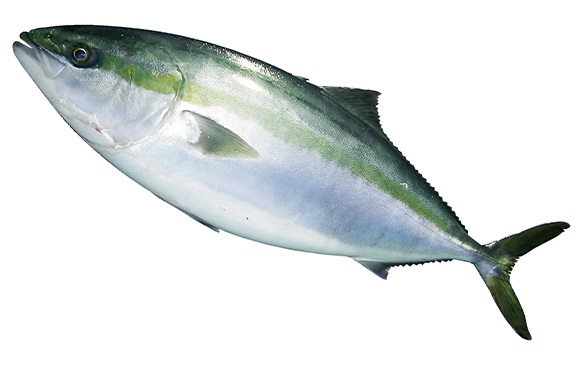 Seasonal season

November

December

Main production area

Hikita
A fluffy yellowtail that grows slowly in the calm Seto Inland Sea.
A brand fish that is particular about the environment, food, safety and deliciousness.
Please enjoy the exquisite fat paste.
What is a yellowtail

Yellowtail, a representative species of wide-area migratory fish in the waters around Japan, is an emerging fish whose name changes as it grows. In Kagawa, it grows into Mojaco, Tubas, Hamachi, and Yellowtail. Hikita, located at the eastern end of Kagawa Prefecture, is the birthplace of hamachi cultivation. Its history dates back to 3, and begins with the first successful commercialization of hamachi marine aquaculture in the world. Since then, a great deal of research and accumulated history and experience have enabled the cultivation of yellowtail, which has now greatly advanced. The cultivation site is 6 km offshore, and there is no other example of a large, small crayfish. You can swim around in a relaxed environment without stress, and the increased amount of yellowtail gives you a tight and excellent taste.

The secret of deliciousness is thorough
Commitment and the blessings of the Seto Inland Sea

Absorbed yellowtail is particular about food. In addition to moist pellets, which are a mixture of raw food and fish meal, many EPs (extruder pellets) containing nutrients in a well-balanced manner are used. By giving more EP, excess fat is suppressed and freshness is maintained for a long time after shipment. In addition, natural yellowtail is eaten together when it encounters a school of food, and fasting continues when there is no food. Hikita employs a bold method of reducing feed to two or three times a week to make it more natural. This method can prevent excessive eutrophication of the sea, is effective as a countermeasure for the occurrence of red tide, and provides an environment in which yellowtail can be kept healthy. In summer, you can swim without increasing your weight and extend your body length. Such thorough attention will produce delicious yellowtail. Furthermore, the blessings of the Seto Inland Sea highlight the deliciousness of yellowtail. The temperature of the Seto Inland Sea is 26 degrees in summer and 8 degrees in winter. Yellowtail, which has grown greatly from summer to autumn, shows exquisite fat paste as the temperature of the Seto Inland Sea drops, and it becomes even more delicious. And in November, it's shipped to every corner at its best.

Kagawa Brand Hamachi Three Brothers

The eldest son `` Hiketa yellowtail, '' which grew up in a large fish cage, the second son `` Naoshima hamachi, '' who grew up well in the sea with fast flowing tides, and a collaboration of prefectural fish and hamachi with prefectural trees and olives. The third son "Olive Hamachi". Kagawa, the birthplace of hamachi cultivation, is a Kagawa brand with a long history and uniqueness. That is the "Three Hamachi Brothers".

Kagawa's hamachi is a treasure trove of nutrients

Essential amino acids contained in abundant proteins in a well-balanced manner. Eicosapentaenoic acid, which works to reduce bad cholesterol and fats that block blood flow. Calcium is often lacking in Japanese. In addition, it contains plenty of taurine, various vitamins, DHA, etc. It is a treasure trove of nutrients. These well-balanced nutrients are the appeal of Kagawa Prefecture's yellowtail (buri), which was raised with stress and good health.